MEALS ON WHEELS
by Richard Owens, Wellington, FL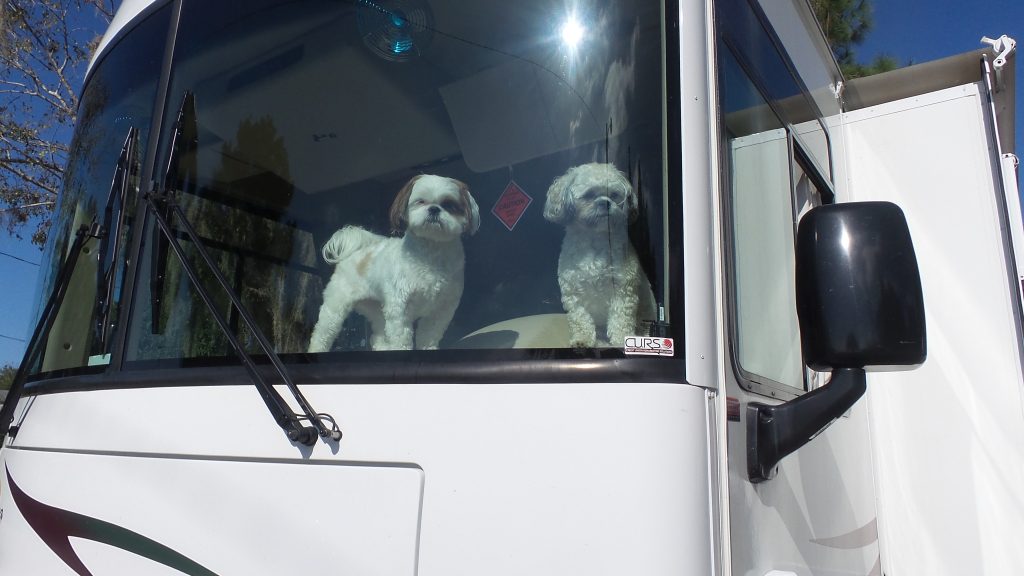 About six months ago, my wife and I decided to purchase a stupidly expensive version of what I call "Meals on Wheels" – meaning, we bought our first RV. We thought, cool! Let's just load up some food and clothes and off we go. Unfortunately, our fantasies simply deceived us about life on the road. We were visualizing our "self contained, never having to stop for want", selves sitting in the cab and cruising down the road with emoji smiles on our faces along with the two dogs sitting up on the dash looking out the windshield, also with edoggy smiles. We could clearly see us crossing the Painted Desert, touring every one of our beautiful national parks, venturing the Pacific Coast Highway and, of course, tying up at Fort Wilderness. We soon discovered that you're not just buying the vehicle but the whole experience. It wasn't much different than owning a boat or maybe a horse – although I never really owned a horse – I just assumed. You've got to store it, read all about it – ALL about it, maintain it, brag about it, bitch about it and, of course, use it to get some of your money's worth. Because we love working in the dark and being totally lost, our trip planning on line was so much fun (sarcasm). There are billions and billions of parks and campgrounds to choose from and unless you have some knowledge of them or have someone recommend one, it's a crap shoot. One site had a beautiful picture of a pond with campers all around it. It turned out the picture was taken right after 6" of rain. Hey, we were learning.
Checking out the vehicle was the easy part. I would do a walk around, kick the tires, see if the engine started, assumed the generator started and start packing – Always checked the oil when we got back. Loading the rig was also fun (more sarcasm). Most of us are truly spoiled with our lifestyles no matter what it is. We all like junk food, clean clothes, clean bodies, clean beds and air conditioning. So when we started loading, we made sure we were going to be nice and comfy under any situation. It's that "what if" mentality. We always had more than enough of underwear and socks for us and anyone else in the park that might need some. Regarding clothes, we were prepared to go to any event whether it was a rodeo, some fellow camper's daughter's wedding ceremony or even a funeral. We also included a scrabble game, the latest version of monopoly, Jacks (don't ask), two decks of cards, three note pads and a dozen pens. To stay informed and connected, we had our Ipad, Ipod, Iphones and Iglasses. With Siri, we didn't need Alexa. Those two would never have gotten along anyway.
Packing the food was sort of like being a binge loader compared to a binge eater. You always pack more than you can eat. Again….."what if". The mere thought of not having Doritos or Cheetos on board was chilling. If the chemically manufactured product contains all of the four food groups, then you can't buy too much. Also important, keep them within reach. Remember, when you're behind the wheel of a 4 ton house and are simultaneously trying to maintain your minimum daily nutritional requirements, convenience is everything. Then, of course, in the drawers and cabinets, you've got the necessities that go with fine dining like plastic utensils, plates, cups, paper towels, electric can opener, rice steamer, popcorn maker, coffee maker and match maker. And don't forget about all the food that's supposed to be even better for you. That has to be kept in the refrigerator. Fully loaded we doubled the weight of the vehicle, not to mention the 300lbs of the cheapest gas you can find – not that the more expensive gas is any heavier.
The driving experience was definitely not what we expected. It's a piece of cake on the open road with no traffic and very economical if you're going downhill the whole trip. Most of the time your chest feels like the shoulder harness was adjusted too tight. Your eyes are constantly scanning the side view mirror, the rear view mirror and the makeup mirror just to be safe. Occasionally I pull down the visor mounted mirror. I used Google maps along with the GPS that came with the vehicle – big mistake. It was as if the two have been married for thirty years. No matter where we were going, each had their own idea of how to get there. Every bump, every turn and every brake action sounded like we sent everything we loaded right out the windows. We knew that when we arrived we would have to prepare ourselves to catch the beer and wine bottles that would fall out of the refrigerator when we opened the door. We knew how valuable they would be in the end.
After we got to our destination and hooked up, we experienced the typical issues like the a/c wasn't keeping up with the 100 degree temperatures, the toilet was starting to smell bad – really bad, and the t/v reception was ok as long as I had my metal coat hanger to hang outside. Fortunately, the pups were cool with whatever. They just wanted to be with us.
So, I'm not trying to discourage anyone, which I probably did, from buying an RV. It just didn't work for us – plus the six miles to the gallon didn't help. We're used to roman baths, luxurious saunas, mind molding massages and peeled grapes – "God I wish". I just know the day we sold it, I no longer felt the binding harness and I noticed my wallet starting to put on weight again.