NECO Hosts 31st Annual Ellis Island Medals of Honor Ceremony
Furry Friends Adoption, Clinic & Ranch
Chairman Herb Baum Receives Honor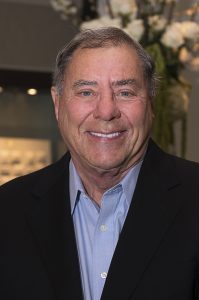 JUPITER, Fla. (June 5, 2017) – Herb Baum recently received a national medal of Honor award in New York (May 14, 2017) from the NECO (National Ethic Coalition of Organizations). Baum is the Chairman of the Board of Furry Friends, The Humane Society of Jupiter-Tequesta, Inc., in Florida.
Among the awardees were Astronaut Buzz Aldrin, Governor John Kasich of Ohio, activist Malala Yousafzai, TV host Fareed Zakaria and Chairman and CEO Indra Nooyi of PepsiCo.
The Ellis Island Medal of Honor ranks among the nation's most renowned awards for leadership and service within their own ethnic groups while exemplifying the values of the American way of life. The U.S. Senate and House of Representatives have officially recognized the Ellis Island Medals of Honor, and each year the recipients are listed in the Congressional Record.
Mr. Baum, a philanthropist, has been Chairman of the Advertising Council, Chairman of the Association of National Advertisers and has served on more than ten corporate boards. He is a co-author of the book, "The Transparent Leader".
Prior to retirement, Baum served as President of Campbell Soup North and South America, Chairman and CEO of the Quaker State Corporation, President and COO of Hasbro Inc. and Chairman and CEO of the Dial Corporation. Baum is a graduate of Drake University.
Pat Deshong, Furry Friends President, was present when Herb was honored and said, "We are so proud of herb and all of his achievements and are honored and proud of all he has done for our organization. Herb was cited for his business acumen regarding the importance of diversity which we hold in high regard and practice at Furry Friends".
Herb was quoted "I believe strongly that a diverse organization – one that values and respects the uniqueness of every individual – is a stronger, more competitive organization. By fully utilizing diversity we enrich our products, our performance, and our lives."
Furry Friends' mission is to reduce the overpopulation of unwanted pets in our community. A few years after establishing the charitable hospital, Furry Friends opened one of the only no-kill shelters in South Florida. The shelter reserves its space for animals that have been abused, neglected, injured and abandoned. The organization does not receive government funding but rather relies on donations, grants, events and other fundraising activities.
To learn more, about Furry Friends and how you can support the organization visit www.furryfriendsadoption.org or call Pat Deshong, President at 747-5311 ext. 1.
Furry Friends Adoption, Clinic & Ranch, 401 Maplewood Drive, Suite 8, Jupiter, FL 33458. Furry Friends is a 501 (c)(3) non-profit.