Letter From the Editor
November, 2009
Dear Around Wellington Readers,
Happy November! Is it just me or do the holidays seem to fly by as we get older?  Anyway, I hope that you're gearing up for a fabulous Thanksgiving with your families and friends! I am grateful to you, dear readers and advertisers, for your support of this online magazine. I'm happy to be hearing from several families that they like the online magazine even better than the print publication (see Testimonials). I'm grateful for my family (pictured here with me in a pumpkin patch).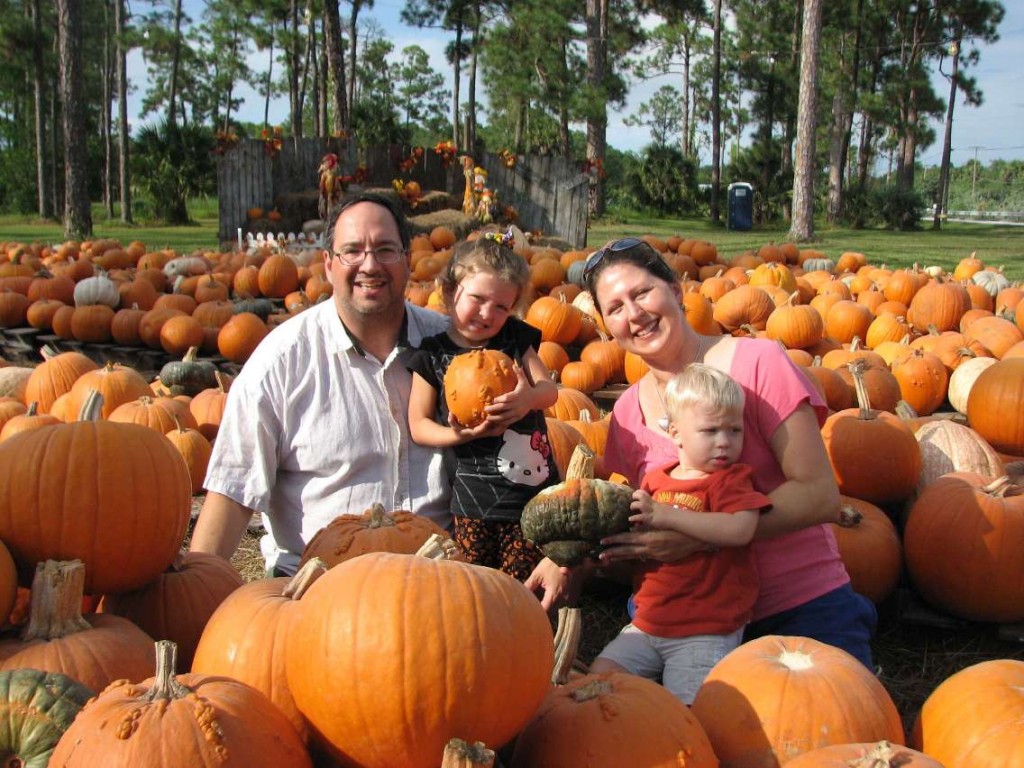 My kids are now four and two, so there is never a dull moment in my house…and it will be several years before the house is clean again. I cannot cross the house without tripping on a Mr. Potato Head nose or a plastic toy drumstick it seems, but it's all part of life's rich pageantry.
In case you don't know it, Wellington is lucky to have a renowned international artist living and working here. Tito Mangiola hails from Italy, but has shown his paintings and sculptures in many countries. I had the pleasure of interviewing him and his wife Leonarda for this month's issue. Even if his name doesn't yet ring a bell, you might be familiar with his polo painting "Homage to the Village of Wellington," a beautiful painted mosaic, which hangs in the lobby of the Wellington Community Center. See our AW Stories of the Month to read more!
Also in our AW Stories of the Month, author Deb Sharp takes us on a wild ride, just a couple of hours north of Wellington. She braves the Florida Cracker Trail Ride in the process of researching her latest funny mystery "Mama Rides Shotgun." Deborah Sharp, a former reporter for USA Today, is the author of the funny, Florida-set "Mace Bauer Mystery" series. She has appeared on the Today Show to talk about her latest novel. Don't miss the inside scoop on her hilarious journey on horseback.
Do you have trouble handling interruptions at work? Writer and productivity coach Claudine Motto gives us helpful tips again this month on how to stay focused, even when there are so many distractions and interruptions seeming to get in the way.
Our really great Contests continue!  Enter to win between November 1st and 10th, and you could be the lucky recipient of a one-hour massage at Massage Envy Royal Palm Beach, valued at $75! Visit the Contest link for guidelines. Also, come back between November 13th – 18th to enter to win a family pack of tickets to SalsaFest. Thanks to ALL of our contest participants! THANKS to our wonderful advertisers and to the Palms West Chamber of Commerce for supplying these prizes!
When it comes to fitness, everyone is always trying their best to get into better shape. However, writer and fitness expert Cheryl Alker emphasizes the importance of stretching in this month's "Health & Fitness." There are so many amazing benefits of stretching, and you don't even need to be at the gym to do it!
Are you a poet? If so, you can send us a poem by just emailing me and putting "Poem of the Month" as your subject title in the email. This month's poem is actually a Thanksgiving Prayer.
In The Space Room, Sci Fi critic Anna Sanclement writes about Stargate Universe, which offers a "raw and dramatic turn" from its predecessor shows. As always, she offers tips on what to watch for in our sky this month for any budding astronomers or fans out there.
Tech Talk writer Jamie Allison gets nostalgic about early computers with his "Remember When . . ." column. Remember the Texas Instruments TI-99/4A, when it was first released in 1981 (sold without the monitor)? What a great step for the world of personal computers, but what a "beast" it was.
Are you a teen applying for college or do you have a teen in your household? Teen Talk writer Evan Baumel gives us a few great tips on how to apply for colleges and make the most of your efforts.
I'm so proud of our travel writer Terri Farris; it seems like just a few months ago, she began writing about chocolate for Examiner.com and now she's quickly becoming an expert on this yummy subject with her first radio show spot this month! She combines the best of travel and chocolate for us with "Sweeten Up Your Holidays," giving a few tasty dessert places and things to try, if you're traveling and in the mood for chocolate.
Our "AW Spotlight" business for November is My Gym, a great place to take your young children. It was a lot of fun to write about the My Gym experience, since my two-year-old son and I both enjoy going there each week. At My Gym, the instructors help kids to learn new physical skills, build confidence and keep them laughing. See the three videos of "My Gym in action" within the article.
As usual, I wish I could tell you about every new article that we have for you this month. But brevity is the soul of wit and also – it's better than being long-winded! So take a "self-guided tour." Take a look at everything by clicking around on the left menu and the top menu. THANKS to our wonderful writers again this month!
Happy Thanksgiving to you and your families! THANKS to our terrific readers and advertisers! Thanks to our intern Nihanth Peta who continues to help me get each online issue ready. Thanks to all of you who remember to shop locally and use our AW Coupons when you're Around Wellington.
Krista Martinelli, Editor
Aroundwellington.com
Have a Letter to the Editor?  Write me!