Elizabeth Torres visits Station 28



     On Saturday November 3rd Station 28 had a special visit from a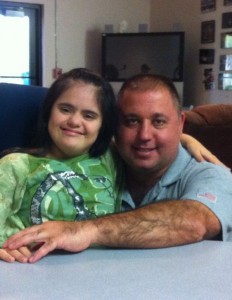 special young lady.  Elizabeth Torres is a local resident of Royal Palm Beach who is 20 years old and was born with down syndrome. She is a very gifted violinist and painter and wanted to share her talents with us. She has a very kind heart and soft spot for Fire Rescue. She has painted a beautiful picture of R28 which we proudly display in the station.  Elizabeth joined us for breakfast and blessed us with her endearing spirit and beautiful music. Elizabeth says, "My goal is to inspire any one with a disability to press on and live out their dream." 
Elizabeth has truly inspired us and we thank her for taking the time to come and visit us. We were able to present Elizabeth with her very own fire helmet that once she put on she did not want to take off!
     To see more about Elizabeth you can visit www.storyofelizabeth.com
     I want to thank Lt Mike Delrossi for organizing this event and making it as special as it was.    I also want to to thank Safety and Boot Center in Stuart, Fl. for donating the fire helmet and over night shipping it so that we could have it in time. www.safetyandbootcenter.com
Thank You to all that helped and a special Thank You to Elizabeth.


 
Tucker Hindman, Captain
Station 28 B