Mounts Botanical Garden Launches Connecting with Nature Contest for Kids Seeking Garden-Themed Ornaments Made from LEGO® Bricks
Ornaments will be displayed at Mounts along with 15 Super-Sized Structures made out of nearly a Half Million LEGOs as part of NATURE CONNECTS: Art with LEGO Bricks, opening on November 14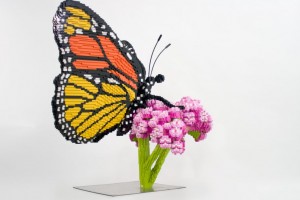 (West Palm Beach, FL – September 28, 2015)  The Friends of Mounts Botanical Garden today announced that Palm Beach County's oldest and largest botanical garden is launching a special Connecting with Nature Contest for Kids to promote the biggest exhibition in its 30-year history:
NATURE CONNECTS
Art with LEGO® Bricks
Opening on Saturday, November 14, and running Tuesdays through Sundays until February 14, this NATURE CONNECTS exhibit by Sean Kenney is making its Florida debut at Mounts and will feature 15 super-sized structures in 13 different displays made out of nearly a half-million LEGOs. Among the garden-themed items on display will be a birdbath with squirrel, Bonsai tree, girl with watering can, Monarch butterfly, corn spider, deer family, dragonfly, flowers, hummingbird, peacock, sea turtle, wheelbarrow and more.
Connecting with Nature Contest for Kids
Children and teens from Palm Beach County are invited to create an original garden-themed holiday ornament made out of LEGOs, such as a flower, plant, insect, animal or gardening tool. The submitted ornaments can be dropped off at either the office or Gift Shop at Mounts Botanical Garden between October 1 and November 25, 2015.
Contestants will participate in one of three categories:
Mini Master Builders (ages 5 and under)
Will craft their garden -themed LEGO creation using at least 25 large bricks.
Mid Master Builder (ages 6 to 10)
Will use at 75 big or small bricks for their garden-themed LEGO creation.
Mega Master Builder (ages 11 to 15)
Will use 125 or more small bricks for their garden-themed LEGO masterpiece.
The top 10 submitted ornaments in each category, as determined by a special committee of Mounts staff and NATURE CONNECTS Media Sponsors, would be displayed at the Garden throughout the holiday season.
The creators of the top ornament in each of the three age categories will all receive a one-year Family & Friends membership at Mounts (value; $75 each). The nine runners up in all three categories will receive a free pass to see the NATURE CONNECTS Exhibit at Mounts Botanical Garden.
The 30 finalists will be invited to hang their Connecting With Nature holiday ornaments at a special public event on Saturday, December 5, at 10 am at Mounts Botanical Garden.
The top ornament in each of the three categories will be posted on the Mounts Facebook page between December 5 and December 31, 2015. The ornament that received the most "Likes" and "Shares" during this period will be declared the Grand Prize Winner of the
Connecting with Nature promotion. He/she will receive a $500 mini-vacation in Delray Beach, including a one-night stay at Crane's Beach House Boutique Hotel & Luxury Villas and a $100 gift certificate for lunch or dinner at the nearby oceanfront restaurant Caffe Luna Rosa.
The two runners-up will each receive a special Master Builder LEGO Kit (value: $80+ each), such as Minecraft, Space Academy, etc.
When the promotion is over, all LEGO ornaments will be donated to Adopt-A-Family of the Palm Beaches, which is dedicated to restoring families in crisis to stability and self-sufficiency by providing access to all-encompassing services to families and their children.
About NATURE CONNECTS:
NATURE CONNECTS creator Sean Kenney is a renowned, award-winning artist and "professional kid" who uses LEGO pieces to design and create contemporary sculpture for high-profile clients, major corporations, and venues around the globe. The New York Times highlights Kenney's work as the "artistic elite" of LEGO-building. He has been featured in The Wall Street Journal, The Washington Post, BBC news, PBS Arts, ABC World News, HGTV, Wired, ELLE, and more. The creator of award-winning tour exhibits, Kenney also is the author of eight best-selling inspirational children's books.
The admission cost to attend the NATURE CONNECTS exhibit at Mounts Botanical Garden is only $10 for adults; $7 for seniors (65+), veterans and students (with valid IDs); $5 for children (3-12); and always FREE for Mounts members and children 2 and under. Individual Garden Tours led by a trained Master Gardener Docent is only $15. In addition, a variety of LEGO-themed collectibles will be available for purchase in the Mounts Gift Shop.
The three month NATURE CONNECTS exhibition at Mounts Botanical garden is generously underwritten by Presenting Sponsor Margaret Blume; Supporting Sponsors TD Bank, The Fortin Foundation of Florida, the Crawford-Taylor Foundation and MDH Printing; and Media Sponsors Florida Weekly and Palm Beach Broadcasting (WEAT, WRFM, WIRK & WFTL).
About The Mounts Botanical Garden of Palm Beach County:
With a mission to inspire the public, Mounts Botanical Garden is Palm Beach County's oldest and largest botanical garden, offering gorgeous displays of tropical and sub-tropical plants, plus informative classes, workshops, and other fun-filled events. The Garden contains more than 2,000 species of plants, including Florida native plants, exotic and tropical fruit trees, herbs, palms, bromeliads and more.  Mounts Botanical Garden is a facility of the Palm Beach County Extension Service, which is in partnership with the University of Florida and the Friends of Mounts Botanical Garden.
Located at 531 North Military Trail in West Palm Beach, The Mounts Botanical Garden of Palm Beach County is open Monday-Saturday from 8:30 a.m. to 4 p.m. and Sunday from noon to 4 p.m. (
Note: During the 
Nature Connects
 exhibition, Mounts will be closed on Mondays.)
 For more information, please call 
561.233.1757
 or visit 
www.mounts.org
.