Travel with Terri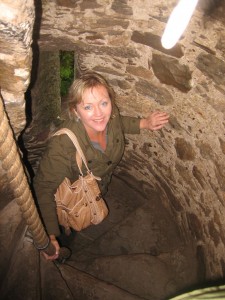 Charleston, SC:  A Haunting Halloween Destination
Story by Terri Marshall, Photo by Gregory Holder
Horses clip clop along cobblestone streets.  At the market, Gullah women mind tables filled with exquisitely woven sweet grass baskets – a craft that dates back to the days of slavery.
Lovely antebellum homes with spacious verandas line shady avenues.  Churches of every imaginable faith peacefully co-exist in this genteel community.
You'll find shrimp and grits, fried green tomatoes, crab cake po-boy's, barbecue and tomato pie on the menu in local eateries.  This is Charleston, South Carolina – the Low Country.   It's a town so charming you may never want to leave – and neither did many of its dearly departed.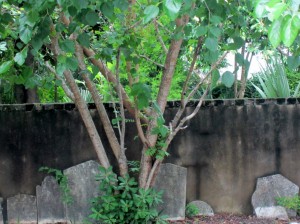 Charleston is believed to be one of the most haunted Southern cities in the country.  It's no wonder considering much of it is built on graves.  There are tombstones on top of tombstones in the parking lot of the Old Bethel Methodist Church.  Gravestones of Charleston's early African -American settlers were moved to make way for adjacent houses.  Old Bethel, built in 1797 – 1798, is the third oldest church building in the city. Originally both African-Americans and whites attended the Old Bethel, but in 1880 the building was given to its black members.  Slavery denied people fundamental recognition as human beings. As a result, the headstones of many enslaved people recorded only a single name.  Today, you will find these tombstones tossed on top of each other in the parking lot.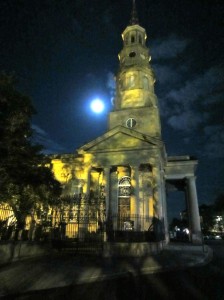 Ghost reports are commonplace here.  In fact, the Charleston police have received so many calls about a distressed woman dressed in black trapped inside the upscale Southern eatery, Poogan's Porch tucked away on Queen Street that authorities disregard new reports. The woman is believed to be the ghost of Zoe St. Armand, who owned the house in the early 1900s and went mad after the death of her sister.
Even the restaurant's namesake, a Wheaton terrier, Poogan, who died in 1979, is said to still be running through the dining room brushing the legs of children as they dine with their parents.
Don't think for a minute the hotels are immune from spirit sightings.  Book a room at The Mills House hotel on Market Street and you may run into Confederate soldiers running up and down the halls looking for water to put out the flames of the fire of 1861 that damaged the hotel while it was being used as a Confederate base during the Civil War.  Robert E. Lee himself has been rumored to make an appearance now and then.
While you are strolling the streets of Charleston, duck into Philadelphia Alley and you may very well encounter a spirit or two.   This secluded passageway tucked away just off Market Street between Cumberland and Queen Streets is commonly known as "Dueler's Alley" – with good reason.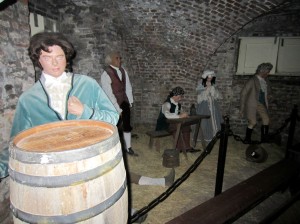 In the early 1800's in the American South, dueling was the way disputes were settled.   As you might imagine, many of those duels led to the death of one of the participants.  In Charleston, this alley was the sight of many of those untimely deaths leaving a host of spirits roaming the area a bit unsatisfied with life's ending.
To really explore all the ghostly details and get your chill on just in time for Halloween, book a walking ghost tour with Bulldog Tours.  Knowledgeable licensed tour guides lead you through the historic streets, cemeteries, back alleyways and churches on 1 1/2 hour walking tours of Charleston's dark side.
You'll hear fun and chilling stories of Charleston ghosts, haunted houses, voodoo, and Low country superstitions. Choose from a haunted pub crawl where you can drink away your fears as you hear stories of ghostly encounters.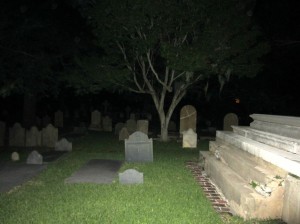 The cemetery and dungeon tour is the only Charleston ghost tour with access to a pre-revolutionary era dungeon.  You will also have access to cemeteries where you can photograph gravesides and search for orbs in your published photos later – if you dare.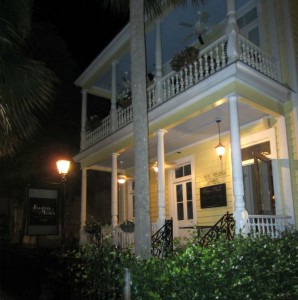 If you really want to feel your skin crawl, join the behind the scenes tour of The Old City Jail which housed some of Charleston's most infamous criminals, 19th century pirates and Civil War prisoners. The Old City Jail was in operation from 1802 until 1939 and most of the building's original structures remain intact including the cells and warden's quarters. The Haunted Jail Tour takes you through the cells, hallways and into the places where Charleston's worst criminals lived and died.  The faint of heart or those who easily cry should just skip this tour and opt for the haunted pub crawl – at least you will have spirits to help you ward off the other spirits.
When your tour is done, go order yourself some shrimp and grits – it will take the chill off and make you feel better.  Trust me.  See www.bulldogtours.com
*****
Terri is a freelance writer with regular columns on travel, chocolate and bar reviews. She is busy each month visiting new places to bring unique travel destinations and events to you. Yes, it is a sacrifice – but she is willing to do that for her readers! You can see more of Terri's writing at www.examiner.com where she is the National Chocolate Examiner and at www.barzz.net. Also, check out her blog atwww.trippingwithterri.com. You can contact Terri at terri.marshall60@gmail.com.