Travel with Terri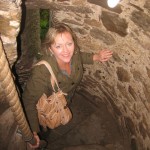 Baton Rouge: C'est Si Bon…It's So Good!
Story and Photos By Terri Marshall
There's no question, Louisianans know how to party.  And that partying has as much to do with Cajun cuisine as it does with Mardi Gras.   Although New Orleans may be known as the partying capital, it isn't the only place for food and fun on the Bayou.   Just 80 miles northwest of New Orleans, Louisiana's capital city is a bit more genteel than its partying neighbor, but every bit as delicious.
Located on the banks of the mighty Mississippi River, Baton Rouge is a delightful city with an intriguing history and some of the best food around.  There are plenty of ways to explore the city of Baton Rouge, but I can't think of one more delicious than the C'est Si Bon Food Tour founded by Kim Harper.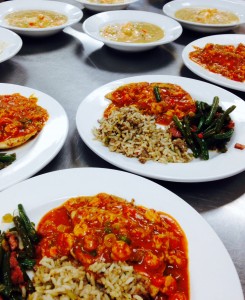 Born and raised in Baton Rouge, Kim, is passionate about Louisiana cuisine as well as the history and character of Baton Rouge.  She comes by this honestly.  When she was growing up her mother created a cookbook as a fundraiser for Kim's school.  Each recipe was kitchen tested.  "We had cast iron pots all over the place," she recalls.  Kim's C'est Si Bon Food Tour is a walking, guided tour in downtown Baton Rouge that perfectly melds food sampling with entertaining historical, cultural and architectural details.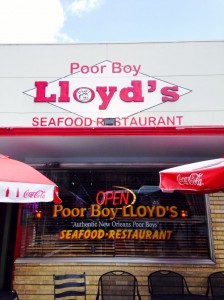 The tour kicks off at Lloyd's Poor Boy, a Baton Rouge institution that has been serving up a bucket list of Louisiana cuisine for half a century to everyone from blue collar workers to lawyers in seersucker suits with bow ties.  Proprietor Fred Taylor was ready for us with samples of hot roast beef Po Boys.
In 1929 when the trolley car workers' union went on a lengthy strike, money grew tight for the workers. Bennie and Clovis Martin started serving sandwiches to workers free of charge in New Orleans.  The practice spread to other areas of Louisiana including Baton Rouge.  "Here comes another poor boy" was often heard as the striking workers would show up for their sandwiches.  The nickname stuck and eventually shortened to "Po Boy" – sandwiches that have been a delicious part of Louisiana cuisine ever since.
Lloyd's offers several varieties of Po Boys.  They come "dressed" with lettuce, tomato and pickle or "undressed."  But they always come with plenty of napkins.  As Fred says, "If you don't use three to four napkins it just ain't right!"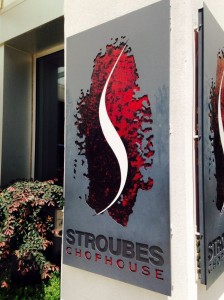 In stark contrast to the "diner" feel of Lloyd's, Stroubes Chophouse provides an upscale down south dining experience.  At Stroubes Kim introduced the holy trinity of gumbo – onions, bell pepper and celery.  A sampling of the trinity paired with duck and Andouille sausage was gumbo heaven.  The divine experience continued with a sampling of the rich, creamy corn, crab and brie bisque.  It was an ascent into culinary heaven.
The tour includes several other scrumptious stops including Zolia Bistro – an Italian bistro and wine bar where the warmth and comfort of Italian dining blends effortlessly with the contemporary design elements of II City Plaza, one of Baton Rouge's most prestigious properties.  An expo kitchen provides an opportunity to experience the bustling energy put into each decadent entrée.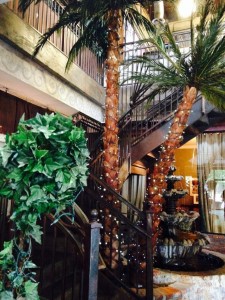 At the Lobby Café located in the Historic Varsity Shop, Tiffany Terrell serves breakfast and lunch favorites as she continues a 4th generation family food tradition in Downtown Baton Rouge.  Miss Corrinne Mansur, Tiffany's great aunt, began a small wholesale seafood company, C.C. Fish Market on Europe Street, in 1932, not realizing 82 years and four generations of women later her legacy of quality service to the Baton Rouge community would continue to flourish.   Try the muffaletta…trust me.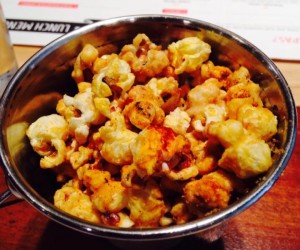 Another tour highlight was a stop at Restaurant IPO where Chef Scott Varnedoe serves his bacon caramel popcorn at every table.   "We replaced the butter with bacon fat," said Chef Scott.  "We can always hook people with bacon!"  The hand-crafted cocktails at IPO are not to be missed – my personal favorite was the Cajun Lemonade- a sinful blend of white rum and Pimm's No.1 with fresh lemonade and a dash of Tabasco!  No need to drink in a hurry, you can ask for a "to go" cup and continue your cocktail sipping as you stroll to your next destination.
No self-respecting food tour would skip dessert so for the grand finale we ventured to The Kingfish restaurant located in the former Hunt Room at the Heidelberg Hotel – an exclusive meeting spot for Louisiana's power brokers known as the "Hunt Room Alumni-dedicated to the Good Life."  One bite of the ridiculously delicious Bananas Foster Cheesecake Beignets (fried Cheesecake Beignets served with homemade banana caramel sauce) and we too were dedicated to the Good Life.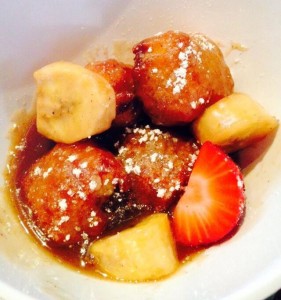 C'est Si Bon…It's so good!
***
Terri is a freelance writer with regular columns on travel, chocolate and bar reviews. She is busy each month visiting new places to bring unique travel destinations and events to you. Yes, it is a sacrifice – but she is willing to do that for her readers! You can see more of Terri's writing at www.examiner.com where she is the National Chocolate Examiner and at www.barzz.net. Also, check out her blog at www.trippingwithterri.com. You can contact Terri at terri.marshall60@gmail.com.