Nostalgia and a Blast from the Past!!!! Through Stickball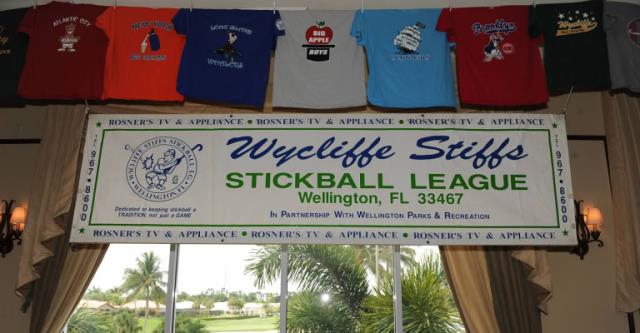 Wycliffe Stiffs Stickball League Commissioner Steve Wechsler, announces the opening of its 16th Anniversary Season on Tuesday, Oct. 24, 2017.
Games are played on Tuesdays and start at 1PM and 2:45PM on Stickball Blvd. in Wellington Village Park, 11700 Pierson Road, Welington, just minutes from the Wycliffe CC Gates.
This seasons five teams are: Bronx Clippers, Capt. Al Lebowitz, Bklyn Bums, Capt. Mike Schweiger, Dukes of Flatbush, Capt. Howard Novick, Long Island Whalers, Capt. Harvey Glicker, NY Egg Creams,Capt. Arnie Slutskin.
Come on out, and cheer your friends and neighbors on, and even take a few swings during pre game practice 45 minutes before scheduled games.
PS The 15 Game regular season runs through March. Playoffs follow.