Reception to Celebrate Local Artists
with the Wellington Art Society

The Wellington Art Society will host an Artist's R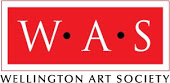 eception on Tuesday, June 26th. The public is invited to attend and enjoy the local art on display at the reception, which will be held from 5:00 p.m. to 7:00 p.m. inside the Wellington Community Center (12150 Forest Hill Blvd), and on the 1st floor of Village Hall (12300 Forest Hill Blvd).
This combined reception will recognize local artists for their artwork which is on display at the Wellington Community Center and at Wellington's Village Hall. Artists selected to participate in the rotating gallery exhibit will be recognized at the informal reception. The Wellington Art Society will also display original works of art and books, as well as offering door prizes and prints for sale.
As another way to stay informed on the latest news and updates from the Village, residents are invited to sign up for Wellington information and updates at www.wellingtonfl.gov/enews.
For information about other Wellington programs, events, activities, and updates, please visit www.wellingtonfl.gov or watch WellingtonTV for the latest happenings.