DON'T LEAVE ME THIS WAY!
Thelma Houston's Motown Experience is
A Special Tribute to Aretha Franklin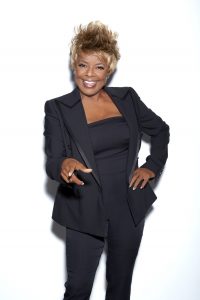 Proceeds Benefit Pancreatic Cancer Action Network
COCONUT CREEK, Fla. – Thelma Houston's Motown Experience, featuring a tribute to Aretha Franklin, will take place in The Pavilion at Seminole Casino Coconut Creek on Friday, November 16, at 8 p.m.
Tickets (priced at $25/$35/$100 – the latter for couch seating) are on sale now via Ticketmaster locations, online at Ticketmaster.com, or by calling 800-653-8000. The Pavilion box office will also open at 1 p.m. on the day of the show for on-site ticket purchases and Will Call pickup.
Seminole Casino Coconut Creek will donate all cash ticket and concession sales to the Pancreatic Cancer Action Network. It will be part of the property's extensive support of Pancreatic Cancer Awareness Month (November).
Houston will perform a medley of Franklin's songs in the wake of her passing away from pancreatic cancer. It is personal for Houston, who was close friends with Franklin, and this is a special way to show her respects the legendary singer. Patrons can expect to hear songs like "Respect" and "Natural Women" in the medley.
Houston will perform other iconic songs as well as her own hit, "Don't Leave Me This Way."
A Mississippi native and Los Angeles resident, Houston started out in the 1960's performing gospel music with the Art Reynolds Singers. Later, she signed with Capitol Records (home of the Beatles, Nat King Cole, and Nancy Wilson) in 1967 and produced her first hit song, "Baby Mine."
Houston recorded her first solo album, Sunshower , with ABC/Dunhill before moving to Motown Records where she claimed the top of the Pop, R&B and Dance charts in 1977 with her number one hit, "Don't Leave Me This Way," which won her a Grammy Award for Best Female R&B.
In recent years, Houston has been invited to sing the song on dozens of TV shows and specials, including the Today Show. The song was mentioned by VH1 as being among the greatest dance songs in 2000.
With appearances from Tokyo to Las Vegas to London and beyond, Houston continues to bring audiences to their feet with her dynamic, energetic shows. She logs over 200 performances annually.
Seminole Casino Coconut Creek is located at 5550 NW 40th St., Coconut Creek. For more information, call (954) 977-6700 or visit CasinoCoco.com.
About Pancreatic Cancer Action Network
Founded in 1999, the Pancreatic Cancer Action Network (PanCAN) is dedicated to fighting the world's toughest cancer. In our urgent mission to save lives, we attack pancreatic cancer on all fronts: research, clinical initiatives, patient services and advocacy. Our effort is amplified by a nationwide network of grassroots support. We are determined to improve patient outcomes today and double survival by 2020.
About Seminole Casino Coconut Creek
Seminole Casino Coconut Creek presents the market's most fully-integrated, energized, stylish and upscale local's casino experience featuring nearly 2,000 slot machines, from classic favorites to trendy new themes, plus 70 live table games with real dealers and real cards, including blackjack, baccarat and poker. Under its roof, the casino offers world-class dining including its award-winning steakhouse, NYY Steak, as well as Sorrisi Italian restaurant, the New York-style 1st Street Deli and authentic Asian cuisine at The BOL. Guests can enjoy live music from a variety of performers and dance the night away to the latest mixes from the area's top DJs at Legends Lounge, Nectar and Sunset Grill. The Pavilion, a 1,200-seat capacity entertainment venue, has been a home to acts such as Wayne Newton, Dionne Warwick, Sophia Loren and many more. Open 24/7, 365 days a year, Seminole Casino Coconut Creek is located at the corner of U.S. 441 (State Road 7) and Sample Road in Coconut Creek, Florida. For more information, call (954) 977-6700 or visit us online at CasinoCoco.com. Like us on Facebook at facebook.com/seminolecasinocococreek, follow us on Twitter @CasinoCoco and Instagram @seminolecasinococonutcreek, and subscribe to our YouTube channel at youtube.com/SeminoleCasinoCC.