AW Spotlight
Risë Siegrist and Her Family
By Sabeen Faquir
To describe the Siegrists, I can only think of one word, charming. I got the opportunity to sit down with Gene, Risë, Sean, and Jennifer Siegrist. Previously, AroundWellington visited Risë and Sean, a mother-son duo at the top of the real-estate game in Wellington, FL in 2013. We learned about Wycliffe, one of the most exclusive communities in South Florida and how they were its preferred realtors. The family loved to be together and among the chatter, I got to ask them about what they did.
This time, AroundWellington got to hear more from Gene Siegrist and his daughter-in-law, Jennifer. Unlike his wife and son, Gene doesn't work as a realtor. He works in property management, contract renovation, and home remodeling. A lot of his work comes through Risë's referrals both inside Wycliffe and outside. Gene does the work because he has a great eye for interior design. He's never once had to face a customer who was unhappy with his work. He is meticulous and geared toward an end product. As Jennifer put it, "He finds the good in the house." It's interesting to know Gene was previously a policeman.
Last time, we briefly visited Jennifer who did administrative work. She is now a real estate agent and works alongside both Risë and Sean. She works on listing appointment preparations and took over many of Sean's "behind the scenes" duties like photography, advertising and updating technological communications for the family.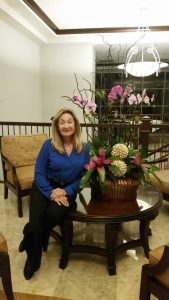 I asked Risë what brought her to the real-estate industry and she told me she thought she would originally work part-time and get to spend time with her husband. Before that, she worked as a real estate paralegal for 30 years. To become a realtor, she needed time but luckily her background lent her to it, well. She said it was an easy transition. At the time, her son Sean did the communications and marketing for the company, both online and through paper.
So how did Sean get into the business, you might ask. "I saw that Mom was really good at her job and started working part-time." He would come up on weekends from college in Florida International University and found himself staying longer and longer. So, he decided to transfer to Florida Atlantic University where he completed his degree in Finance and minor in real estate.
Each Gene, Risë, Sean, and Jennifer finds their work very satisfying. "You don't do it because you hate it. It's about helping people find what they're looking for," said Jennifer. Together, they find the appreciation of the clients rewarding. The Siegrists go above and beyond for their customers, too. They are known to do things like meet with Comcast or open the door. Other real estate agents don't do this. Risë told me their motto: "You are never alone when buying or selling a home."
Not only is Gene meticulous, but the other Siegrists follow suit. When it comes to preparing for a client, they prepare all paperwork and ensure everything is in order. "The buyer or seller needs to know what they are getting into," said Risë.
I noticed on her website, RiseatWycliffe.com, Risë lists communities she serves. I asked her which community stood out in her mind, for its amenities and location, and she answered Olympia. "They have family houses with amenities for kids like a playground, basketball court, volleyball, as well as a great clubhouse where many community events are hosted." Risë's territory extends from Okeechobee Blvd to Atlantic Blvd.  Yes, she does do real-estate as far south as Boca Raton, should you need assistance there.
But, she loves Wycliffe for the family-friendly resort-style living it affords. According to Risë, houses in Wycliffe are approximately $300,000 less than other communities of its sort but keep in mind there is a minimum $44,000 buy-in.
You may be wondering what's changed at Wycliffe in the past few years. Well, the Siegrists informed me Wycliffe is under all new management and is slowly renovating many areas of the clubhouse like the lobby and the cardroom. They have introduced bocci and pickleball, as well. Wycliffe showcases its new changes through their new magazine and newsletter, appealing to a younger demographic.
The Siegrists keep healthy relationships with other agents. In fact, real estate agents are known to call them for their advice on what to show! What Risë has to offer is a thorough knowledge and experience. She said, "You don't look better by comparison but you look worse by association."
Sean said the best feedback a customer can provide them with is a referral. Among their customers, Risë, Sean, and Jennifer are known to be knowledgeable about school districts, dues, laws and all aspects of the business, inside and out. The Siegrists still work out of an office outside the Wellington Green Mall, to serve the Wellington area. They also have 4 other offices in Lake Worth, West Palm Beach, Boynton Beach, and Boca Raton.
And, Risë is heavily involved in the community. She is now the Communications Vice President for the Hadassah Chapter at Wycliffe. With Jennifer, she arranges the bulletin, posters, and mailings like holiday greetings. In her spare time, Risë is still involved with Wycliffe Charities, 1001 Lights, and Play for Pink.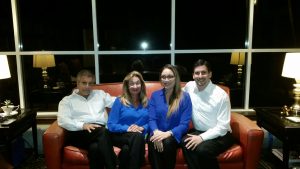 When asked why they are perfect for Wellington residents, Jennifer answered: "Because we live, work and play here." Siegrist knowledge and shared experience is not a secret. They share with buyers, sellers, and other agents and their office in Wellington is a team production. They consider themselves very lucky. Risë is still the top producer in Wycliffe and top 100 in the state for Re/Max. To learn more about the Siegrists, visit them at SiegristRealtyGroup.com.
Siegrist Realty Group, REALTOR®
(561) 889-6873
risesiegrist@hotmail.com
RE/MAX DIRECT
10240 Forest Hill Blvd Ste 180
Wellington, FL 33414