Local Tree Service Companies Support
SALUTING BRANCHES
Arborists United for Veteran Remembrance
September 18, 2019
Local Arborists Will Spend Day Sprucing Up South Florida National Cemetery in Lake Worth Beach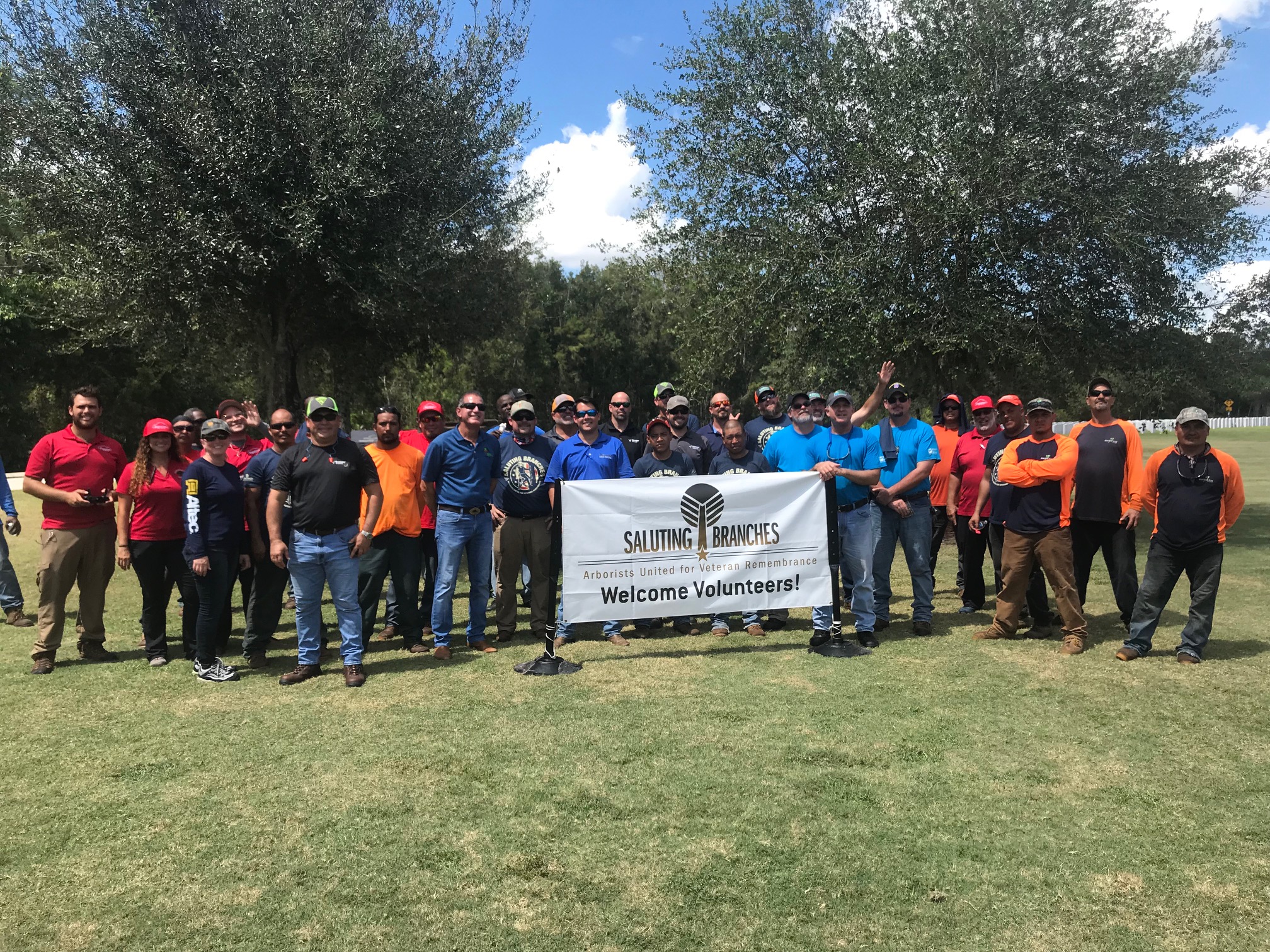 (Lake Worth Beach, FL – September 10, 2019) Tree care professionals from nine local tree service companies will unite at the South Florida National Cemetery in Lake Worth Beach next week for a volunteer day of service dedicated to our veterans. Saluting Branches, Arborists United for Veteran Remembrance is a nonprofit organization honoring veterans by donating tree care at veteran properties. Celebrating the fifth annual day of service on Wednesday, September 18, more than 3,000 tree industry professionals and other volunteers across the nation will donate a full day by doing what they do best: caring for trees.
Participating local companies include:
+ Bartlett Tree Experts of Oakland Park
+ Jason's Arborcare Service of West Palm Beach
+ Mignano Landscape & Tree Care of Boynton Beach
+ Only Trees of Jupiter
+ Perkins Tree & Landscape Services of West Palm Beach
+ Sherlock Tree Company of Pompano Beach
+ Southeast Arborist of Palm Beach Gardens
+ Stephen's Tree Service of Palm Beach Gardens
+ Zimmerman Tree Service of Lake Worth

Other participating supporters include Altec Industries, City of Pompano Beach, Rainbow Tree Care of Minneapolis, and Vermeer Southeast of Boynton Beach.
"Volunteer tree work at the 313-acre cemetery will begin by 8 am  and conclude by 3:30 pm on Wednesday, September 18. The arborists will provide expertise in tree structure, invasive insects, diseases, and best management practices for tree health," says event organizer Michael Zimmerman of Zimmerman Tree Service.
"We join with tree care companies around the country to honor our Nation's veteran's by providing free tree care services," says Sonny R. Peppers, director of South Florida National Cemetery. "Together we make these cemeteries safer, more beautiful resting places for those veterans who gave the ultimate sacrifice for our country."
"I look forward to giving back and taking care of the place where those that gave their life have their final resting place," shared one previous volunteer, while others declared, "What an outstanding way to honor our country's veterans," and "Our actions and participation in this event is a small token of our thanks to the men and women who served. We are proud to be a part of an industry that recognizes our veterans and the sacrifices they made."
About Saluting Branches, Arborists United for Veteran Remembrance:
SALUTING BRANCHES is a nonprofit organization dedicated to recognizing and honoring our veterans. In 2018, Saluting Branches was the largest one-day volunteer event in the tree industry with over 3,000 participants. A total of 636 companies and organizations put in an estimated 24,000 hours in one day at dozens of locations across the country. More than $3 million dollars in services donated by arborists doing the work they love. The 5th Annual Saluting Branches will be held on September 18, 2019. Learn more at www.SalutingBranches.org.