AW Spotlight
Nature's Table Café … Fresh Ingredients, Super Service
By Krista Martinelli
When you're looking for some terrific soups, wraps, Paninis or smoothies, Nature's Table Café is the place to go. As a few added bonuses, you'll find the staff to be very friendly, you'll get the chance to sample anything on the menu and you'll find the restaurant to be elegant and immaculate.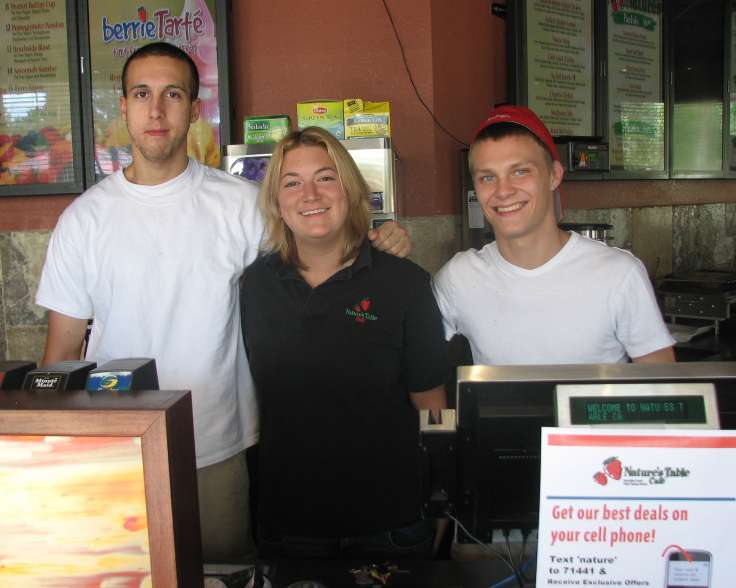 "We sample things all the time," says owner Bedonna Flesher. "We want to make sure that you try everything. At Nature's Table Café, you can be as healthy or as unhealthy as you want to be." Their menu features everything from vegan items to Roast Beef Bluez (roast beef, crumbled bleu cheese, carmelized onions, tomato and parmesan peppercorn dressing on grilled Panini bread). 
What's different about Nature's Table Café?  The employees, according to Flesher, and the way they make you feel.  "We treat you like family. You will not get this kind of customer service anywhere else."
This family-owned restaurant was started up by Flesher in 2008 after the former Patty's Parlor ice cream shop went out of business.  Flesher had worked at the ice cream parlor as a teenager. She started thinking about what she could put in there in its place – something healthy and something a bit upscale to fit the market of Wellington customers. She discovered the NTC franchise and realized it was the perfect type of restaurant for this location.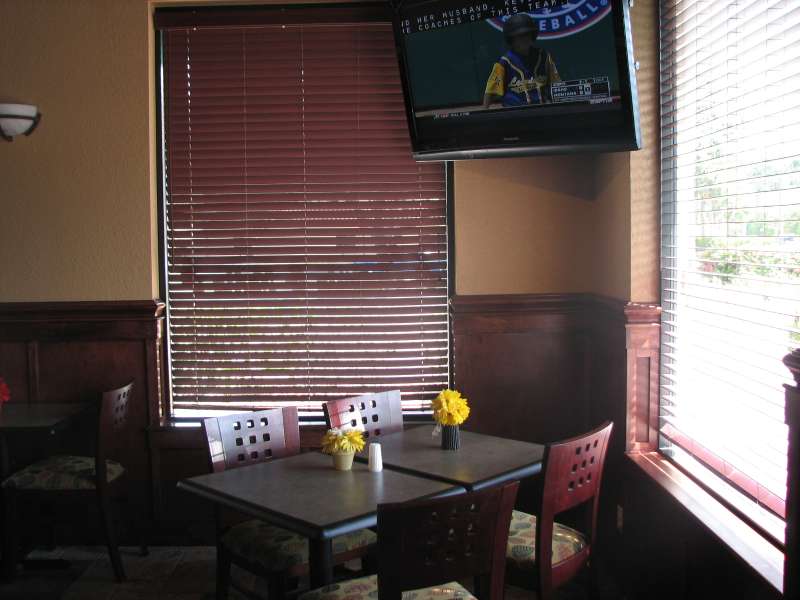 Its gorgeous interior and convenient Wifi service seem to be a big hit among the equestrian community and the seasonal Wellington folks. 
The restaurant is good to its "regulars."  In fact, with some customers, explains Flesher, "we already know what they want, so we start making their order as soon as they walk in."  The customers seem to truly appreciate the friendliness, the samples and the customer service.  "We will basically do anything to accommodate you." See the quick video of NTC regular Mimi, who proclaims her love for both the food and the service. 
If you stop by NTC, you'll undoubtedly meet Adam, Alex or Brent – all very personable, hard-working staff. "They're amazing," says Flesher. "The key is in treating your employees like you'd want to be treated." 
Another thing that makes NTC unique is that it's quite possibly the only place to get a smoothie in "inner Wellington." With sixteen flavors of smoothies, there's something refreshing for everyone's palette. Whether you're a Mango Mama type or a Peanut Butter Cup smoothie sipper, you'll find something yummy!
For great savings each week, you can subscribe to a texting program with NTC by texting "nature" to 71441. You will be sent special offers every few days! It's a great way of keeping up with coupons – all in the convenience of your smart phone.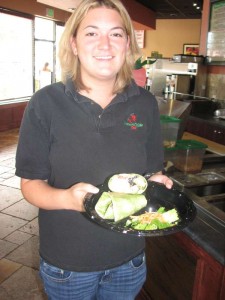 Bedonna Flesher keeps Nature's Table involved in the community, just through her own interest in seeing Wellington succeed.  They're very involved in the Wellington Chamber of Commerce and its activities.  Most recently Flesher organized a Swap Meet at Wellington Marketplace (in August) to bring some more traffic into the whole plaza. The event was a success and will be held on a regular basis now.
Flesher grew up in Wellington, graduated from Wellington High School and then graduated from Florida State University. She's happy to bring her marketing expertise to a popular restaurant in her home town. She co-owns the restaurant with her parents Polly and Marc.
If you have a special event coming up, Nature's Table Café is a great catering option. Although they appreciate at least 24 hours notice, they strive to accommodate almost any request.
For more information, visit their website or just stop by for a delicious bite!
Nature's Table Café
13889 Wellington Trace, Suite A-7
Wellington, FL 33414
(561) 383-8343
For special savings, text "nature" to 71441.
Ask about catering!