The 1st Annual Surf Dog Classic
A Benefit for Furry Friends Adoption & Clinic
Story by Krista Martinelli, Photo Gallery by Monica Kallas
[nggallery id=492]
Check out this surfer Matt and his dog Rosko.  See the video!
The first annual Hang 20 Surf Dog Classic was a beautiful morning of dog surfing, demonstrations and fundraising for Furry Friends in Jupiter.  And yes, there will definitely be a 2nd Annual event too, says President of Furry Friends Animal Adoption Clinic Patricia DeShong.  They had a bit of luck that morning, as the waves were just the perfect size, thanks to a mild Tropical Storm Erika.  It was a sunny day, and the dogs were wearing their life jackets and ready to surf!
I had the chance to talk with Patricia DeShong, President of Furry Friends, marketing guru Ilene Adams (for Furry Friends) and Navy Seal Museum dog trainer Phil Ryan.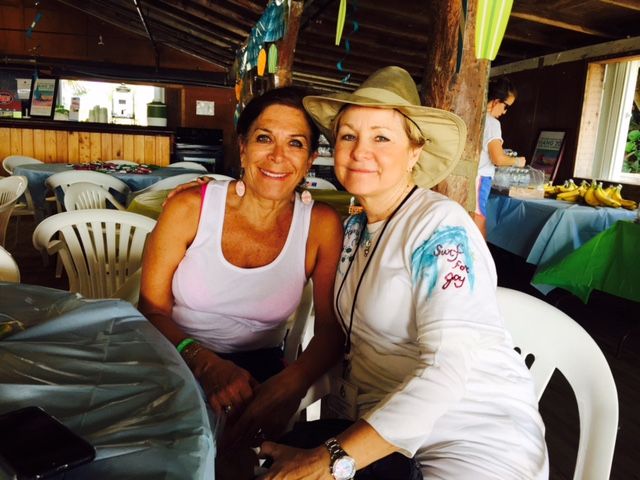 AW: Pat, how many animals do you care for on a typical day at Furry Friends?
PD (Patricia Deshong): Furry Friends is a no-kill animal shelter. At the present time we have 157 animals – with 63 dogs and 94 cats at both facilities. We also have a large foster network, in addition to our adoptions. Fostering is a great way to see if an animal is suitable and the right fit.  Also, we find that animals tend to be more adoptable after spending time in someone's home. The Humane Society of Greater Jupiter, Tequesta DBA Furry Friends Adoption & Clinic was formerly called SafeHarbor. We are growing with facilities that include the adoption center, the veterinarian clinic, the Furry Friends Thrift Store, and the renovation of our Ranch in PalmCity. The ranch is situated on 27 acres, and includes a cageless cat facility, accommodations for horses – (we currently have four horses) and a peaceful place for dogs and cats. Your tax deductible donations can help us, as we work to build this ranch and make it another safe place for animals.
We are proud to announce that we just received a matching grant from the Batchelor Foundation. They will match every dollar we raise up to $50,000, with the money raised going to the renovation of our ranch in PalmCity. The plans include new housing structures with individual dog runs, agility equipment, a therapy and recreation pool for dogs, renovated cat cottages and a memorial garden with a rainbow bridge.
AW: Tell us about your success stories.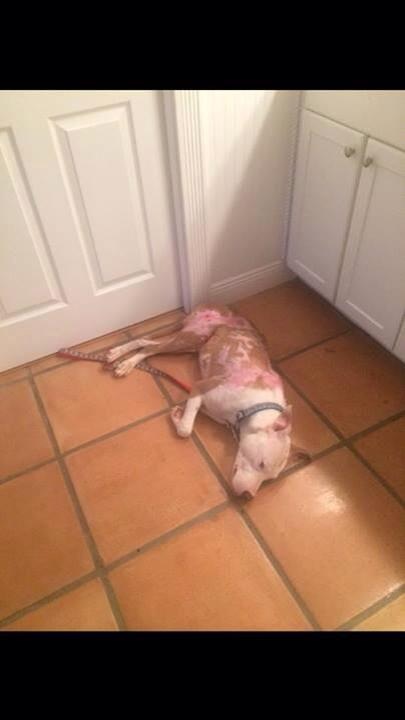 PD: We rescued Phoenix, a pitbull from BrowardCounty – he had been doused in gasoline and set on fire. (Our service dog trainers, CAMO, felt he was a good candidate for our program, despite the abuse he had suffered. Thanks to surgeon Dr. Latimer in Jupiter, he was able to receive the treatment necessary to get him back to health.  Army veteran Derek Butler who was suffering from PTSD was given Phoenix as a service dog. And Phoenix has turned out to be an amazing dog and life saver!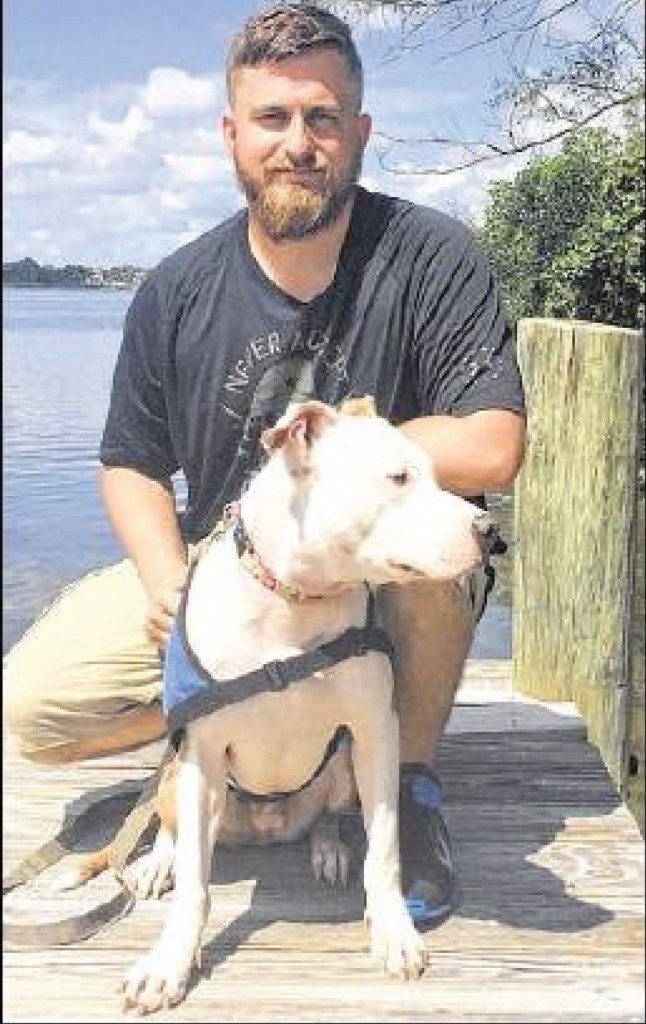 We recently rescued Aurora, a German Shepherd who had been starved and found as a stray and brought to Furry Friends. She was in great pain from mange and had severe lesions throughout her body. We were able to care for her and treat her in our hospital.  Our chief veterinarian cleared her for adoption after two months of treatment. The Rowe family visited the shelter the following morning, seeking to replace their beloved shepherd that had passed away. They met Aurora and adopted her, renaming her Lucaya.  She loves her new home and family, and this family could not be more grateful.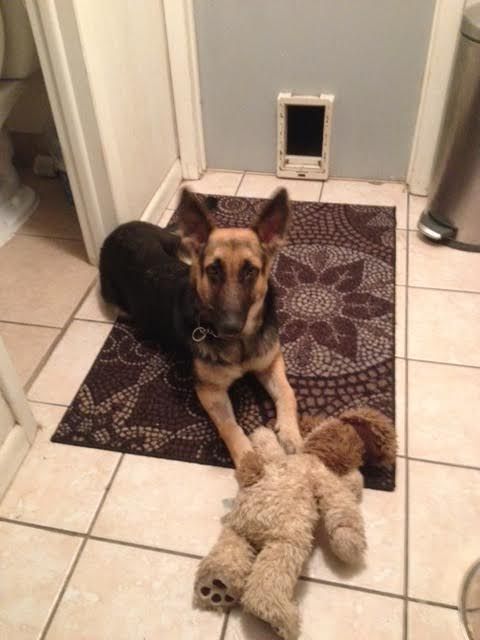 AW: Tell us about your Furry Friends Clinic.
PD: Our Chief Veterinarian is Todd Vinoski, who we feel very blessed and fortunate to have. We have a caring surgeon, Dr. Gonzalez.  We work hard and do our best to offer affordable healthcare to the public because we understand the high cost of caring for your pet, and our shelter has seen too many people forced to surrender their pet due to finances.  We also help other animal rescue groups at our clinic. By the way, we receive no government funding, except for a small donation from the town of Jupiter. We rely on donations from the public to help and heal animals.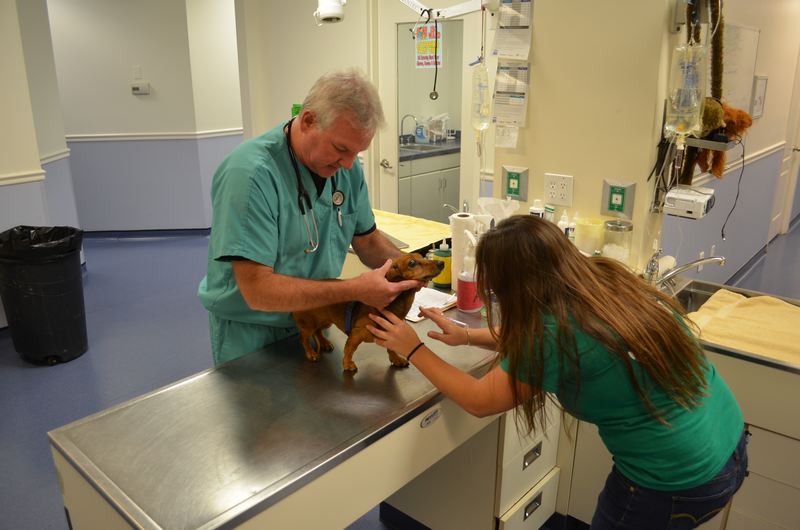 AW: What are some of the best things to donate to Furry Friends Adoption Center and Clinic? How do people get started with volunteering?
PD: Any quality items donated to our thrift store are much appreciated. We can pick up furniture at your location.  People sometimes provide Publix gift cards, Walmart gift cards, Target gift cards – these are all helpful and very useful in purchasing much needed products for our shelter. Some donate cat litter, towels or sheets.  You can also donate a used car.
If you visit our website FurryFriendsAdoption.org, you will see upcoming events   We are looking forward to our second annual "Pawty" on November 21st at Abacoa Country Club where there will be fabulous food, music, dancing and auction items.
We are looking forward to our second annual Hang 20 Surf Dog Classic next year on August 27th, 2016.  The community came out with close to 2,000 attendees and we have already begun the planning for next year with sponsors and vendors voicing their support.
Volunteers are always welcome!  You can go on our website and start the process. Kids who are 12 and up can come volunteer with a parent.  At 16 years of age, you can begin volunteering without a parent. Karen Counts is our volunteer coordinator.  We always need dog walkers in the afternoons and weekends.  We also need people to do laundry.  We appreciate all volunteers!
We had a fundraising and grant writing specialist, who we lost recently to a car accident.  Words cannot express how much we miss Joy Cawby. She spread love wherever she went, both to humans and to the many animals she cared for.   We held a celebration of Joy's life on August 9th in North Palm Beach.
AW: What's the most challenging thing about being President of an animal shelter and clinic in our area?
Without a doubt the fundraising aspect is most challenging. It has become so competitive, and there are so many great rescue organizations and so many charities in general to give to. We often get carried away just getting the day-to-day work done that we don't get to focus on the fundraising enough.
AW: Tell us about some aspects of Furry Friends that people might not know about.
We work very hard to get ever animal adopted and do not give up no matter how long that it takes. We created programs to help find the perfect match for our pets. We offer our "shelter to service dog program" for veterans suffering with PTSD.  We also have our "senior to senior" program, where we match aging adults with senior cats or dogs. We even matched a trucker seeking a companion to keep him company and keep him alert as he drives cross country. Too many animals are sitting in shelters and there are multitudes of ways they can be useful in providing companionship and healing. I intend to explore every possibility!
AW: Ilene Adams, how did you get connected with Furry Friends and end up doing their poster for this Surf Dog Classic event?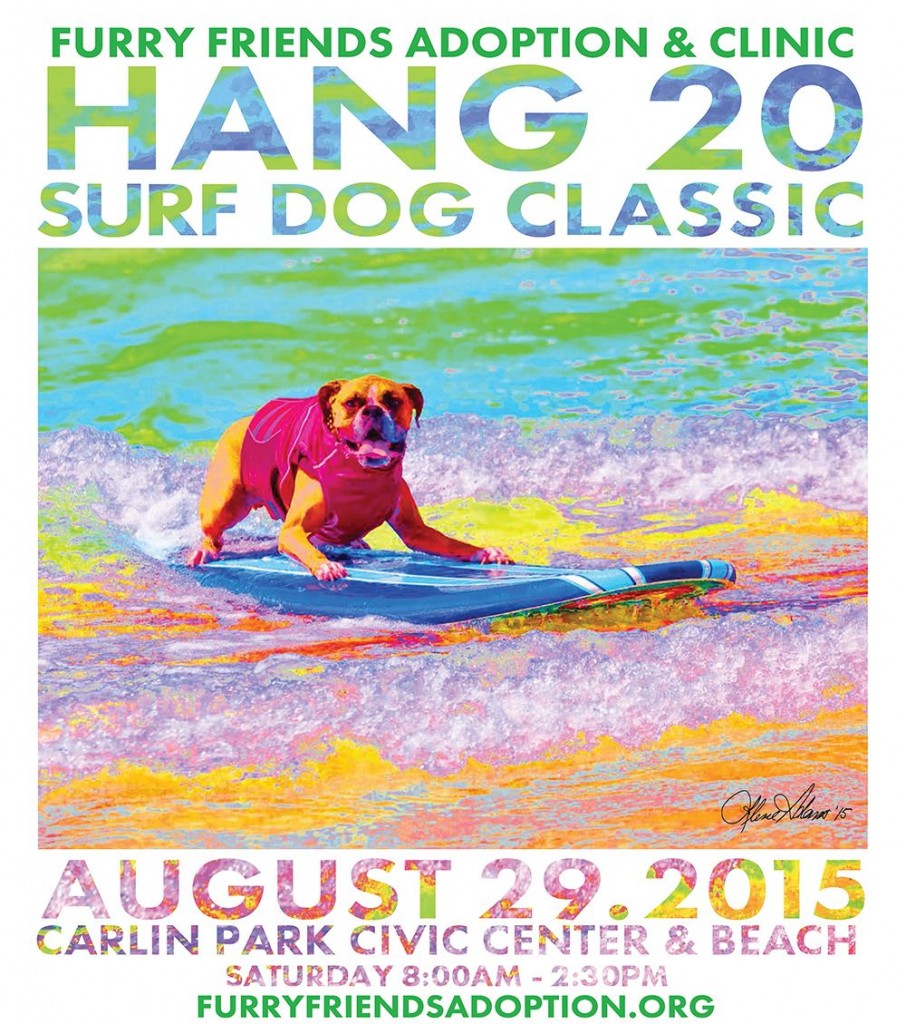 IA (Ilene Adams):  Pat DeShong had seen my artwork at an art show at Continuum.  We have known each other, but she didn't know I was also an artist.  She called to ask me who the artist was for a particular piece, and when I told her it was me, she asked if I would do the poster for the Hang 20 Surf Dog Classic and do PR, in general, for Furry Friends. I am already planning next year's poster!
AW: Tell us about your experience as an artist.
IA: I lived in Wellington for about ten years and moved to Jupiter three years ago. I create both mixed media paintings and photographs. My artwork has been shown throughout the county at various exhibitions, and currently in the OSGS Gallery in Northwood, West Palm Beach and in the RCB Gallery in downtown Lake Worth. I was an active member of the Wellington Art Society when in Wellington.  Now I'm a founding member and on the board of Art Synergy, and we work to promote the arts throughout the whole county.
AW: Do you have pets at home?
IA: I have a dog, Ricky Bobby, who is a rescue, that I refer to as 'muti-cultural.' And I have a cat who is a rescue from Furry Friends.  I help Furry Friends too by bringing animals to events out in the community, trying to get them adopted.  I'm very happy to be promoting Furry Friends as they are a great asset to the community and are a no-kill shelter.
I also had the chance to speak with a Navy Seal dog trainer named Phil Ryan, who was planning on doing a demonstration at the event.  Plans changed, so he actually did not make it to the event this year. However, they did explain the role of the Navy Seal dogs, as there was a Navy Seal dog in attendance.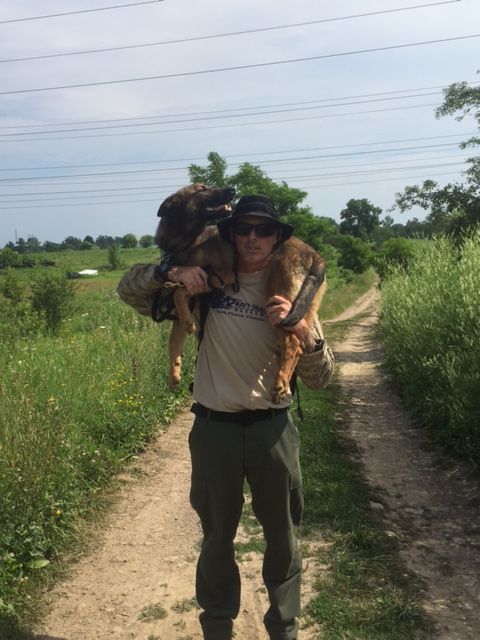 AW: How long does it take to train a Navy Seal dog? How do you train them?
PR (Phil Ryan): Navy Special Warfare K9's start their training as young as eight weeks old. By the time they are 1-1/2  to 2 years old, they are deployable. They are multi-purpose K9s; they are trained to take down bad guys and sniff for explosives. They are capable of tracking, parachuting with their handler and fast-roping from helicopters. Like their human counterpart, they do it all.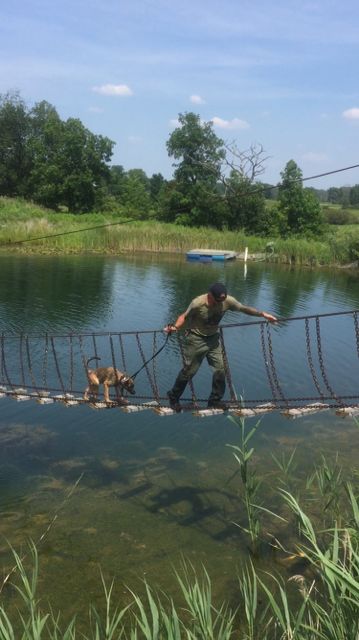 AW: What are some of the most amazing things they do?
PR: It's their ability to work in the harshest conditions for hours at a time, day in and  day out.
AW: What's something most people don't know about these dogs that you wish they did know?
PR: Most people think that once a dog is trained, that's it – they are ready for work. The reality is that the training never ends, it's constant. These dogs have to be obedient and ready to work at all times. In order to achieve that goal, these dogs are not domesticated like most house pets. There's no treat rewards or pampering these dogs. There working dogs, they need to be tough to be able to deal with harsh environments and dangerous work. There is a bond between the handler and K9, and time for some affection, but for the most part, it's strictly business.
AW: Why are they perfectly suited to some of the jobs they do?
PR:  These K9s are bred for this type of work. Genetics and proper training enables these dogs to do the job they do.
AW: Tell us about what breeds of dogs are used.
PR: The SEAL teams use Belgian Malinois and Dutch Shepherds. These two breeds are very similar. Slight difference in coloration. They are smaller, lighter and faster than a German Shepherd. They are much more suitable for the job at hand.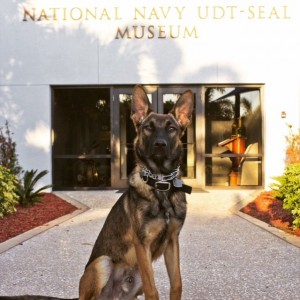 AW: Do they "retire" and become service dogs at a certain point?
PR: SEAL team dogs have an average service time of about 4 to 6 years at best and can have up to as many as three handlers. Once the dog retires from service, the handlers have first shot at adopting the dog.
AW: Tell us about the Navy Seal Museum in Fort Pierce. How long have you worked there?
PR: The National Navy UDT-SEAL Museum, also known as the Navy SEAL Museum, is located at 3300 North A1A, North Hutchinson Island, in St. Lucie County, just outside Fort Pierce, Florida. It houses exhibits to inform and educate on the role of Navy Underwater Demolition Teams (UDT) and Sea, Air, Land (SEAL) teams.[1] The museum also preserves the history of the SEALs (the original Navy frogmen first trained outside of Fort Pierce).
The museum also owns a home along the Indian River called the Trident House. It is a home where the Navy SEALs and their families can unwind between deployments.
I have worked at the museum for about four years. It has truly been an honor to work amongst the SEAL community.
Furry Friends Adoption Center & Clinic
401 Maplewood Drive Suite 10
Jupiter, Florida 33458 
(561) 747-5311
*** 
Ilene Adams
The Marketing Works of Palm Beach, Inc.
(561) 346-0172
***

The Navy Seal Museum
3300 N. Highway A1A
NorthHutchinsonIsland, Fort Pierce, FL34949
772-595-5845