STICKBALL:  A WAY OF LIFE FOR SOME WELLINGTON RESIDENTS
Story by Mike May, Photos by Alan Fabricant
There's a new hall of fame inductee living in Wellington, but that person is not headed to the Pro Football Hall of Fame, the Basketball Hall of Fame, or Baseball's Hall of Fame.  Instead, he's headed to the Wycliffe Stiffs Stickball Hall of Fame and his name is Alan 'Happy' Wilans.  Wilans, 71, is the 74th inductee into this local stickball shrine.  The announcement took place on February 4.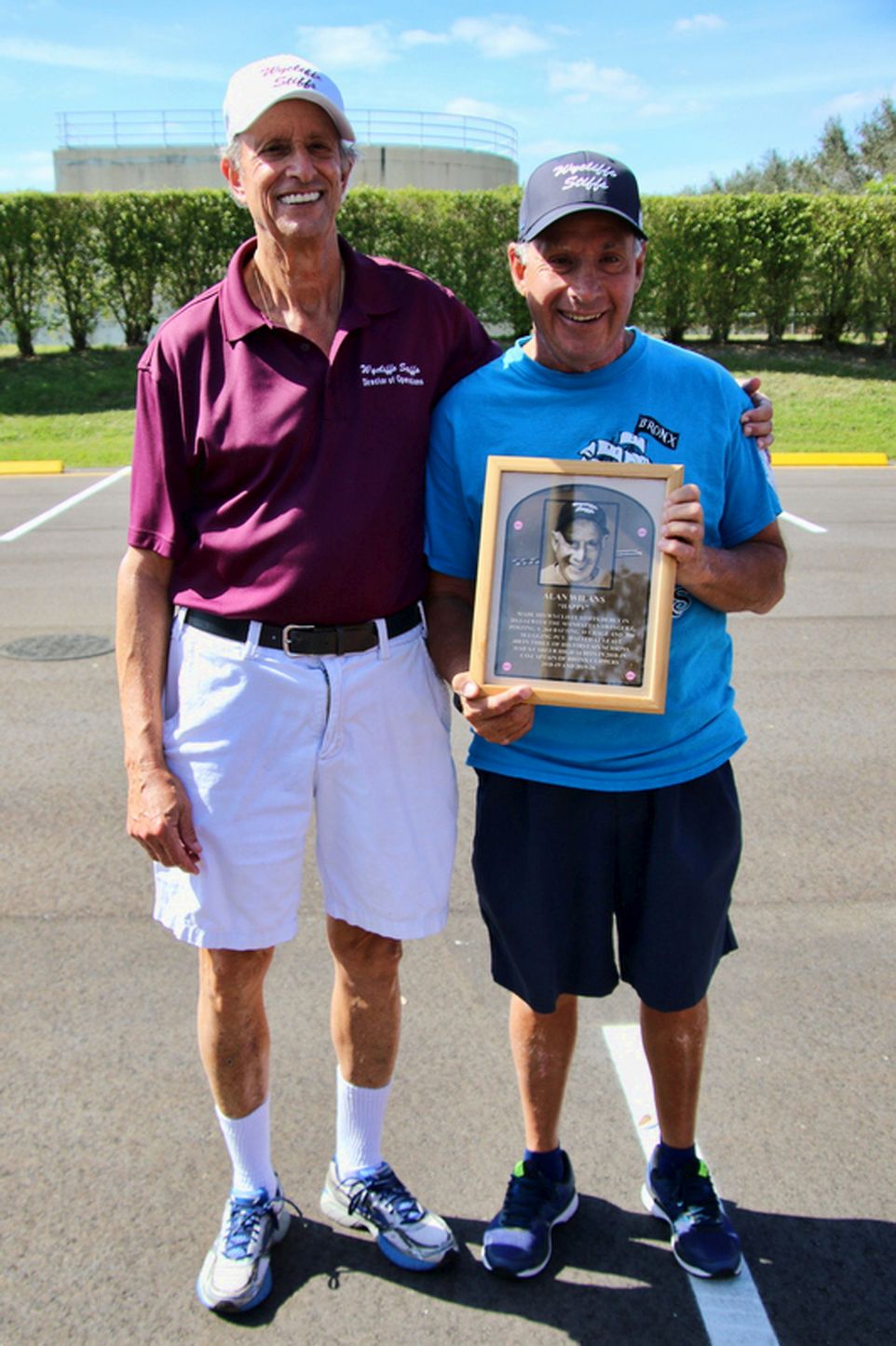 According to league publicist Philip Strassler, getting into the Wycliffe Stiffs Stickball Hall of Fame is not easy, as it requires commitment, longevity, and a little bit of talent.
The Wycliffe Stiffs Stickball Hall of Fame was created in 2009.  The purpose of this Hall of Fame is to recognize the accomplishments of players who have contributed their time and effort over the years to ensure the success of the league.  To be inducted, individuals must have played in at least 75 percent of their team's games for at least six seasons.  It's worth noting that scorekeepers and other league personnel are also eligible for induction.
Wilans earned his way into the Hall of Fame with his hitting prowess.  He batted at least .400 in his first three seasons.  In the 2018-19 season, he had a career high 14 hits.  He is currently a co-captain of the Bronx Clippers.  He began his Wycliffe Stiffs stickball-playing career with the now-defunct Manhattan Swingerz.  But, the roots of Wilans' stickball playing career began as a youngster while growing up in New York City, back in the day.
"We played stickball all the time as kids," recalled Wilans.  "And, I plan to keep playing for as many years as I can."
The news of the Hall of Fame induction caught Wilans by surprise.
"I was told about this honor about three minutes before it was announced," revealed Wilans.  "I was touched, shocked and surprised."
Wilans is one of the many men (and women!) who play stickball in Wellington from late October through late March.  The league is headquartered at the Wycliffe Golf & Country Club and is now entering its 18th season of play.  The games are played on Tuesday afternoons at Village Park in Wellington.
"We call it Stickball Boulevard South," says league founder, Wycliffe resident and Bronx native Marty Ross, who is affectionately referred to as 'The Commish.'  "We are dedicated to keeping stickball a tradition, not just a game."

The vast majority of the participants in this street-based diamond-sports game are seniors from the greater New York City/New Jersey area.
According to Ross, the south Florida membership of this stickball league honors its strong connections to the Big Apple.
"We have four corner street signs that denote 1,221 miles to Brooklyn, or the Whitestone Bridge, Yankee Stadium, Ebbetts Field, and the Polo Grounds, where Willie Mays reigned as a baseball and stickball king," added Ross.  "But that's not all because we have added two more signs to Stickball Boulevard South — one for the old Madison Square Garden, where we could see almost any sport played for 50 cents, and a sign for the new Madison Square Garden where the same seats are now a little more expensive."
In recent years, this stickball league has featured five teams and the names of the teams have a distinct New York City affiliation:  Bronx Clippers, Dukes of Flatbush, Brooklyn Bums, Long Island Whalers, and the New York Egg Creams.  This year, the Syracuse Nationals were added to the mix, so the league now has six teams.
Just like the big leagues, the Wycliffe Stiffs Stickball League has an Opening Day and the playoffs which conclude the season. And, at mid-season, its Hall of Fame ceremony takes place.
As for Wilans, he's more than a stickball living legend.  Instead, he's an all-around athlete.  When he's not playing stickball, he's playing tennis, golf, and bocce ball with his friends and neighbors at Wycliffe.
"It's not a bad way to live," said Wilans.  "I highly recommend it."
As for his nickname, 'Happy,' he credits one of his relatives.
"One of my aunts said I was always a happy baby," added Wilans.  "The nickname stuck."
It's worth noting that those who attended Wilans' Hall of Fame ceremony enjoyed a barbecue sponsored by Wellington-area restaurant Mississippi Sweets, which helps sponsor the league.
For entertainment on a Tuesday afternoon during the south Florida winter, Ross, himself a Hall of Fame inductee in the inaugural class of 2009, says his league offers the 'best bang for the buck' for sports fans.
"There's no charge to attend our games, which are fun to watch and very competitive," noted Ross, who plays for the Brooklyn Bums.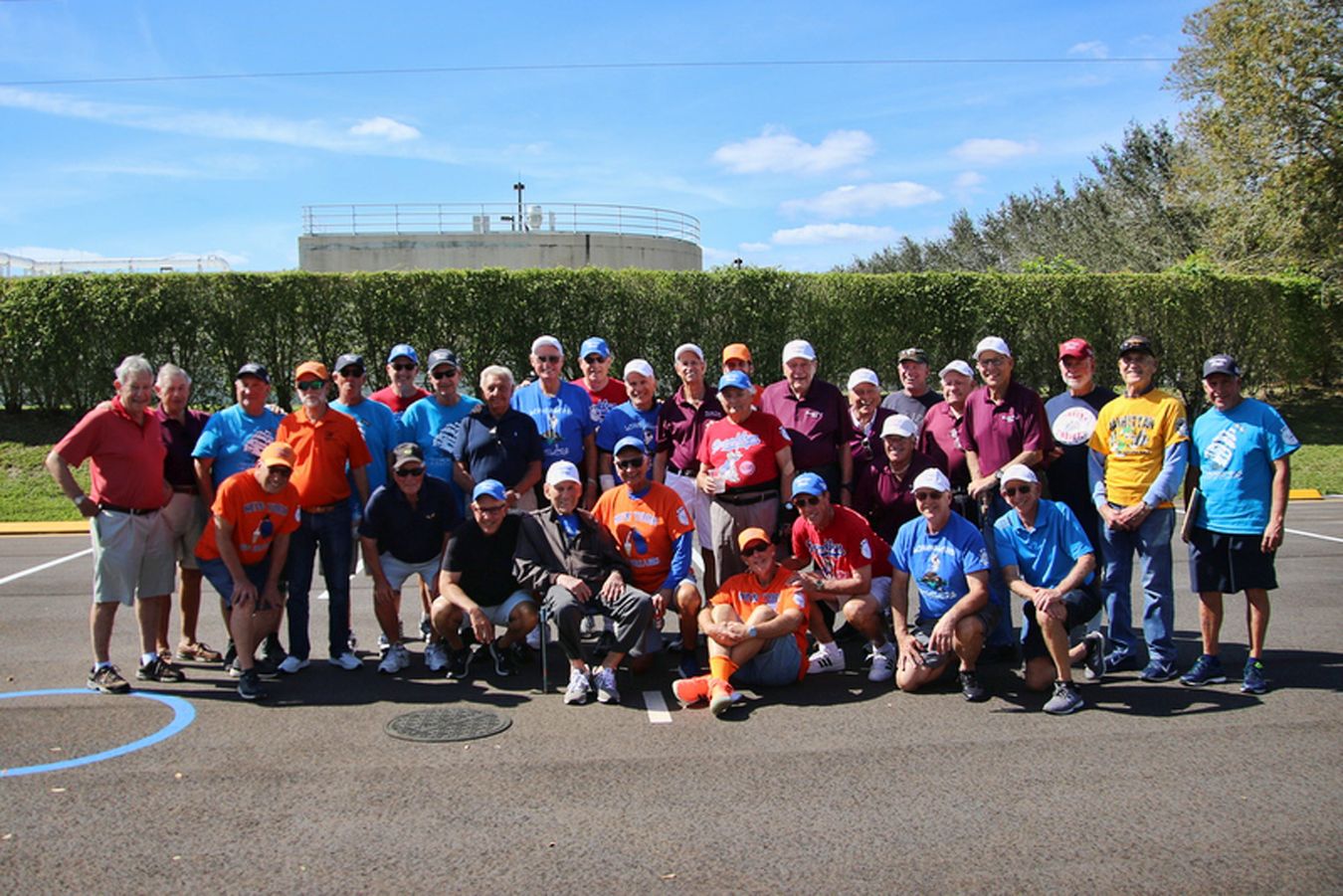 Finally, it's worth noting that men don't have the exclusive domain over stickball in Wellington, as a number of ladies from Wycliffe are 'swinging for the fences,' too.
According to Ross, approximately 30 women from Wycliffe are playing stickball.  They play four times each season and the focus is as much on camaraderie, fun, and fellowship as it is competition.
Nancy Melchi, one of the organizers of Wycliffe's women's stickball program, played stickball as a youngster.
"I personally played stickball in Bayonne, New Jersey," said Nancy Melchi.  "It was a regular game on our street and we played coed, which was unusual."
Melchi says that stickball's social appeal is what attracts players and keeps the league going.
"It's the camaraderie and the spirit that everyone loves," added Melchi.  "It also allows every age to play and I'm sure for the older women in their 80s, it brings back great memories."
Wycliffe resident Sally Wechsler, who grew up on Long Island, is a late blooming stickball player.
"I never played stickball until I came to Wycliffe," added Wechsler.  "At Wycliffe, you are encouraged to try everything, so as soon as I  heard about a ladies team, I  knew I would become involved."
For more information about the men's and women's Wycliffe Stiffs Stickball League in Wellington, Florida, contact Strassler at 516-729-5555.