Studio E Gallery owners search the country for artistic inspiration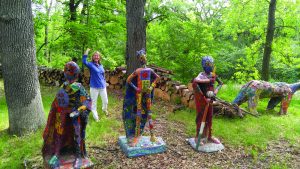 Palm Beach Gardens, Fla. – You expect to find world-class artists and galleries in the likes of Chicago, San Francisco, or even the desert of Arizona. Sedro-Woolley, Washington, a town whose founder proposed calling it "Bug," does not leap to mind as a destination for art seekers.  However, that didn't stop Studio E Gallery owners, Ann and Evan Griffith, from going there in search of inspiration.
Each year, the husband and wife team set off on a six-week driving adventure in search of art and artists to feature in their gallery at PGA Commons. This summer, the Griffiths visited a number of cities and towns out west, including Sedro-Woolley, which Evan Griffith jokes is spitting distance from Canada. "We look to fill a niche that is not currently filled by an existing artist in our stable. Art that speaks to us personally and that we think will thrill our clientele," Griffith said.
The art-seeking trip has become a family affair. The couple's 14-year-old son tags along and Evan's mother, nephew, and a friend of their son's have joined them on recent trips. When you combine family dynamics, living in a van for weeks, creative people, and unique locations, the result is adventure or a possible sequel to the movie Vacation.
"Our oversized van broke down at the top of the Crater Lake mountain, over 8,000 feet up. We had to be towed in the dark of night, down a twisting mountain road with no guardrails," Griffith said.
Amusing stories from the trail are just some of the souvenirs the Griffiths brought back to South Florida. This season, Studio E Gallery browsers can look forward to abstract paintings, handblown glass, and mosaic masterpieces.
Studio E Gallery in PGA Commons is located at 4600 PGA Boulevard, Suite 101, Palm Beach Gardens. Season hours of operation are Monday through Friday, noon to 5 p.m.; Saturdays,
10 a.m. to 5 p.m.; and off-hours by appointment. For more information, please call 561.799.3333 or visit StudioEGallery.com.