SUMMER IN PARADISE (SIP KICKOFF) Thursday, June 6 from 6 – 10 p.m.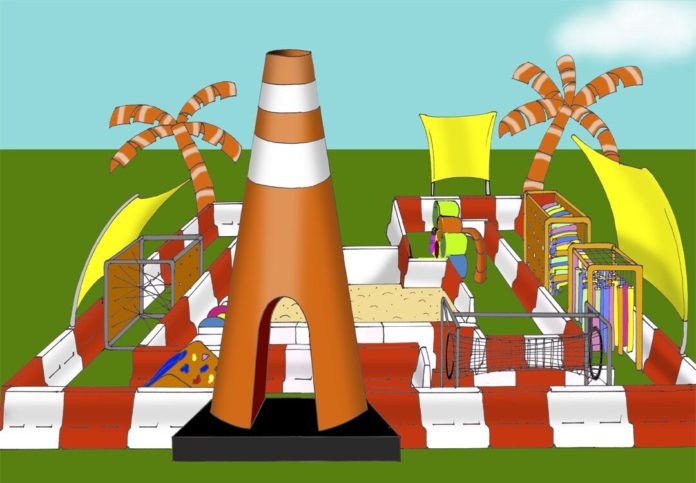 The City of West Palm Beach may be occasionally iCONE-ic when dotted with construction or traffic cones, but our City is always iconic especially along its award-winning Clematis Street corridor. Visitors to the West Palm Beach waterfront can expect to see the fun spin on the word "iconic" throughout downtown during this year's Summer in Paradise (SIP) campaign. The fifth annual campaign, which encourages visitors to take a 'SIP' of fun and free activities, will have a construction theme to embrace Phase II of the Clematis Streetscape project, which aims to create wider sidewalks with more shade trees to create a more pedestrian-friendly environment on our City's most iconic street. Phase II improvements are scheduled to break ground on the 100 and 200 blocks of Clematis Street in mid-May, and Summer in Paradise programming runs from Thursday, June 6 – Thursday, August 1.
While the iconic orange traffic cone will signal road work ahead, it will also be a key image in the City's branding and Summer in Paradise activations. Each activation plays on the word cone and activities include:
Cone-y Island | Open daily from 11 a.m. – 8 p.m., June 6 – August 1 on the Great Lawn
A summer-long maze created by nationally recognized prop master, Frank Navarette, will be configured out of construction materials with interactive play zones, shade areas and water misters on the Great Lawn.
Cone Checkers | 11 a.m. – 8 p.m. daily and during special event hours through August 1
Come play checkers on a giant checker board with cones converted into checker pieces.
Cone in the Zone | Mondays – Sundays from June 9 – July 31
The Mandel Public Library of West Palm Beach is hosting a fun, summer twist on 'Elf on the Shelf' inspired activation. The public is encouraged to come in and search the stacks to locate Mr. Coney McConerson, the Library's decorated mini orange construction cone, who will be hiding in the Library all summer long. Find Coney, bring him to a customer service desk and win a prize!
Kid's Cone Zone | During various events from June 6 – August 1
Big City of West Palm Beach trucks and construction vehicles will be on display for kids to touch and explore.
SnowCONE Saturdays | Weekly from noon – 2 p.m. from June 8 – July 27
Waterfront visitors can claim a free small snow cone on Saturdays throughout SIP, while supplies last. Location of snow cone giveaway will be announced weekly on the City's social media pages.
Orange Out | Weekly on Fridays through July 26
Downtown employees are encouraged to wear "traffic cone" orange on Fridays to win prizes. The more out of their comfort "cone," the bigger the reward! Pop-up surprises all summer long, including dance performances, prize giveaways and artistic flares.
On the night of the kickoff, City officials will open Cone-y Island, and actors from Take Heed Theater will introduce themselves for the first time as the "Clematis Cone Heads" – a posse of cones who will spread spontaneous cheer throughout Clematis Street during Summer in Paradise.
For details on the Clematis by Night Summer in Paradise kickoff entertainment, please see the band line up just below in the Clematis by Night section.
CLEMATIS BY NIGHT
Free Weekly Concert Series
Every Thursday; 6-9 p.m., FREE
West Palm Beach waterfront, 100 Clematis Street, West Palm Beach, FL 33401
Clematis by Night is West Palm's favorite Thursday night tradition for more than 20 years. During Clematis by Night, "Where the Party Begins," guests will enjoy live music, food and drink specials and the hottest local social scene, creating an unmatched seaside happy hour setting. In celebration of summer, the City will pack in twice the entertainment with an opener and headliner during Clematis by Night from June 6 – August 29. For more information, please visit Wpb.org/events or follow the City of West Palm Beach on Facebook @CityofWPB, on Twitter @westpalmbch or on Instagram @westpalmbch.
Thursday, June 6 | 6 – 10 p.m.*** please note the hour extension in celebration of the Summer in Paradise kickoff
As part of the Summer in Paradise kickoff, the City of West Palm Beach will do an iconic musical tour spanning four decades of popular music. The bands will rotate between two stages for back-to-back sound from 6 – 10 p.m. and cover hits from the 60s, 70s, 80s and 90s.
1960s: Peace of Woodstock (60s Rock n' Roll) | http://peaceofwoodstock.com/
Peace of Woodstock pays tribute to Woodstock, the famous three-day festival of peace, music, love and fun in upstate New York that defined an entire generation. This show will take visitors on a musical journey from the acoustic opening act of Richie Havens through the closing moments with the explosive, electric sounds of Jimi Hendrix. Also featured are songs from Crosby, Stills, and Nash, The Who, Janis Joplin, Sly and the Family Stone, Joe Cocker, Arlo Guthrie, Country Joe McDonald, Santana, and others. Vocally and instrumentally recreating the fun, party atmosphere of the Woodstock experience, Peace of Woodstock will excite and bring back the greatest memories of this life-changing event. Party on!
1970s: Disco 54 (70s Disco) | https://disco54band.com/
Disco 54 Band will keep the dance floor packed all night by playing the best of disco and 70s dance hits all night long! The band will cover songs by legendary artists Gloria Gaynor, Donna Summer, Bonnie Pointer, KC & the Sunshine Band, Trammps, Tavares, the OJ's, The Sylvers, and France Joli. Visitors can expect the total package – authentic disco costumes, incredible pro-level musicians and songs they'll want to sing-along!
1980s: Spazmatics (80s Rock) | https://www.facebook.com/spazmaticsflorida/
The Spazmatics plan to bring back all the awesome sounds, styles and way cool dance steps from the 1980s decade – some of which many wish to forget! Complete with skinny ties, funky hair and horn-rimmed glasses, the Spazmatics recapture all the best of the worst. Outstanding musicianship combined with creative flair and style makes for an evening of pure energy and entertainment.
1990s: Rock the 90s (90s Rock) | https://www.rockthe90s.com/tour
Rock the 90s takes visitors back to the glory days of guitar-driven rock. The performance is an eclectic buffet of all the best in 90s alternative radio rock – performed exactly like the original recordings. The band doesn't hide behind gimmicks or costumes; instead they bring a high-energy 90s rock show that will take concert goers back to a time when alt-rock ruled the airwaves.