Susan G. Komen South Florida Race for the Cure®
to be an Event for the Entire Family
West Palm Beach, Fla.– On Saturday, January 26, 2019, Downtown West Palm Beach will once again be awash in pink for the 28th annual Susan G. Komen South Florida Race for the Cure.  Thousands will join together to walk, race, or stand proud in the crowd to celebrate breast cancer survivors or remember those who have been lost.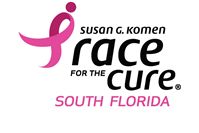 The Race for the Cure is symbolic of Komen Florida's role in the community, ensuring that no woman—or man—ever walks alone on her breast cancer journey. As Florida's "First Responders to Breast Cancer," the organization provides immediate assistance, comfort and assurance, and a compassionate hand-off to a Komen-funded organization that can provide support when the need is most urgent.
Runners, walkers, corporate, community and school teams, and individuals of all ages are welcome to join the celebration that is full of activities for the entire family, including a Kids Zone with giant yard games, tots and kids races, and even pink flamingos from the Palm Beach Zoo. Funds raised will support Susan G. Komen's Bold Goal to reduce the nation's 40,000 breast cancer deaths by 50% by 2026. Seventy-five percent of net proceeds remain local to provide breast health education and breast cancer screening and treatment in Palm Beach, Martin, St. Lucie and Indian River Counties and 25% is dedicated to research to find a cure. Over 11,500 attendees raised $1.3 million at the 2018 Komen South Florida Race for the Cure.
"Every person or team that raises funds for the Race for the Cure is saving lives right here in our own community," said Kate Watt, Komen Florida executive director. "We can reduce breast cancer deaths by as much as one-third if every woman or man had timely access to care. That's why we focus our funding on improving access for low-income and uninsured women, women of color, and other vulnerable populations that face barriers to breast cancer care."
Funded programs in 2017 resulted in nearly 14,000 people reached through education, 735 people receiving patient navigation services, 635 people receiving mammograms, 721 people benefitting from diagnostic services, and 46 people learning they had breast cancer.
National sponsors of the 2019 Komen South Florida Race for the Cure include presenting sponsors Bank of America and Ford. Local sponsors include presenting sponsor South Florida Ford Dealers Association, Alpha Media, WPTV, Good Samaritan Medical Center, Sylvester Comprehensive Cancer Center at Deerfield Beach, Tropical Shipping, FPL, College Hunks, Comcast, Knight Corporations, Florida Cancer Specialists & Research Institute, Macy's, Office Depot, The Gardens Mall, Zebedee Productions, Lamar Transit Advertising, PalmTran and The Palm Beach Post. Special thanks to our 2019 Kids Zone sponsor Lesser, Lesser, Landy & Smith, P.A. and Pink Ribbon Café sponsor Lickstein Plastic Surgery.
IF YOU GO
What: Susan G. Komen South Florida Race for the Cure®.
When: January 26, 2019
5:30 AM Race Day Registration opens at Post Park
7:30 AM Women's and Men's 5K USATF Run (3.1 miles)
8:30 AM 5K Walk (3.1 miles) and 1-mile Family Fun Run
8:45 AM Acknowledgements/Entertainment at Meyer Amphitheatre
9:30 AM Tots Run (ages 5 and under) – Start Line//Entertainment at the Meyer Amphitheatre
9:45 AM Kids Run (ages 6-12)
10:30 AM Survivor Recognition Ceremony at Meyer Amphitheatre
Where: Meyer Amphitheatre, 105 Evernia St., West Palm Beach, FL
Registration: Visit komenflorida.org/race. Registration fees start at: $35 for adults and survivors, $10 for youth (18 and under), and $40 for virtual participation. Fees will increase by $5 the day of Race.
Contact: To learn more, call 561-514-3020, ext. 20, email race@komenflorida.org, or visit komenflorida.org/race.
About Susan G. Komen® Florida
Susan G. Komen is the world's largest breast cancer organization, funding more breast cancer research than any other nonprofit while providing real-time help to those facing the disease. Komen was founded by Nancy G. Brinker, who promised her sister, Susan G. Komen, that she would end the disease that claimed Suzy's life. Komen Florida is working to better the lives of those facing breast cancer in local communities across its service area of southwest, central, north, south and the Florida Suncoast regions. Komen Florida has invested nearly $57 million in community breast health programs and has helped contribute to the more than $988 million invested globally in research. For more information, call 561-514-3020 or visit www.komenflorida.org.