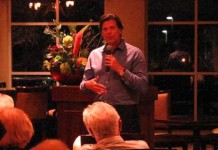 Dr. Robert Watson of Lynn University speaks to a Hadassah group at Wycliffe in Wellington, FL about US-Israel relations, in this part focusing on the inner strengths of Harry S. Truman, his favorite US President.
ATLANTIS, FL – On Saturday and Sunday September 15-16, one-hundred and four junior golfers will compete at Wycliffe Golf and Country Club in Wellington, on the West course.
Wycliffe Charities Hosts Annual Outing   When residents of the Wycliffe Golf & Country Club community in Wellington, Florida, resurrected Wycliffe Charities in 2007, then President,...