Wellington, FL (February 16, 2017) — It's free, it's fun, and it might just be the beginning of a lifelong journey for the world's future dressage stars! The 2017 Adequan Global Dressage Festival Leadline Exhibition, presented by Carol Cohen Hodess, will take place at 6:00 pm on Friday, February 24, 2017. There is no entry fee for children to compete in the class, and every young rider gets a prize.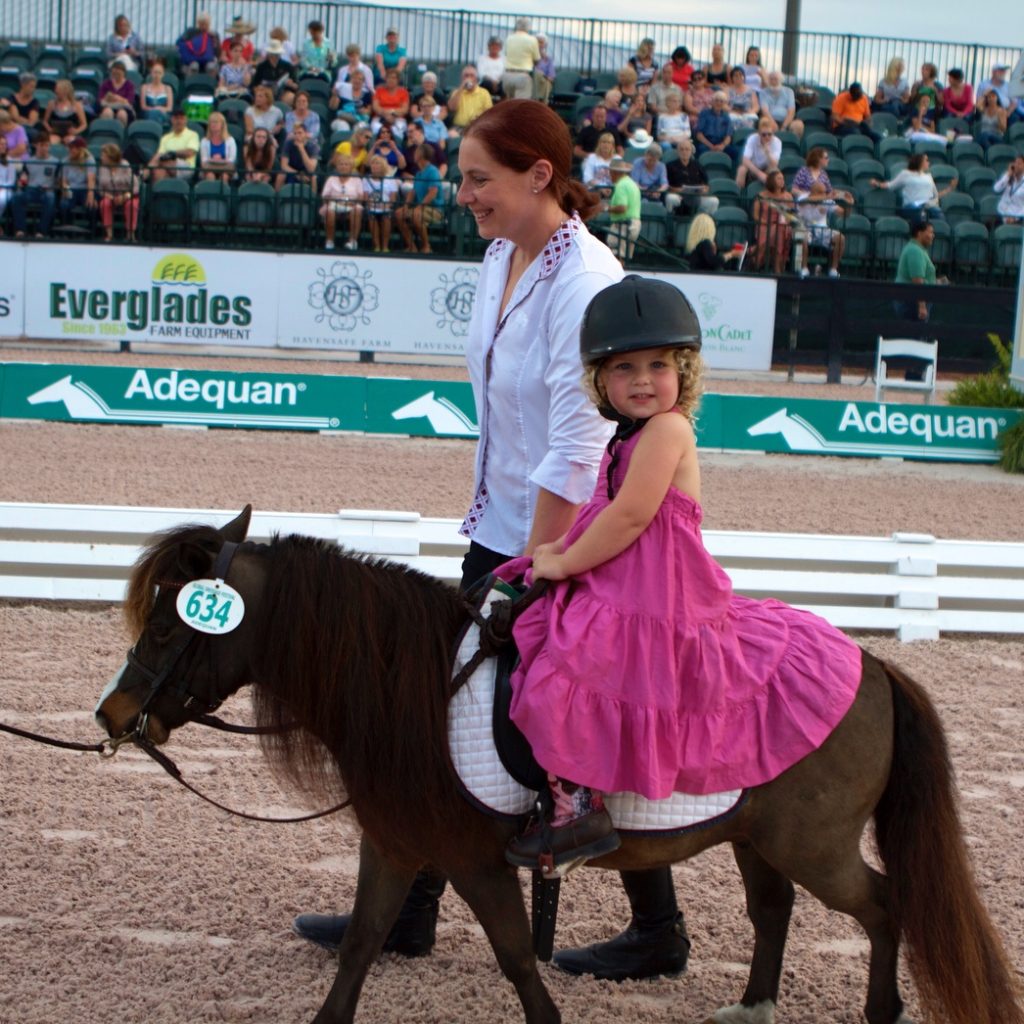 The 2017 Leadline Exhibition will take place in the Stadium at the Adequan Global Dressage Festival show grounds. Any child who can bring their horse or pony to the show is encouraged to enter the class. Cohen Hodess, a founding member of the Adequan Global Dressage Festival and an enthusiastic sponsor of the show series, said, "The community needs to foster the future of the sport of dressage, and my hope is that the leadline class becomes a recognized division in the future."
The children will show off their cuteness at 6:00 pm, just prior to the evening's popular Friday Nights Stars FEI Grand Prix Freestyle event. Professional dressage riders will serve as judges for the Leadline Exhibition, and Cohen Hodess will reward every participant with exciting prizes.
Dressage families and trainers are encouraged to take this opportunity – the only Leadline Exhibition at the Adequan Global Dressage Festival in 2017 – to get the little ones (children and ponies too!) spruced up and signed up. Email Cohen Hodess at carol@carolcohenliving.com to sign up for the Leadline Exhibition or for more information.
Because of Cohen Hodess's unwavering support of her community and the sport of dressage, U.S. Chef d'Equipe Robert Dover approached Cohen Hodess last year to invite her to co-sponsor the Adequan Global Dressage Festival Leadline Exhibition. This year, Cohen Hodess is proud to carry on the new tradition.
In addition to sponsoring the Leadline Exhibition, Cohen Hodess sponsors the entire Adequan Global Dressage Festival show series and the American Equestrians Got Talent fundraiser to benefit U.S. Equestrian High Performance programs through the USET Foundation. To learn more about Cohen Hodess, visit www.carolcohenliving.com. To contact her directly, call 561-756-4844 or email her at carol@carolcohenliving.com.
Photo 1: The 2017 Adequan Global Dressage Festival Leadline Exhibition, presented by Carol Cohen Hodess, will take place on Friday, February 24, and is free to enter (Photo courtesy of Infamous Productions, Inc)
Photo 2: Carol Cohen Hodess presents a young winner with his medal at last year's Adequan Global Dressage Festival Leadline Exhibition (Photo courtesy of JRPR – no photo credit necessary)