Cantankerously Yours
The Applause Inside
By Wendell Abern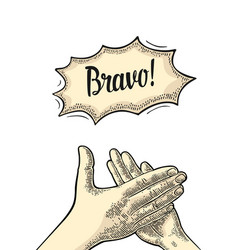 Dear Readers,
The following scene includes material from a column I wrote a few years ago. I have since decided to re-write that column as a two-act play.
*
ACT ONE, SCENE ONE
A ROOM WITH BARE WHITE WALLS. NO PAINTINGS OR DECORATIONS OF ANY KIND. A MAN BEHIND A BARE DESK FACES TWO SEATED ACTORS.
MAN BEHIND DESK: Good morning. My name is Rudy. I am the Chairman of the Intergalactic Development Committee. You, Malcolm, and you, Beth, have been selected after an exhaustive twenty-million year search for two outstanding universe innovators.
RUDY: You two will be instrumental in the first project of its kind. As you know, it takes 53 billion years to bring a nascent planet into Oneness with the rest of the Universe. To qualify, a planet must have reached global love by itself. So far, only four planets have succeeded.
You two will find ways to achieve Global Oneness on the newly- emerged X8635 … in fifty billion years.
MALCOLM & BETH (TALKING OVER EACH OTHER)
BETH: Only fifty billion! …
MALCOLM: That's impossible! … You can't expect! us! …
BETH: No one has ever! …
RUDY: Quiet! (GLOWERS) Your planet is now about four billion years old. On planets that are more than 60% water, such as yours, life begins in the sea. Since that life is already underway, whatever you concoct must expedite traditional development. And remember, you two were chosen because you both have exhibited a penchant for risk-taking, experimental thinking. (PAUSE) I expect a progress report in eight million years.
MALCOLM & BETH TALKING OVER EACH OTHER AGAIN:
BETH: But that's only …!
MALCOLM: We need at least 20 million …!
RUDY: (VERY LOUD) Eight million years. Not a millennium less. And give this new planet a name.
THIRTY-SECOND BLACKOUT.
SAME SCENE AS THE FIRST.
RUDY: Well?
BETH: Our working name for the new planet is Gazilkus. And we've cut the number of species from usual 36 million to about 8 and-a-half.
MALCOLM: And most of those 8-1/2 billion will be tiny to microscopic.We estimate that alone will cut about 200 million years to attain love throughout the planet.
RUDY: Good.
BETH: And we have doctored the DNA make-up of our top choice – we call them humanoids — to make it easier for them to eventually bring Oneness to the planet.
RUDY: Wait, wait. Go back. Doctored their DNA how?
MALCOLM AND BETH LOOK AT EACH OTHER.
RUDY: (LOUDER) Doctored it how?
MALCOLM: They will have the biggest and most formidable brains in the Universe.
RUDY: WHAT?! WHAT? NO! We tried that on the planet Zelgorm and we had to eradicate all life because its inhabitants ended up with the two prime leaders who were ready to carve the planet in half!
BETH: We know about Zelgorm. We know how to prevent that.
RUDY: This ought to be good.
MALCOLM: We make sure our humanoids discover nuclear power at least a million years earlier than the Zelgormites. These humanoids will develop and learn from their own histories. Our projections indicate that Gazilkans will also end up with two primary leaders dictating how all life should be lived.
RUDY: But that's what happened on Zelgorm!
BETH: Yes, but our humanoids have the biggest brains ever conceived. They will know better than to endanger their entire planet.
RUDY: Oh, Lord. (PAUSE) What else? Will Gazilkans be able to fly?
BETH: No. They will learn how to fly.
RUDY: Really. What, are they going to sprout wings?
MALCOLM: No. With their brains, they will soak up more and more knowledge. They will learn exponentially. They willl learn from what they've learned! This will enable them to invent heavier-than-air vessels.
RUDY: To use a phrase yet to be invented … "oy vay." What else?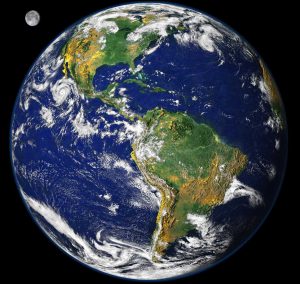 PAUSE AS MALCOLM AND BETH LOOK AT EACH OTHER. BETH NODS.
MALCOLM: To give credit where it is due, Beth came up with a brilliant idea when we were manipulating the humanoids' DNA, And it is brilliant because it's so simple. Tell him, Beth.
BETH: We're giving all these humanoids an Applause Gene. They'll all hear applause inside themselves … and crave hearing it from others.
MALCOLM: It'll motivate them to do great things! This gene alone will lead to great leaders, thinkers, creators, doers!
RUDY: Yes, and it could also lead to arrogant pigheads who bluster their way into leadership roles through bullying, lies and hyperbole. Now … what about genders?
MALCOLM: Two. A man and a woman.
RUDY: Two? TWO?! Standard number of genders on a planet is six.
BETH: Yes, but no one has ever tried to bring a planet into Oneness in just 50 billion years. Just think of all the in-fighting, the arguments, the bickering we'll avoid with only two genders instead of six.
MALCOLM: Not to mention all the murders and mayhem.We think we'll knock off at least five million years with two-thirds fewer genders.
RUDY: It is unique, I'll give you that. And propagation?
MALCOLM AND BETH LOOK AT EACH OTHER.
BETH: Copulation.
RUDY: Copu – WHAT? Copulation? Sex? Sexual intercourse? Absolutely not! Remember the planet Xilican? The sex gave so much pleasure they fornicated themselves into extinction in 23 billion years!
MALCOLM: Yes, but on Xilican, there were six genders copulating all over the planet. We'll have only two.
BETH: And we have come up with a concept that has worked only once in the history of the Universe. (LOOKS AT MALCOLM.) Tell him.
MALCOLM: You tell him! It was your idea.
BETH: It wasn't my idea. We tried it once, on the planet Karjon.
RUDY: The planet Kar – wait a minute. You mean marriage? Marriage? Like they tried on Karjon?
MALCOLM: Marriage with a wrinkle. And please note I have not agreed to this.
BETH: No copulating until after marriage.
RUDY: What? What? No copulating until … that's … blackmail! That's sexual blackmail!
MALCOLM: That's what I said.
BETH: Rudy, please. Please be reasonable. We're trying to find a way to lop off two billion years and …
RUDY: Enough! That's enough! (PAUSE) We'll know more when we meet again. In two hundred million years. By that time, your humanoids should be up and walking. And by that time, we should know how they feel about fornication … before, during and after marriage.
CURTAIN
Cantankerously Yours,
Wendell Abern