Cultural Corner
The Era of the Documentary
By Lori Hope Baumel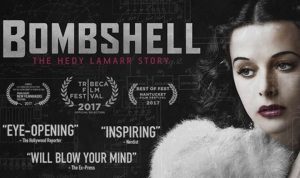 Summertime in Florida is spent much differently than in the rest of the country. We stock up with hurricane supplies, expect rainy afternoons and try to make the best of the long hot days. In addition, the continuous 24/7 news cycle is getting out of hand. I don't know anyone who, at this point, does not find it stress-inducing.
Let's try to turn this scenario around. Luckily, good quality video streaming is ubiquitous. We are living in a fascinating age of documentary film production. This year has been one of the finest in historic, biopic, and scientific film releases. Many of which are available (or will soon be) available on Netflix, Amazon Prime and PBS. All three of these streaming services are available in the app store. Netflix and Amazon Prime charge a fee for their services, but PBS has programming for free. Hulu and YouTube might have access to some releases as well.
I would suggest you create a wish list of documentaries, investigate their availability on your streaming service of choice and watch one or two per week over the summer months. If they're not available right away, perhaps they'll be introduced in the months to come. Keep an eye out for them.
Documentary films take you to places you've never been, introduce you to the lives of those who made a difference and shed light on the perspective of others. I'll start you off with my wish list and you can add to it as you peruse your video streaming search engines. Good luck in compiling your very own documentary list!
1) RBG
At the age of 85, U.S. Supreme Court Justice Ruth Bader Ginsburg has developed a breathtaking legal legacy while becoming an unexpected pop culture icon.
Website: rbgmovie.com
Trailer: https://www.youtube.com/watch?reload=9&v=biIRlcQqmOc
2) Breaking the Bee
A film that explores the two-decade dynasty of Indian-Americans winning the Scripps National Spelling Bee. "Breaking the Bee" is a feature documentary that chronicles the ups and downs of four Indian-American students, ages 7 to 14, as they compete to realize their dream of winning the Scripps National Spelling Bee and cement their place in the two-decade dynasty of Indian-Americans dominating the iconic competition. A film by Sam Rega. Produced by Chris Weller and Sam Rega. Featuring CNN's Dr. Sanjay Gupta and Fareed Zakaria, ESPN's Kevin Negandhi, comedian Hari Kondabolu, and 1999 Scripps National Spelling Bee winner, Nupur Lala. Directed by Sam Rega.
Website: breakingthebee.com
Trailer: https://www.youtube.com/watch?v=upvgZ3CmZ-0
3) Bombshell: The Hedy Lamar Story
Startlet. Screen Siren. The Most Beautiful Woman in the World. All phrases used to describe 1940's Hollywood actress Hedy Lamarr. Alexandra Dean's illuminating documentary adds Inventor to the list. Known for her matchless beauty and electric screen persona, Lamarr's legion of fans never knew she possessed such a beautiful mind. An Austrian Jewish émigré who acted by day and drew mechanical and electronic inventions by night, Lamarr came up with a "secret communication system" to help the Allies to beat the Nazis. Weaving in Lamarr's own voice from archival recordings, Dean reveals how Lamarr gave her patent to the Navy, received no credit for her contributions, and wound up impoverished in her later years. Bombshell: The Hedy Lamarr Story is a film for lovers of history, Hollywood and science. -Tribeca Film Festival
Website: https://zeitgeistfilms.com/film/bombshellthehedylamarrstory
Trailer: https://www.youtube.com/watch?v=BKXAkITImGU
4) Won't You Be My Neighbor
From Academy Award -winning filmmaker Morgan Neville, Won't You Be My Neighbor? takes an intimate look at America's favorite neighbor: Mister Fred Rogers. A portrait of a man whom we all think we know, this emotional and moving film takes us beyond the zip-up cardigans and the land of make-believe, and into the heart of a creative genius who inspired generations of children with compassion and limitless imagination.
Website: http://focusfeatures.com/wont-you-be-my-neighbor/
Trailer: https://www.youtube.com/watch?v=FhwktRDG_aQ
5) PBS Documentaries
Some of you may have shut off public television when your children outgrew Sesame Street. It's time to check out the incredible programming PBS has to offer. Go to PBS.com, enter your zip code, and research a plethora of documentaries from previous years as well as current and upcoming programming. I find it to be my best resource for assembling a documentary wish list… AND you can take the PBS app with you on your streaming devices.
Website: PBS.com
Live… Go… Do!