Batten Insurance Continues as Platinum Sponsor 
of Upcoming Charlotte Hans Softball Challenge
WEST PALM BEACH (October 8, 2018) – Giving back to the community is one of the key principles of her business model, according to Batten Insurance president and owner Ann-Marie Batten. And she practices what she preaches.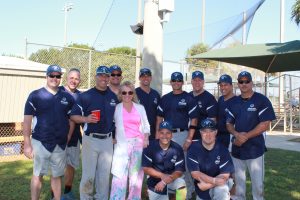 For the fourth consecutive year Batten Insurance is a Platinum Sponsor for the Charlotte Hans Softball Challenge, which benefits a Palm Beach Sheriff Office employee or immediate family member who has been devastated by illness or a victim of a catastrophic event. 
The softball challenge is Saturday, November 3 from 8 a.m.-6 p.m. at Wellington Village Park  The family oriented event features bounce houses, music, food apald raffles. Admission is $10 for adults, $5 for children 7-17 years old and free for children under 7.
"I am honored and privileged to be a part of this organization," said Batten, whose company has donated $12,000 in the last four years. "The Foundation is run 100 percent by volunteers, allowing for nearly every penny raised to go directly to the recipients."
Batten has many friends in law enforcement and first responders and helps whenever she is able to.
"It's something I believe strongly in and so do my employees," said Batten. "We need to support each other, in good times and in bad times."
Batten Insurance has a history of excellence, professionalism and customer service, helping them earn the esteemed Honor Ring and National Conference awards.
"Our knowledge of the products we sell and the experience of our staff helps make Batten Insurance the place to go for a complete line of Allstate products in addition to an extensive line of other markets," said Batten. "Helping customers reach financial stability is one our goals."
For more information about individual, family or commercial insurance or to set up an appointment, contact Batten Insurance at the West Palm Beach office at (561) 627-1806 or the Wellington office at (561) 798-0230 or visit www.battenins.com.