THE SCHNITZELBANK: WORLD-CLASS GERMAN CUISINE….IN INDIANA
By Mike May
Authentic, genuine, delicious and memorable. Those are the four words that best describe what it's like to eat at The Schnitzelbank, the dining and drinking establishment in Jasper, Indiana. Opened by Larry and Betty Hanselman, The Schnitzelbank (www.schnitzelbank.com; 393 Third Avenue, Jasper; 812-482-2640) has been cooking and serving high-quality German and American fare to hungry and thirsty guests since 1971. The origin of The Schnitzelbank was a tavern that opened on the same property in Jasper in 1961.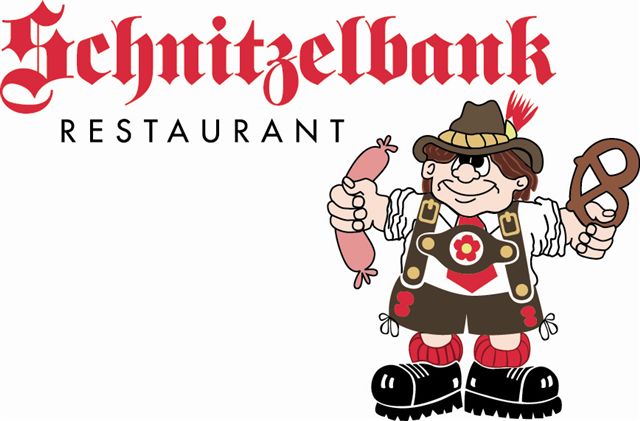 If you want to eat some delectable, award-winning German food, but you don't have a passport or enough money to fly to Germany, then head to The Schnitzelbank in Jasper. You don't have to speak German nor understand German in order to truly enjoy all that The Schnitzelbank has to offer. Though, you might be speaking a little German by the time you leave!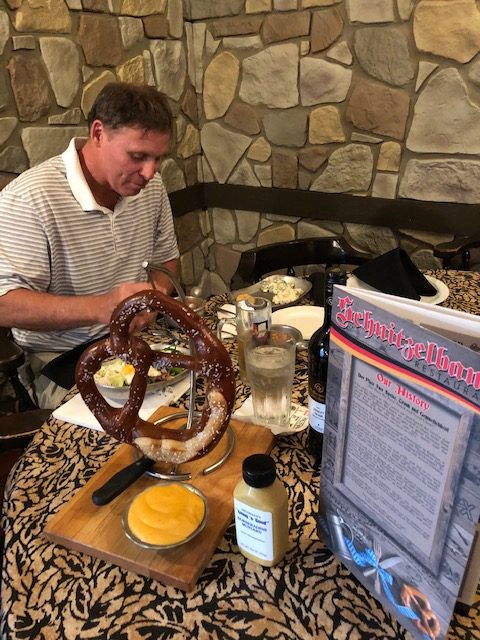 At The Schnitzelbank, you will find some great German food such as goulash, sauerbraten, weiner schnitzel, beef rolladen, schweine schnitzel, knackwurst, bratwurst, bockwurst, and the #1 sandwich in Indiana, The Bratzel — a jumbo salted pretzel lightly covered with sauerkraut, two Merkley bratwurst and a drizzle of honey mustard sauce, served with German fries.
The Bratzel was the winner of a statewide competition for the best sandwich in Indiana during the buildup to Super Bowl XLVI which was hosted by the Indianapolis Colts in Indianapolis in 2012.
Now under the leadership of Alan Hanselman and Gail Hettinger, Larry and Betty's son and daughter, The Schnitzelbank's atmosphere and menu continue to be a reflection of southwest Indiana's strong German roots. In fact, three generations of the Hanselman family are now working at The Schnitzelbank.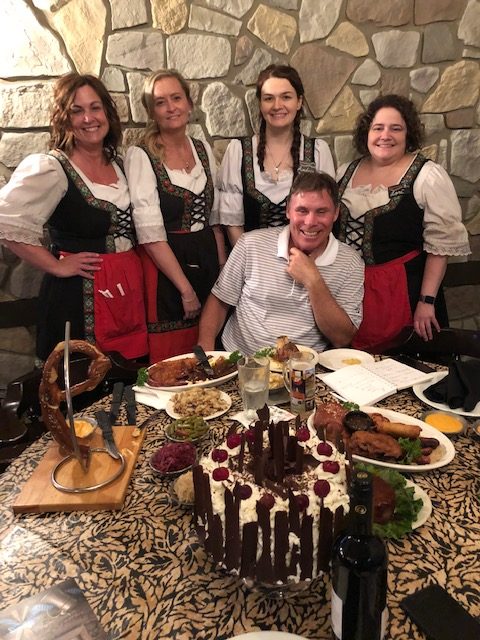 When you arrive in the parking lot at The Schnitzelbank, you immediately get the feeling that you are about to be 'transported' to Bavaria, Germany's historic Black Forest, or to downtown Dusseldorf. This restaurant's exterior and interior décor, the glockenspiel in the restaurant's clock tower, and the items for sale in the restaurant's gift shop are a reflection of The Schnitzelbank's links to 'Old World' Germany. And, as you would expect, The Schnitzelbank's waiters and waitresses are also dressed in true German attire – lieder hosen for the men and dirndls for the waitresses. By the way, the glockenspiel, one of two in Indiana, normally plays on the hour and the half hour.
"We have been serving German food produced from local family recipes that date back for more than 100 years and we haven't changed them," admitted Alan Hanselman.
The quality of the food is so good that many of the strongest complements come from visiting Germans. There's a local exchange program with Jasper's sister city in southern Germany — Pfaffenweiler — which brings high school students from Germany to Jasper and vice versa. Around 1850, German immigrants from Pfaffenweiler first settled here because the geographic terrain of this part of Indiana reminded them of the dense forests and rolling hills back home in central Europe.
"German tourists who eat at our restaurant say our food is more German than what they eat back home in Germany," added Gail Hettinger. "There's no need to book a flight to Hamburg, Munich, Berlin, or Frankfurt in order to eat authentic German food. We serve it here in Jasper."
The Schnitzelbank's menu features items listed in both English and German such as appetizers (vorspeisen), soup (suppe), seafood (meeresfruchte), German specialties (Deutche spezialitaten), regular side dishes (seiten), German side dishes (Deutsche seiten), and desserts (nachspeise). And, if you arrive for a late breakfast, you can order the spates fruhstuck – two country fresh eggs served with your choice of bacon or sausage with German fries and toast.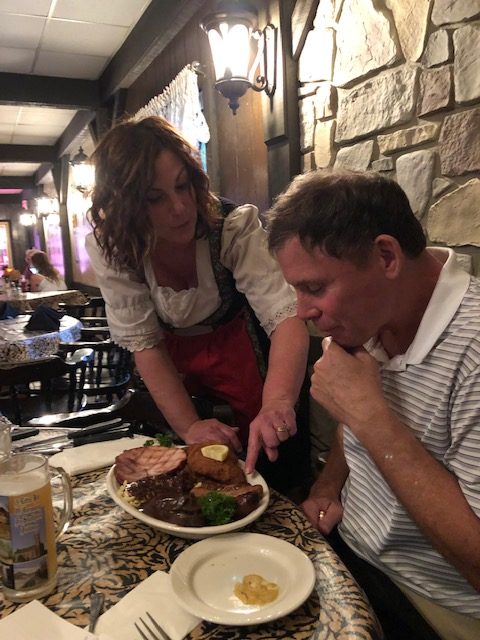 When it comes to alcohol, there are plenty of beers (bier) on tap at The Schnitzelbank – 20, to be precise. Eight of those beers are brewed in Jasper under the direction of Alan Hanselman's son, DJ. The most popular local brew is a blonde wheat beer. That particular beer redefines 'smooth' and 'satisfying' in a cold beer. For those who want their beer 'to go,' guests can order a 32-ounce can, known as a crowler, or they can purchase a 64-ounce container, known as a growler. And, the selection of German wines at The Schnitzelbank is impressive, too.
According to Kim Voegerl, The Schnitzelbank's sales and marketing coordinator, the restaurant sells 35 different wines – five of which are imported from Germany, three of which come directly from Pfaffenweiler.
The wines sold at The Schnitzelbank which come from Pfaffenweiler are Grauburgunder Kabinett Trocken (a classic dry Pinot Gris); Reisling Kabinett Trocken (a classic dry Riesling); and Spatburgunder Rotwein Qualitatswein Trocken (a Burgundy dry red). The other two German wines are Carl Graff Spatlese (a popular dry Reisling) and Dornfelder-Valchenberg (a popular red wine). At The Schnitzelbank, wine is sold by the bottle or the glass.
The Schnitzelbank also sells 13 wines which are produced by wineries in the state of Indiana.
The Schnitzelbank is clearly the real deal – always has been and always will be. Everything that is served at The Schnitzelbank is produced with great attention to detail by a loyal, dedicated, and hard-working staff, many of whom have been working at the restaurant for more than 25 years.
"Everybody has a job to do and everybody knows when it has to be done on any given day at any given time," said Voegerl. "Everybody who works here takes great pride in being a part of our team."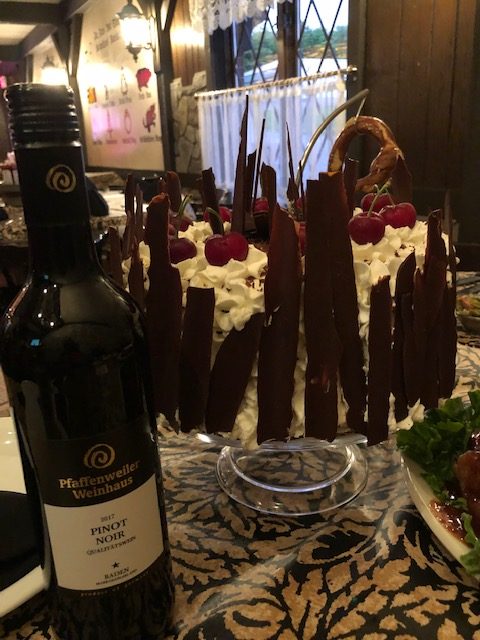 When it's time to order food, you'll quickly realize that it's going to take multiple visits to this restaurant in order to fully sample everything that's worth eating. Simply put, everything on the menu is great, but a good place to start is the giant German pretzel, served with beer cheese and horseradish mustard. A family of four can easily devour this oversized soft pretzel. After eating the pretzel, make a beeline to the salad bar, which has been labeled the "Best in the Midwest" and is nicknamed the "Wunderbar." Every day, two soups are also served at the salad bar. Some of those soups are tomato basil, beef noodle, and beef ribbie. On Fridays, bean soup and cornbread are always served at the salad bar. For a group dining at The Schnitzelbank, it would be wise to order the German Sampler Platter, which is advertised as being "large enough for two," but it's sufficient for at least three and maybe four. A classic entrée that is truly mouth watering is the pork shank which is served over mashed potatoes with gravy and red cabbage. The two-inch hickory smoked pork chops are also outstanding. At The Schnitzelbank, it's all good, all the time.
For dessert, the coconut cream pie, apple strudel, German chocolate pie, and the Black Forest cake are beyond compare. Don't forget to order the cinnamon ice cream with the apple strudel.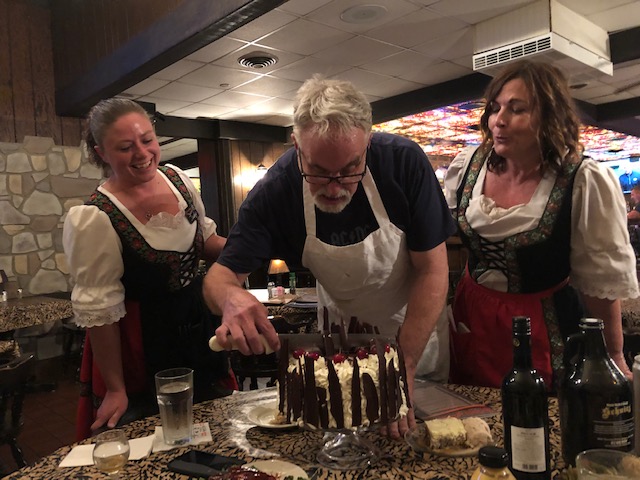 Besides local residents and visiting tourists, The Schnitzelbank is a popular dining and drinking destination for area golfers, many of whom play at the nearby Sultan's Run Golf Club (www.SultansRun.com; 812-482-1009). The Schnitzelbank is less than a five-minute drive from Sultan's Run. If golf brings you to Sultan's Run, then hunger pains and your appetite will bring you to The Schnitzelbank. The quality of the golf at Sultans Run is 'on par' with the quality of the food, drinks and dessert at The Schnitzelbank. And, if you need a place to sleep after a day of golfing, dining, and drinking, then booking a room at the Hampton Inn (812-481-1888), which is literally next door to The Schnitzelbank, would be a wise and prudent decision.
The Schnitzelbank is open six days a week. It's closed on Sundays, with the exception of the brunches which are served on Easter Sunday and Mothers Day.
Alan Hanselman and Gail Hettinger, and their hard-working staff, are looking forward to seeing you at The Schnitzelbank, possibly in the vicinity of the "Wunderbar." And, make sure that you take time to listen to the glockenspiel — on the hour and the half hour.
Ein, Zwei, Dri, Prost – 1, 2, 3, Cheers!