And You Thought I Couldn't Get Any Crankier (2)
By Wendell Abern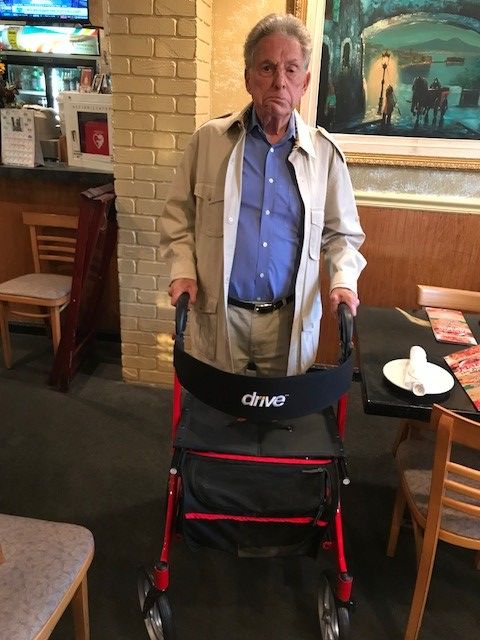 Dear Readers,
Have you ever been bewildered? I mean, genuinely bewildered. That is the only way to describe how I felt when I'd learned I had just lost seventeen days of my life. I remember nothing of the seizure I suffered, which I wrote about last month.
After several days in the hospital, I l spent two months recuperating, giving my kids many problems … not to mention the headaches I created at the rehab clinics.
My poor kids. Kids. Amy and Joel are in their late 50s. I still think of them as kids. They alternated trips to Florida from Chicago. I could not have recovered without them.
One word can sum up their stays with me: "DA- ad!"
My kids and I met with a contingency of administrators from Health South Rehab my first day at their clinic. They detailed the three hours of therapy I would receive each day: physical, occupational, speech, swallowing, recreational, and some others I can't even remember.
"Ok," I said, "who do I have to sleep with to reduce it to one hour?"
"DA-ad!"
Double-barreled. Both of them, simultaneously.
"Dad," Joel said, "do you want to walk again?"
He was making a valid point. My legs had been horizontal for more than four weeks. I couldn't even stand on them. They were like spaghetti noodles.
Joel came as a spectator when they wheeled me into my first physical therapy session. My therapist, Carlos, said, "I'm going to make you into a new man."
"How?" I asked. "I am philosophically opposed to physical exercise."
"DA-ad!" came from a corner of their exercise room. I forgot that Joel has excellent hearing.
Reluctantly, I relented. Carlos was unperturbed. Amazingly, after one week I was walking with a walker.
Amy was with me a week later, when she walked into my room with her arms crossed. "DA-ad," she began. Clearly, I was in deep do-do. "Don't you realize that when you pull one of your stupid stunts, Joel and I are the ones who have to answer for it. And their food, yet! I mean, you said you liked most of the food they serve."
"I do. It's certainly better than hospital food."
"Yet they caught you spreading yellow crime scene tape all over their kitchen!"
"I wasn't happy with the meat loaf."
"You could have told them and asked for something else! Where did you get the crime scene tape anyway? That's police property!"
"I have some important connections."
"Oh, Lord. Please stop."
"They don't appreciate my sense of humor."
"DA-ad!"
Neither of them was there when I ran into my first confrontation with the speech therapist. Jackie. Nice-looking young lady , in her mid-thirties. She was the one overseeing my swallowing therapy.
"Swallowing?" I asked. "I have no trouble swallowing ."
"I'm going to order thickened liquids for you," she said. "For the weekend. It's just a precaution. We have to know if something goes down the wrong pipe; it could go into your lungs and cause pneumonia."
"Thickening? My water? Milk? Coffee? My soft drinks?"
"Yes, yes, yes, and yes."
Try drinking water or a Diet Coke that has the consistency of Karo Syrup. I gagged at the first sip of water and almost regurgitated at the second. When I saw Jackie on Monday morning, I said, "You make me drink one more swallow of anything thickened and I'm withdrawing my proposal of marriage."
"What? That's the way you make me start my week?"
"Not another drop of anything."
"Turns out you did fine."
"What, you have spies watching me?"
"I have some important connections."
"DA-ad," she said, in a perfect imitation of my firstborn.
I made a mental note to write Amy out of my will.
Meanwhile, it was Joel's turn next. In fact, I was having a conversation with Jackie when Joel showed up.
"Hey, c'mon," I said. "You interrupted us! I had her up to a maybe."
Jackie blushed. Joel barked, "DA-ad!"
"It's okay," Jackie said. "I'm used to your dad by this time."
"You may be the first woman in history that's ever said that," Joel said.
By that time, almost a month after I'd been at Health South, I was making great progress. I could walk the equivalent of a full city block with my walker. I intended to give Joel an exhibition of my newfound mobility, forgetting about my newfound svelt body.
In the first 30 days of my seizure, and its aftermath on IV fluids, I had lost 41 pounds. This may sound like a Vaudeville routine, but while demonstrating to Joel how agile I'd become, my shorts fell down. Completely fell off my waist and down to my ankles. I tripped when I tried to walk. Fell flat on my face.
"DA-ad!" Joel yelled while helping me up. "Are you okay?"
"I'm fine. A little bruise on my cheek is all."
The bruise turned red. Then black and blue. Then an ugly shade of tan. Tacked on an extra week at HealthSouth.
Finally, I was discharged. Went home, with Amy now in charge. I seemed to be doing fine, except I had no appetite. After a few days, Amy said, "DA-ad. You've got to eat something! You haven't eaten in two days."
The mere mention of food made me nauseous. I ran to the bathroom, but there was nothing to throw up. After a few dry heaves, Amy called 9-1-1. Back to Florida Medical Hospital. Four days of CT scans, MRIs, X-rays, and a spinal tap. They discovered I had very little magnesium and potassium. They changed my meds and sent me to Sunrise Health & Rehab, which has still not recovered from my stay.
But that's next month's column.
Cantankerously Yours,
Wendell Abern
Wendell Abern can be reached at dendyabern@gmail.com.