WORKFORCE READINESS LUNCHEON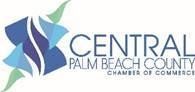 Hear the Measures Florida and Palm Beach County are Taking to Fill the Workforce Gap
CENTRAL PALM BEACH (October 5, 2018)—  On Thursday, October 18th , the Central Palm Beach County Chamber of Commerce will hold the Workforce Readiness Economic Luncheon sponsored by Career Source and TD Bank. The Luncheon, featuring Keynote Speaker Mark Wilson, President & CEO of the Florida Chamber of Commerce, will discuss the measures that Florida and Palm Beach County are taking to fill the workforce needs and skills gap. In the last decade, Mark Wilson has raised tens of millions of dollars to champion free enterprise and improve Florida's business climate.
Workforce Readiness is the measure of the number of people entering the workforce who have the skills and knowledge to attain gainful employment in the community. This Luncheon will address the skills needed for our workforce and the lack of employment in certain areas of business. Closing the gap between business needs and job seekers' employment wants strengthens the economic community in our County.
The Luncheon will take place at the West Palm Beach Marriott at 11:30 a.m. until 1:00 p.m. For more information, please visit the Central Palm Beach County Chamber of Commerce website at www.cpbchamber.com, or call at (561) 790-6200. Individual tickets are $50 and tables are $650.