WELLINGTON, FL—Top Notch Property Watch has earned accreditation from the National Home Watch Association. The NHWA was formed in 2009 in order to establish and maintain the highest industry standards for Home Watch and absentee homeowner services throughout the United States and Canada (www.nationalhomewatchassociation.org). Home Watch is a visual inspection of a home or property, looking for obvious issues, which means that it is a service that "keeps an eye on things" at your vacation or primary home while you are not in residence.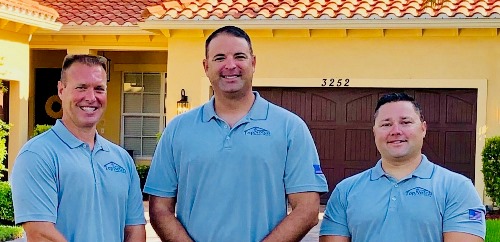 Owners Gene Gibson, Zach Hornby, and Joe D'Amico have more than 65 years of combined service in the United States Coast Guard, managing the upkeep of millions of dollars' worth of military housing units, government buildings, and all connected properties. In addition, they were responsible for maintaining millions of dollars' worth of other military assets, including Coast Guard small boats, cutters, and vehicles.
After serving their country and protecting our homeland, Gene, Zach and Joe wanted to start their own business, and Home Watch seemed like a great opportunity for them to help serve their community. A Home Watch business also allows them to utilize some of the training and skills they learned during their years in the military.
Top Notch Property Watch serves Palm Beach County, including Wellington, Royal Palm Beach, Loxahatchee, Lake Worth, West Palm Beach, Palm Beach, and North Palm Beach. They will also serve Broward and Martin Counties upon request. You can reach them at (561) 781-0555 or at topnpwatch@gmail.com. Learn more at their website, www.topnotchpropertywatch.com.