Tykes Bike for Early Childhood Education
West Palm Beach, Fla. (October 12, 2020) – Preschool students at Opportunity Early Childhood Education & Family Center are in training. They are increasing their workouts and concentrating on their nutrition in preparation to bike across the country. The 4- and 5-year-olds will compete in the Kids Race Across America (Kids RAAM) on Friday, October 23.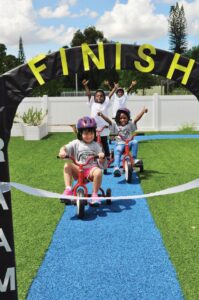 For the event, the parking lot at Opportunity's Westgate campus will be transformed into a map of America. The course is a mini version of the Race Across America (RAAM), which takes cyclists on a 3,069-mile trek from California to Maryland.
The grownup version of RAAM has served as a fundraiser for Opportunity since 2017. Each year, a team of local cyclists led by Chris Huffman compete in the event to raise money for early childhood education. This year's cross-country race was canceled due to the COVID-19 pandemic. Aware that the public health crisis did not halt the charity's needs and expenses, the cyclists chose to create a tricycle relay for the students.
"Kids RAAM is serving two purposes. Our children are learning the geography of the United States, age-appropriate math skills, bike safety, and how to work together as a team," said Executive Director Ali Eger. "At the same time, it's a chance for us to bring in the funding we need to keep providing childhood education and family development programs."
The leaderboard for Kids RAAM will include 32 preschoolers. The tykes on bikes will be cheered on by their teachers, family members, and supporters during the two-hour relay. The media is invited to attend the event.The race takes place from 9:30 a.m. to 11:30 a.m.
Opportunity Early Childhood Education & Family Center
Empowering the children of working families to achieve academic and life success through educational programs that embrace the whole child, and through family programming.