U.S OPEN Pre-party VIP CHARITY POLO SHOWDOWN APRIL 23!
To Benefit: Wheels from the Heart, Dress for Success Palm Beaches, The Lord's Place
SAT, APR 23 AT 5:30 PM, WELLINGTON , FL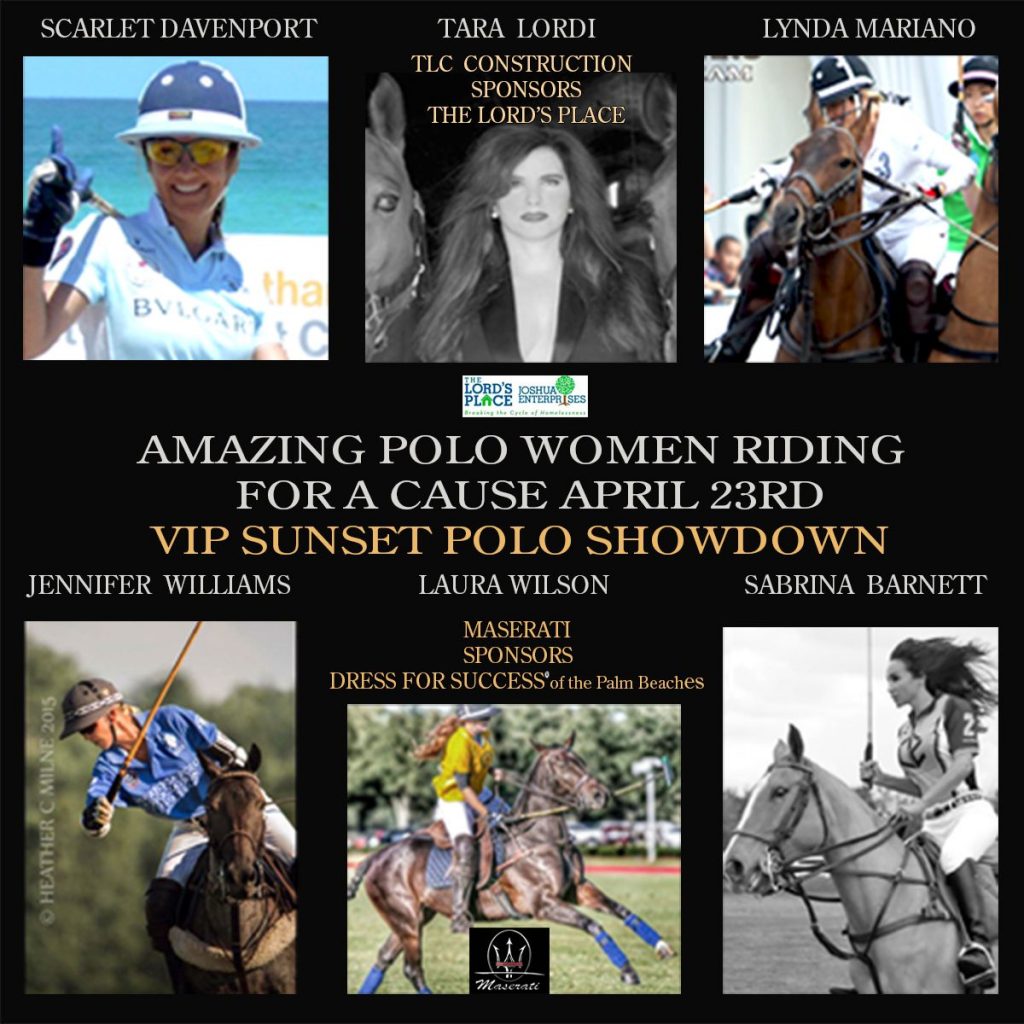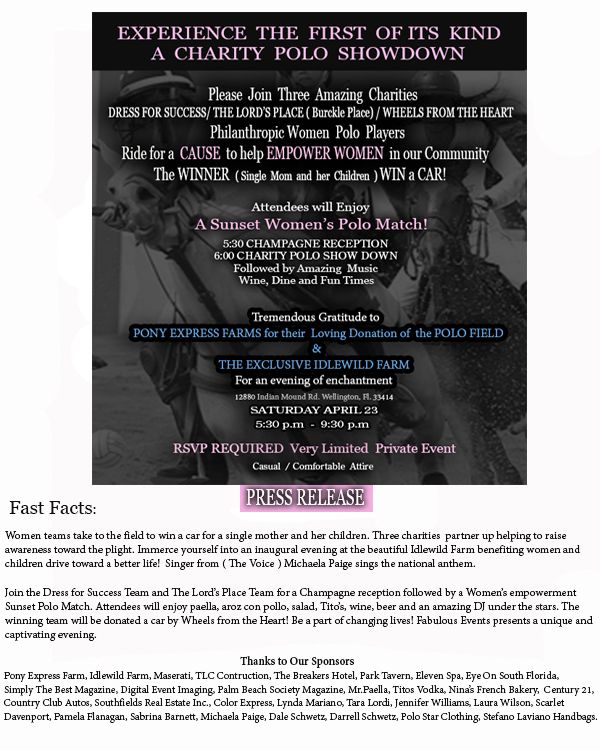 Guests will enjoy a fun VIP Sunset Polo Showdown!! Champagne! Two private chefs! Fine wine from The Breakers Hotel, Hookah lounge, fun times, music by an amazing IPC DJ and a giant bonfire under the stars! In memory of Bob Daniels.

Saturday: April 23- 5:30 – Doors open to a Champange reception and chill out music at the exclusive and private Idlewild Farm!

6:00 – Sunset exhibition Polo Match (PONY EXPRESS) WE THANK THE DANIELS FAMILY.
Dress for Success Polo Team, sponsored by (Maserati) will be battling it out withThe Lord's Place Polo Team sponsored by (TLC)!!  Wheels from the Heart will be donating a vehicle to a single mother and her children from the winning teams charity!!

Immerse yourself into an inaugural and memorable evening.

All Inclusive Tickets only $65.00!!!
Singer Michaela Paige (The Voice) sings the national anthem. Thank you to our philanthropic Polo Players, celebrity announcer Dale Schwetz, of Chucker T.V. and our awesome referee Darrell Schwetz.
Guests will have an opportunity to give a rescue dog a home.
There will be a moment of silence in memory of Bob Daniels. His gracious donation of Pony Express Polo field is tremendously appreciated. We thank the Daniel's family for allowing this evening to change lives.
Fast Facts: Three charities partner up helping to raise awareness. Philanthropic women polo players ride for a cause to help empower single mothers and their children in our community. A moment of silence in memory of Bob Daniels.
The winning team will be donating a car given by Wheels from the Heart for a single mother and her children!
Tremendous gratitude to Pony Express Farms for their Loving Donation of the Polo Field and Idlewild Farm for an evening of enchantment under the stars.
Thanks to Our Sponsors Pony Express Farm, Idlewild Farm, Maserati, TLC Contruction, The Breakers Hotel, Park Tavern, Eleven Spa, Eye On South Florida, Simply The Best Magazine, Digital Event Imaging, Palm Beach Society Magazine, Mr.Paella, Titos Vodka, Nina's French Bakery, Century 21, Country Club Autos, Southfields Real Estate Inc., Color Performance, Lynda Mariano, Tara Lordi, Jennifer Williams, Laura Wilson, Scarlet Davenport, Pamela Flanagan, Sabrina Barnett, Michaela Paige, Dale Schwetz, Darrell Schwetz, Polo Star Clothing, Stefano Laviano Handbags, Palm Beach Women Magazine, Polo Line.
Join Wheels from the Heart, Dress for Success Palm Beaches, The Lord's Place (Burckle Place) and Empowered Women Polo Players for a unique evening of giving and grace.
Your kind donation can help brighten lives by providing reliable transportation to a single mother and children in our community.
www.WheelsFromTheHeart.org
1-844-Give Wheels
WHEN 
WHERE Idelwild Farms – 12880 Indian Mound Road, Wellington , Fl 33414 – View Map
About the 3 Charities
Wheels from the Heart is a 501(c)3 organiztion that provides reliable vehicles for single mothers in need and their children.
The Lord's Place is dedicated to breaking the cycle of homelessness
by providing innovative, compassionate and effective services to men, women
and children in our community.
Dress for Sucess empowers women to acieve economic independence by providing a network of support, professional attire and development tools to help women thrive in work and in life.