South Florida Cosmetics Manufacturer to Donate 10,000 Hand Sanitizer Units to
The Urban League of Palm Beach County
WHO: Oxygen Development, a West Palm Beach area based manufacturer of cosmetics, personal care and over the counter products and the Urban League of Palm Beach County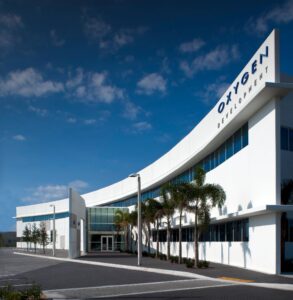 WHAT:   During its COVID food drive, Oxygen will deliver 10,000 bottles of hand sanitizer to the Urban League, where it will be distributed to families in need.
WHEN:      Saturday, June 27 at 7:30 a.m., prior to the COVID food drive. The food drive begins afterwards.
WHERE: Urban League of Palm Beach County, 1700 North Australian Avenue, West Palm Beach, 33407
WHY:   Oxygen Development, based in Palm Springs, Florida, saved the jobs of 700 of its workers by re-purposing many of its manufacturing lines into the production of hand sanitizer. They are also making the hand sanitizer available at a more affordable cost than what is currently available to the general public.

Oxygen is committed to saving lives and pledges to aid the populations that are most vulnerable to COVID-19: the needy, healthcare workers and first responders, by donating 50,000 units of hand sanitizer to first responders in Miami-Dade and Palm Beach counties, the Urban League of Palm Beach County, Jackson Health Foundation, Boca Helping Hands, and Boys & Girls Clubs of Palm Beach County.
The 50,000 units will be donated to hospitals, the underserved, and first responders throughout South Florida, in the months of May and June. For consumers, the hand sanitizer will be marketed under the Oxygen Health & Wellness brand and sold at OxygenWellness.com. The products are being sold at cost for $3.99 per 5 oz. bottle, sold in packages of six for $23.94 and $12.96 per 31.2 oz, bottle, sold in packages of three for $38.88.
ABOUT OXYGEN DEVELOPMENT
Established in 2002, Oxygen Development is a world-class leader in the development and production of high-quality color cosmetics, personal care and OTC products for numerous global and trendsetter brands.
Headquartered in Florida, Oxygen also operates Manufacturing Plants and R&D labs in six countries, across three geographic regions: The Americas, Europe, and Asia.
For more information, visit OxygenDevelopment.com or OxygenHealthWellness.com, and follow on social media at:  Facebook: https://www.facebook.com/OxygenHealthWellness; Twitter: https://twitter.com/OxygenHWellness; and Instagram: https://www.instagram.com/oxygenhealthwellness.
About the Urban League of Palm Beach County
Since 1973, the Urban League of Palm Beach County (ULPBC) has been at the forefront of helping African-Americans and other minorities achieve social and economic equality.
Urban League of Palm Beach County is an affiliate of the National Urban League, the largest civil right organization in the country with 88 affiliates in 36 states and the District of Columbia serving 2.7 million people annually.
ULPBC serves over 18,000 clients annually that live at or below the federal poverty line in neighborhoods with low high school graduation rates, high unemployment and underemployment, high crime rates, and one-parent households. We address these challenges by providing educational, self-reliance programs that move individuals and families into the economic mainstream through our four areas of focus: Youth Education, Housing Economics, Workforce Development, and Health Wellness.