Wellington Classic Brew Fest Returns This February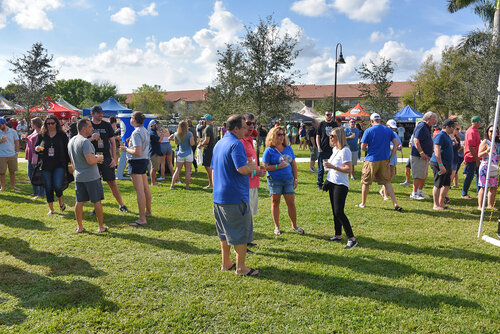 Sample a wide variety of craft beers and hard ciders at the 2nd Annual Wellington Classic Brew Fest, hosted by the Village of Wellington in conjunction with BrewFest Partners on Saturday, February 8, 2020. The event takes place from 3:00 PM to 6:00 PM in Wellington's Town Center (12150 Forest Hill Boulevard), with early access VIP ticket-holder entry at 2:00 PM.
Guests, 21 and over only, will enjoy an impressive array of craft brews and hard ciders from Florida and beyond, accompanied by an assortment of food trucks and other craft beer-centric games, live music, and entertainment.
Tickets go on sale Friday, November 1st and can be purchased in advance online through Eventbrite at www.eventbrite.com/e/wellington-classic-brew-fest-2020-tickets-76074752633 (a service fee applies). Ticket quantities are limited. All ticket purchases, including day of sales, are subject to availability.
Ticket packages include:
VIP Pass Admission, $65
$70 day of event
Advance purchase sales end
February 7th, at midnight,
or when sold out
Early Admission at 2 PM

Exclusive sampling of limited release VIP beers

Commemorative pint glass upon exit from the event

General Admission
$45 in advance
$50 day of event

Gates open at 3 PM
Unlimited sampling
Commemorative pint glass upon exit from the event

Designated Driver, $10
Unlimited soda and water
Purchase online or at gate
Commemorative pint glass upon exit from the event
For more information on the event, including breweries, event FAQs and more visit www.wellingtonclassicbrewfest.com.
Follow Wellington Classic Brew Fest on Facebook at  facebook.com/WellingtonClassicBrewFest for future event notices and updates.
As another way to stay informed on the latest news and updates from the Village, residents are invited to sign up for Wellington information and updates at www.wellingtonfl.gov/Newsletter.
For information about other Wellington programs, events, activities, and updates, please visit www.wellingtonfl.gov or watch WellingtonTV for the latest happenings.