Wellington Debate Senior Recognized for Volunteerism
Wellington, FL
March 8, 2018
Wellington Speech and Debate's Brandon Schloss was recognized by the National Speech and Debate Association as the recipient of its 2018 Exemplary Student Service Award.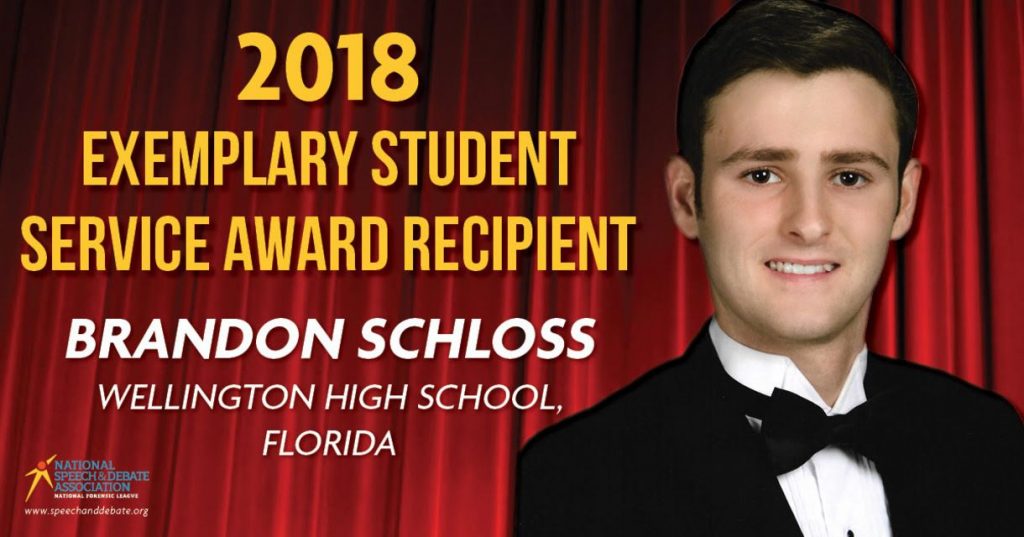 Schloss was a unanimous choice by a committee of past NSDA "Student of the Year" honorees, who took into account his hundreds of hours as a regional, state, and national anti-bullying spokesman. He was selected by Stomp Out Bullying (the leading national bullying and cyberbullying prevention organization) to speak at schools, at events, in the community, to the media, and raise awareness through social media about bullying and cyberbullying prevention. Mr. Schloss has accumulated in excess of 400 community service hours speaking to students at schools, after-care programs, camps and mall events the past 3 years. He has also been active with the Palm Beach County Sheriff's Office Gang Prevention Unit since 2014, where he coordinates and speaks to elementary school and after care programs about youth violence and bullying. As part of this venture, Brandon has worked with the Palm Beach County School District, Children Services Council, and the Literacy Coalition of Palm Beach County in organizing and speaking at schools and camps.
All of this began after Schloss wrote an essay for the National Campaign to Stop Violence which included his reflections after reading a news story about an area 15-year-old charged with first-degree murder over a bicycle. He was honored to be selected as an ambassador for Palm Beach County and meet with other youth ambassadors from around the country in Washington D.C., where he met teens from across the nation who had been directly impacted by gang violence, ranging from friends' suicide due to bullying, to living in foster homes due to gang-related drug trafficking, to family deaths via stray bullets.
Through the Do The Write Thing competition, Schloss was challenged to express himself in words. After leaving Washington, D.C., he challenged himself to go beyond the words. He realized he had a responsibility to serve the community by working for positive change and improving the lives of others. This epiphany was not a calling to seek a specific career path, but rather an understanding that being a true leader is not a role, but a responsibility. Leadership, he told me, is practiced not so much in words as in one's character and actions. With that in mind, he contacted schools and volunteered to speak with students about the impact of violence and bullying.
The past four years, Brandon has spoken to hundreds of children at schools, after-care programs, summer camps, and in mall events. Whether speaking on behalf of the Palm Beach County Sheriff's Gang Prevention Unit or the Stomp Out Bullying organization, as one of their national teen ambassadors, his message is simple and clear: "Imagine standing in someone else's shoes; how would that make you feel?" This simple but profound message of empathy now guides his relationship with others and is a foundation of his character.
Wellington Debate is coached by Paul L. Gaba. For more information, visit www.wellingtondebate.com, https://www.facebook.com/wellingtondebate, or http://www.twitter.com/reddawndebaters.