THE WELLINGTON GARDEN CLUB ANNOUNCES APRIL 2019 DATE FOR UPCOMING DEERIDGE FARMS GARDENS TOUR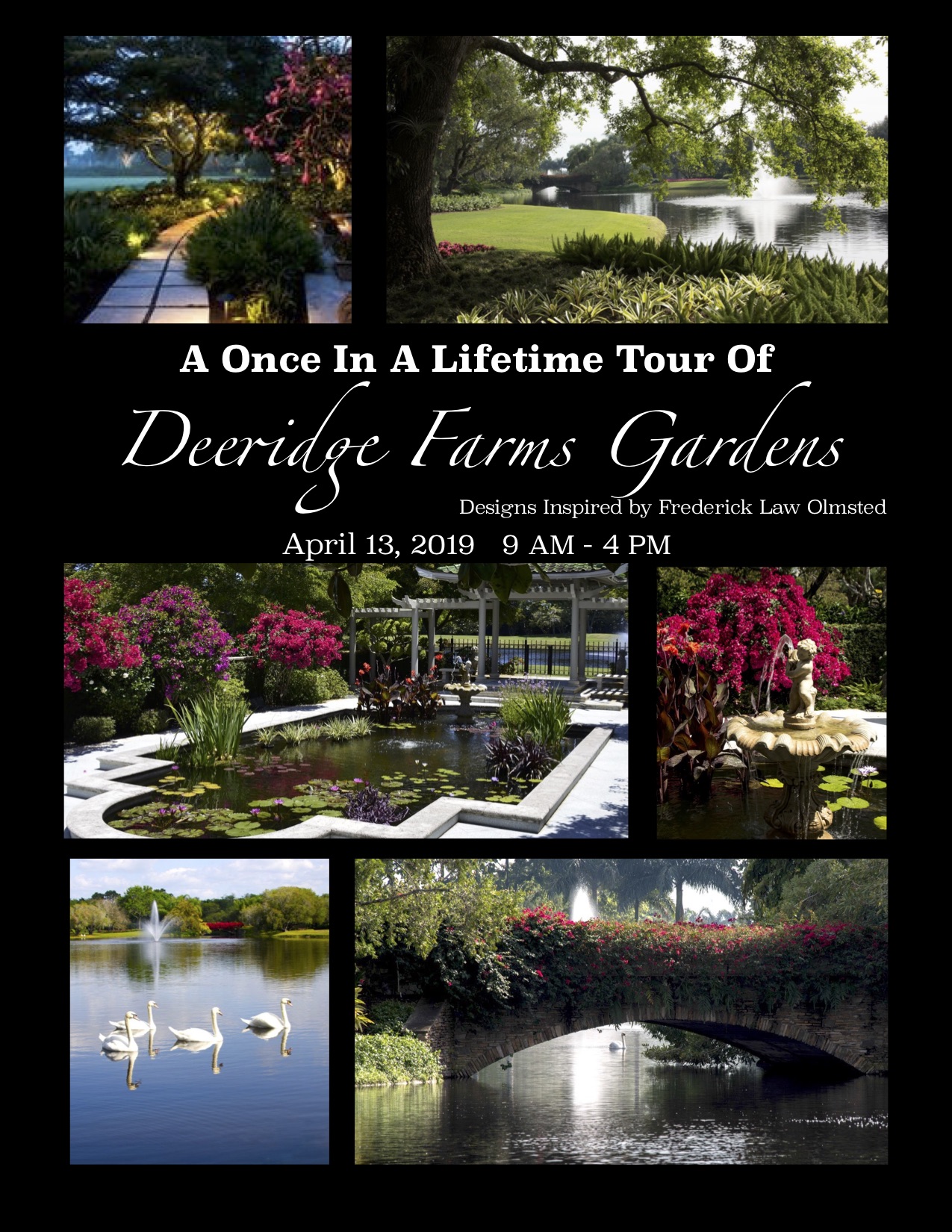 If you love gardening or even just appreciate the outdoors, this is the event for you. On Saturday, April 13, 2019, from 9 a.m. to 4 p.m., the Wellington Garden Club will be hosting a once-in-a-lifetime event at Deeridge Farms Gardens located in Wellington, Florida. This garden tour will encompass over 60 acres of carefully crafted landscapes designed to capture your eye and inspire your inner gardener.
Deeridge Farms Gardens are the creation of Jeremy and Margaret Jacobs and were inspired by famed landscape architect Frederick Law Olmsted. Some of the designs include a lily pond landscape, a butterfly garden, a Japanese garden, a bromeliad garden, the orchid house, wetlands, strategically placed pathways, and much, much more! Wild birds of all types flock to this locale and are viewable throughout the year. They include ospreys, ducks, geese, swans, hawks, whooping cranes, and egrets. Bring your camera to this one-day event as you are sure to photograph something special.
Additional activities will also be happening such as several prize raffles, plant sales, gardening vendors, crafts for sale by club members, free refreshments, and a Q&A opportunity with some of our club master gardeners. Tickets are only available in advance and not the day of the event. Easy online ordering of tickets can be done through the club website at https://wellingtongardenclub.org. Mark your calendars now, don't wait!!!!
Wellington Garden Club is a 501(c)(3) nonprofit organization founded in 1982. The net proceeds from the 2019 Garden Tour will help fund the club's junior garden clubs, college scholarships, community beautification projects, Habitat for Humanity landscaping, and other civic outreach activities.