WELLINGTON'S TAYLOR GRIFFITHS HEADS TO D.C., BUT NOT TO CONGRESS
By Mike May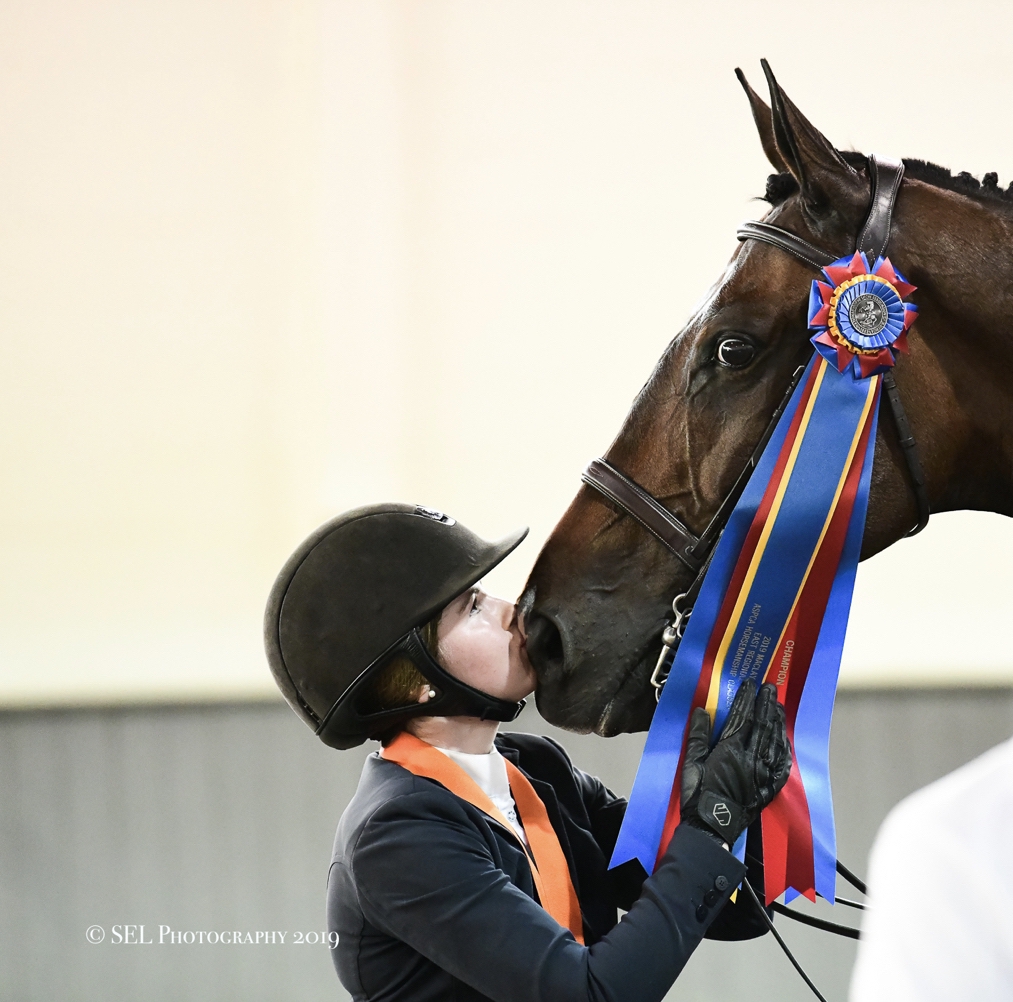 Wellington resident Taylor Griffiths is off to Washington — with her horse, Mac-One III.  That's one way to summarize what 17-year-old Taylor Griffiths will be doing in late October with her 10-year-old equestrian companion.  When she and Mac-One III arrive in our nation's capital, they will be competing in the 2019 Washington International Horse Show (WIHS), which runs October 22-27 at Capital One Arena in Washington, D.C.
Fortunately, Griffiths' trip to this competition is being underwritten, as she is one of three recipients of the 2019 Lindsay Maxwell Charitable Fund Washington International Horse Show Equitation Scholarship.  The other two scholarship recipients are Avery Glynn, 14, of Petaluma, California and Emma Fletcher, 17, of Buzzards Bay, Massachusetts.  This scholarship recognizes the talent, dedication, and hard work of junior riders who compete throughout the year in the hopes of qualifying to participate in the WIHS Equitation Finals.
The Lindsay Maxwell Charitable Fund Washington International Horse Show Equitation Scholarship will cover expenses such as travel and lodging for the rider and a parent, the show's entry and application fees, equine transportation and stall fees, and special VIP hospitality access. 
All three recipients of this scholarship are promising young junior riders who have demonstrated hard work, determination, and talent.
"The future of our sport depends on young riders like Avery, Emma, and Taylor, who have continually displayed their dedication to our sport, animal welfare, and their local communities," said Lindsay Maxwell, founder of the Lindsay Maxwell Charitable Fund.  "It is a pleasure to recognize the incredible riders who have both applied for and received the WIHS Equitation Scholarship. Last year, we expanded the number of scholarship recipients and this year we will continue that growth by honoring three recipients.  The selection committee was impressed by the caliber of applicants this year, and we are thrilled to honor these three young women at the WIHS Equitation Finals."
"In the third year of the LMCF WIHS Equitation Finals Scholarship program, the WIHS team is beyond impressed by the quality of the applications and the remarkable talent and commitment of these three young competitors," said WIHS President Victoria Lowell. "We are ever grateful for the increasing generosity and expanded commitment of the Lindsay Maxwell Charitable Fund to this special, one-of-a-kind program."
Now in its 28th year, the Lindsay Maxwell Charitable Fund Equitation Finals is a rigorous three-phase competition held over two days. A panel of three judges will test and evaluate the riders in hunter, jumper, and work-off rounds to determine the winner.
This D.C. experience won't be the first one for Griffiths, as she competed in this same event last year – again, with her current horse, Mac-One III.  Griffiths admits that last year was a learning experience for both herself and her four-legged companion.  This year, she hopes to improve on last year's finish.
"Last year, my horse was a little spooked by the indoor arena because most equitation competitions are outdoors," added Griffiths.  "And, my horse was new to equitation last year.  It was a good experience for both of us."
When Griffiths is not aboard Mac-One III, she will not be visiting D.C.'s many museums and tourist attractions.  Instead, she will be pampering him.
"As I prepare for my next ride, I will taking care of my horse, feeding him, and hand walking him," added Griffiths.  "He's very spoiled."
Griffiths will be accompanied to Washington, D.C. by her parents, Jennifer and Frank Madden, both of whom work in the horse industry as equestrian trainers.
Griffith's parents are thrilled that their daughter's talents are being recognized and rewarded.  But Griffith's mother, Jennifer Madden, knows it's not easy working in the equestrian industry while playing the role of 'mom' in the grandstands.
To get to Washington, D.C., Griffiths reports that she and Mac-One III will be traveling along I-95.  She will be in a car that will travel right behind the trailer that will be housing Mac-One III.  It's roughly a 15-hour journey, plus stops, for each leg of the trip.
Looking forward, this competition in D.C. is just the next step for Griffiths before she eventually turns pro, but before she embarks on an equestrian career, she wants to earn a college degree, probably in business, from Southern Methodist University in Dallas, Texas, where she will attending on a full riding scholarship, beginning in the fall of next year.  With a budding career in the equestrian industry, which will be complemented by an eventual degree from SMU, Griffiths will truly be forever a Mustang!