YOUNG FRIENDS OF THE KRAVIS CENTER TO HOST VIRTUAL PANEL DISCUSSION WITH NONPROFIT LEADERS ON AUGUST 20
Kravis Center CEO to lead panel with Cultural Council of PBC, Nonprofits First, Inc. and the United Way of PBC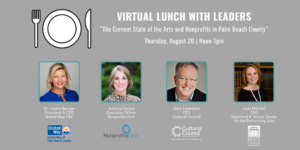 (West Palm Beach, Fla) – Until the Raymond F. Kravis Center for the Performing Arts can open its doors to the public, it continues to expand its virtual offerings. On August 20, the Young Friends of the Kravis Center will host "The Current State of the Arts and Nonprofits in Palm Beach County," a Zoom panel discussion including Kravis Center CEO Judith Mitchell; Dave Lawrence, President and CEO for the Cultural Council of Palm Beach County; Jessica Cecere, CEO for Nonprofits First, Inc. and Dr. Laurie George, President and CEO for the United Way of Palm Beach County. The discussion starts at 12 noon.
Talya Lerman, Development Manager and Young Friends liaison at the Kravis Center, will moderate the panel with Lindsey White, Associate Vice President of Philanthropy for the United Way of Palm Beach County. Discussion will include the "state of the arts" during COVID-19, how the non-profit sector has responded to the pandemic and how organizations plan to pivot going forward for the coming season.
"We invite our Young Friends members and prospective members to register for this timely and informative discussion with some of our top community leaders," said Lerman. "As a Young Friends member, you receive advance opportunities for ticket ordering for Kravis Center presentations, priority access to Kravis On Broadway and Regional Arts Classical Concert Series, invitation to Young Friends special events, subscription to Kravis Center publications, and many other fun and exciting perks. A Young Friends membership is a wonderful way to make a difference in the community as well as make new connections with other like-minded professionals."
Membership for Young Friends of the Kravis Center starts at $125 annually. To register for the Zoom panel discussion and for more information on becoming a Young Friends member, please contact Talya Lerman, Development Manager, at 561.651.4373 or lerman@kravis.org.
The Kravis Center is a not-for-profit performing arts center located at 701 Okeechobee Blvd. in West Palm Beach, FL. The Center's mission is to enhance the quality of life in Palm Beach County by presenting a diverse schedule of national and international artists and companies of the highest quality, by offering comprehensive arts education programs – serving nearly 3 million students since its inception; by providing a Palm Beach County home for local and regional arts organizations to showcase their work; and by providing an economic catalyst and community leadership in West Palm Beach, supporting efforts to increase travel and tourism to Palm Beach County. To enhance and elevate the customer experience, the Center is undertaking a $40 million capital project to support a campus redesign and facility expansion that will create a more accessible, comfortable and pedestrian-friendly venue for the community.  Aptly namedKravis 2020: The Future is Now, this project is at the heart of the Kravis Center's vision for the future.
For general information about the Kravis Center, please visit kravis.org. For more information about the Kravis 2020: The Future is Now project, visit kravis.org/kravis2020.