January, 2016- Annual Wycliffe Stiffs Stickball Hall of Fame Game Hot Dog & Egg Cream Picnic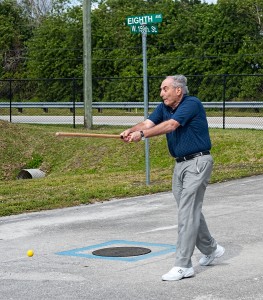 History was made today in Wellington, Florida at Stickball Park when Steve Kanowitz, Vice President of Gutterman's Inc. of New York and Gutterman Warheit Memorial Chapel of Boca Raton, FL was invited to attend the annual festivities and be introduced to the team that is sponsored by Gutterman Warheit Memorial Chapel….The Dukes of Flatbush.
Upon arrival he was introduced to Marty Ross, the Commissioner of the Stickball League and Harry Klaff, the Director of Operations. In addition there was a huge surprise when Carlos Diaz, the King of Stickball in the United States came in from New York to watch the game. Steve then was introduced to the members of the team who immediately told him they don't want to do business with him and wanted to know if he came in a hearse. The funeral jokes continued for several minutes which seemed to loosen everyone up and set the fun tone for the afternoon.
The series of photographs were taken in the sequence that they happened. Just before the game Steve said he wanted to try batting practice….he had not played stickball in 63 years. Everyone held their breath when he stepped up to the plate praying he wouldn't hurt himself. Unbelievable…he hit the ball and everyone cheered. Next he posed beneath the street sign from Brooklyn which took him back on a nostalgic return to his childhood. Marty Ross presented Steve with a team hat. The National Anthem was sung and Steve went to the pitcher's circle to throw out the first pitch (he has been talking about this pitch for weeks hoping not to embarrass himself). Unbelievable again!!! He throws the perfect pitch and the crowd goes wild.
At this point I want to apologize to my fellow Gutterman employees for planning Steve's participation in this sanctioned event. If you thought his ego was large before….OMG…I unfortunately created a monster and the Florida staff will be suffering until he returns to New York where he will inflict this on the northern staff.
Steve invited his friend Art to attend and I had them pose together for the next picture. What a nice man…hard to believe he is friendly with Steve. Took a quick shot of Steve enjoying the hot dogs and finally the last picture. I was hoping he would find today relaxing and leave work behind…but he can't! I snapped a picture under the table and caught him calling work…you can take Steve out of the office but you can't take the office out of Steve.
All joking aside it was a fun day and great PR day for the company with lots of new friends