War Plane Driving Down Congress Ave. to
G-Star School Wednesday!
Grumman Mohawk Gunship flew in Four Wars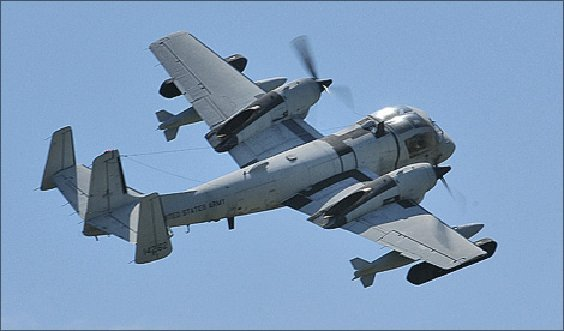 Palm Springs, FL (8/12/2017) – Several years ago a historic WWII Douglas C-47 Dakota Skytrain that flew in Normandy on D-Day in 1944, and one of only five left today, was delivered to the G-Star Studios (www.gstarstudios.com) back lot owned by the G-Star School of the Arts for Film, Animation and Performing Arts (www.gstarschool.org) in Palm Springs, Florida. It has appeared in several movies and numerous videos, commercials and TV productions. This Wednesday, August 16th it will be joined as a permanent fixture on the motion picture studios' back lot with a Vietnam-era Grumman Mohawk gunship airplane that saw action in Vietnam, The Gulf War, Afghanistan and Iraq. The Mohawk will be towed on its own wheels from the Lantana Airport six miles north on S. Congress Ave. to the G-Star School of the Arts in Palm Springs, three blocks south of Forest Hill Blvd. at approximately 11 AM. The plane is being donated by Paul Pefley, owner of Mohawk Technologies. Transportation provided by Kauff's Towing.
About G-Star School of the Arts:
G-Star School of the Arts for Film, Animation and Performing Arts (WWW.GSTARSCHOOL.ORG) is a public high school located in Palm Springs, Florida, founded in 2003 by the school's CEO, Greg Hauptner. G-Star School of the Arts owns the G-Star Studios (WWW.GSTARSTUDIOS.COM), the largest motion picture studios south of Orlando.
G-Star students come from across Palm Beach County as well as from all over the world to attend this college prep high school whose graduates have been accepted into Juilliard, Oxford University (England), Ivy League Universities, NYU, USC, West Point, US Naval Academy, and all Florida colleges and universities, to name a few. G-Star offers a complete college preparatory education with Honors classes, Advanced Placement classes, and the International Baccalaureate World School Programme. Students study in the fields of film production, 3-D animation, and acting. The school also trains students in Writing, Directing, Producing, Acting and all aspects of film and digital media production in front of the camera and behind the camera, as well as live performance.
Accolades: G-Star has been awarded the prestigious title of "High Performing High School" by the Florida Department of Education after being rated an "A" school 7 years in a row. It is academically ranked in the top 1.4% of all high schools in the nation by the Washington Post. The U.S. News & World Report named G-Star one of "The Best High Schools in America" (Top 3%). G-Star was awarded "The Number One High School for Film in the World" in London by the Raindance Film Festival, Europe's largest independent film festival. G-Star was welcomed into "The Top 5% of the Most Honored Businesses in America" by The American Registry of Best Businesses in America. G-Star graduates up to 99% of its students with 97% going on to college. G-Star also owns the largest motion picture studios in South Florida where multi-million dollar feature films, commercials and music videos are produced with G-Star students interning on the sets
Where are G-Star graduates today? Here's a brief list: Sound Engineer for the Jimmy Fallon Tonight Show, Universal Studios, Warner Bros. Studios, Disney, reality star of Syfy Channel's FACE OFF, star of Nickelodeon's "I Am Frankie", Jim Henson's Creature Shop (Muppets), and Hulu. Several own their own production companies, traveling the world doing documentaries, commercials, music videos and much more.