A Slice of Heaven: An interview with the phenomenal Americana Jones Band
By Denise Marsh
 Definition Recognition: 
    If you Google "Americana music" it states that "it is the contemporary music that incorporates elements of various, mostly acoustic American roots, rock, folk, gospel and blue grass."  While the definition satisfies our background knowledge, it falls short of evoking the passion that goes with their "sound," the sound of Americana Jones.     
Nevertheless, as a HUGE fan of this band (which I have seen almost a dozen times), I was honored to have the chance to interview them.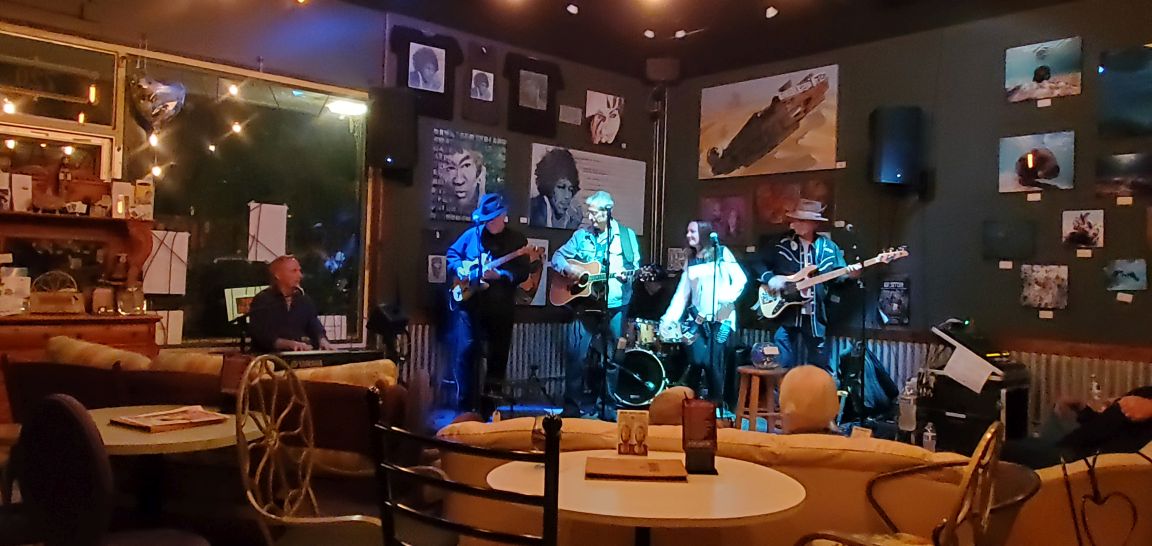 LEADERS OF THE PACK: The interview
I have seen Americana Jones many times at Village Music Café in Wellington, but this time I was going to a new location and venue.  We met at a place called Brewhouse Gallery in Lake Park, Florida. Brewhouse is not only a place for live music but also home to many local artists.  If you sit at the bar you can see an eclectic array of artwork ranging from sea turtles to Jimmy Hendrix. There is also a separate room called "the game room" and at the bar, they serve many special brews of beer. I was able to interview the band prior to their performance that night.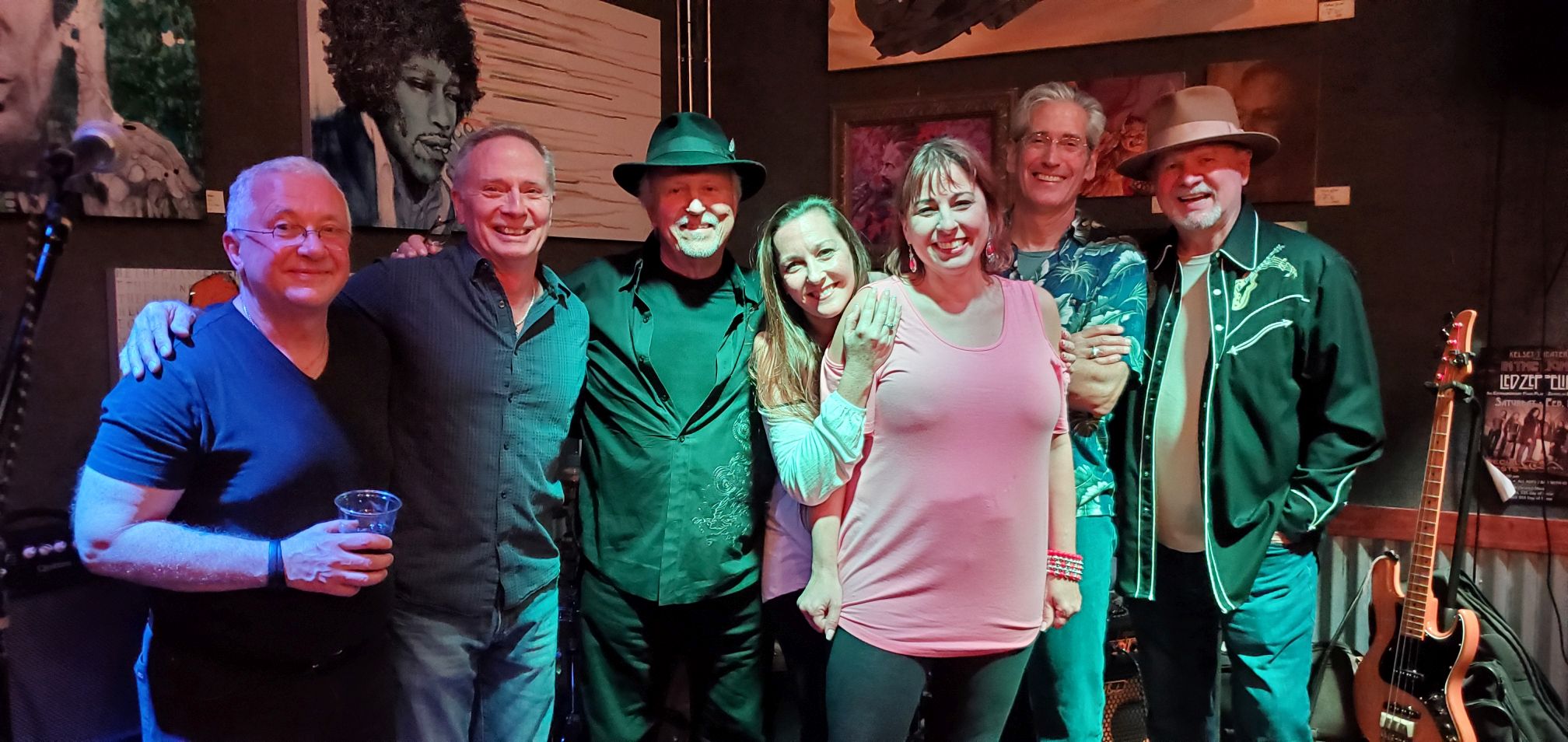 We gathered at a round table to begin the process.  The band's members include: Al Johnson (Vocals, Guitar, Banjo and Harmonica), Cori Spring (Vocals), Ron Harbison (Lead Guitar and Vocals).  Then there is Jerry Evans (Keyboards and Vocals), Mike Barker (Bass Guitar and Vocals), and last but DEFINITELY not least is their very humble and amazing drummer Leonard Townsend.   It was extremely comfortable, sort of like sitting in your best friend's living room.  Cori and Jerry were interviewed later in the evening due to other commitments, yet I enjoyed my separate "mini interviews" with both of them.
As I interviewed them I didn't just hear the "words" and their "comments" but I   felt this intense feeling of love and admiration- a sense of pride they felt in each other.  The band members would either talk over each other's words (to compliment each other) or interrupt (in a gentle way) to build on each other's stories.  They had many, many, many stories to share. Someday maybe I will do another article sharing some of their stories. But, for now I will do my best not to be verbose…
AW:   Who came up with the patriotic name for the band?
Americana Jones ('AJ'):   (Mike spoke for the band and stated:)
"We tossed around names. Ron asked for help from friends in Nashville. The 'Jones' part was a tribute to the late and great George Jones.  I found out that he was an American musician, singer, and songwriter. Jones' most memorable song was 'He stopped loving her today.'"
   AW: How did you all meet? 
AJ:  (Mike explained that Lenny, Al, and Ron all have a legal background:) "When Al worked for Palm Beach Ethics committee, Ron happened to be one of the five commissioner that was hired to be on the Grand Jury Ethics Commission. There was a Bar Association Talent show in January of 2011 to support the Honorable Peter Evans, a 30 year judge.  Al and Ron practiced for the show. They jammed together every Sunday and the band was born." 
AW:   What makes your particular band stand out from the rest? 
AJ:  (Ron says jokingly)
"I am the troublemaker."  (Al added:) "There are absolutely no egos with us. We work as a team. We always laugh and continue to support each other."   (It was like watching an episode of Family Feud where everyone "chips in their 2 cents to get the correct answer or one that will fit the team perfectly)  (Al piggybacked, adding:) "We love Cori.  We tease her. We tell her that we are her 'surrogate brothers'.  We are very protective of her feelings. She has truly grown in confidence and has come into her own in an amazing way.  We are very proud of her! We worked hard practicing vocals together and now she is flourishing. She takes on more and more risks every time that she performs."  
AW: Tell me about one of your songs that is very significant to you all.  
AJ: (Ron jumped on the question eagerly:)  "I wrote an original song called 'Better Man' about raising five sons. I have 16 grandchildren (he said with a smile as bright as a Christmas tree) ranging from ages 36-50.  I wanted to tell people what it was like with emotions and also humor."
AW: How do you choose your song list? Do you all choose or just a select few?
AJ: (Ron, Mike and Al all pretty much completed each other's sentences:)
"We stick to a lot of songs that people can connect to and with.  But, we also like to keep it fresh. We get great demos from Nashville. Plus, our kids write."    (Al speaks up proudly:) "My son wrote a very whimsical song with the lyrics, 'what goes up, must stay up.'  We play that song a lot – the audience gets a kick out of it … it kind of sounds like a Viagra commercial!   We try to keep a sense of variety by performing songs from classics, favorites and then throwing in some new songs.  Sometimes, we get inspiration and challenge each other to sing a popular song or a song that we think we'd like to try.  The audience seems to love 'Wagon Wheel' and also 'When You Say Nothing at All.' Ron is our 'Professor of Musicology.'"
AW: What are your greatest strengths as a band?   
AJ.: (All eyes are on each other, waiting to see who will speak up first. Al and Mike (almost simultaneously) chime in:)  "I just know that whatever feeling is conveyed, it will be reciprocated by all of the members of the band."  "We all suck as agents" (Al and Mike say laughing)  "We like to be in the moment, have great material, and a love for the music – we make sure that it shows when we play!"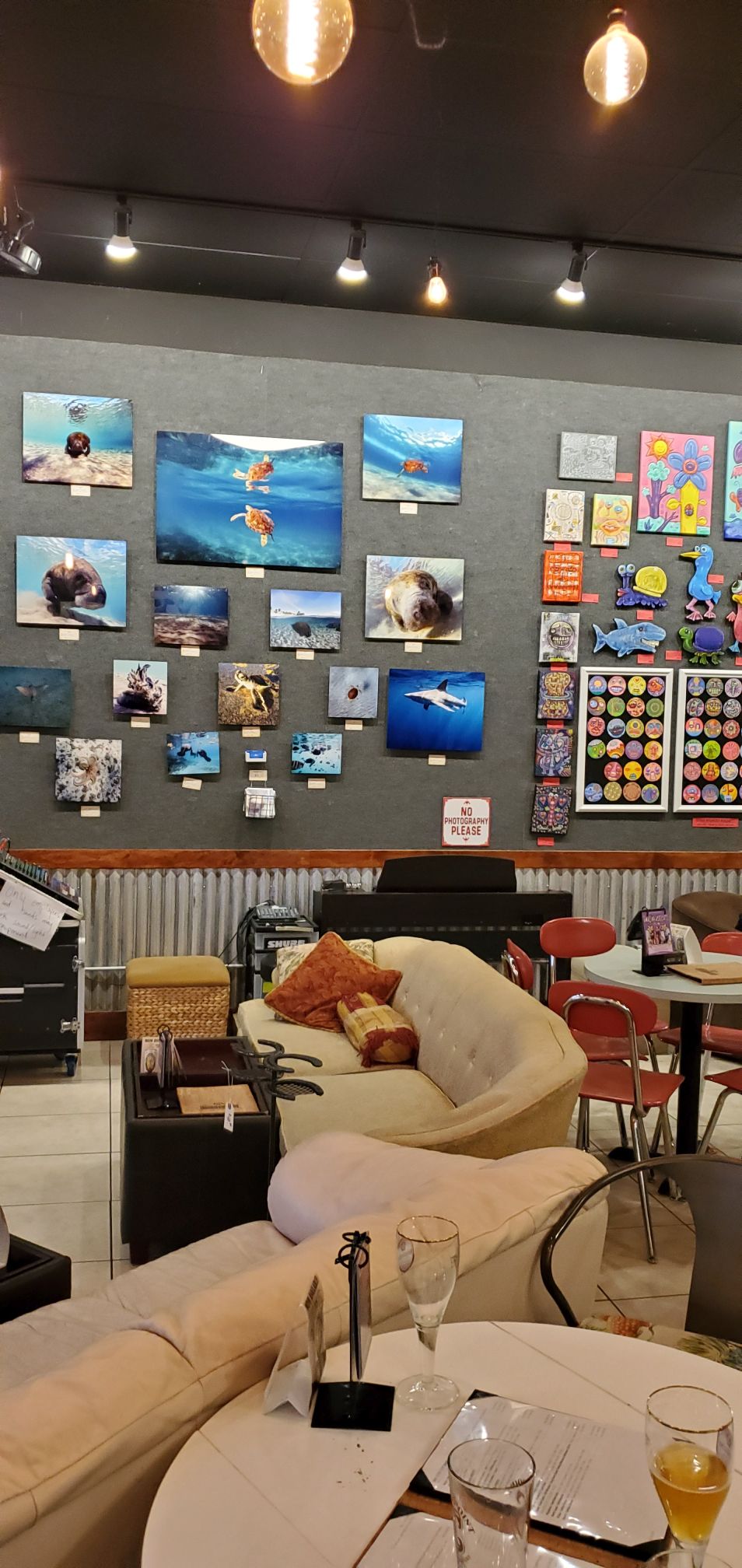 AW: Is this a side band a "side hustle" for the majority of you? 
AJ:   (Al speaks up vehemently:) "I would quite my day job and do music full time if I could. It would actually be a levitating experience."  (Al is currently Chief Assistant to State Attorney Dave Aronberg.  Mike is a retired firefighter and was a paramedic for the Boca Fire Department.  Ron is a retired Forensic C.P.A. He says:) "My job now is to have fun."
(Al continues to define everyone's positions:) "Lenny still practices law and works in real estate."  (Lenny was extremely quiet and reflective during the interview. He didn't want a lot of attention on him, but spoke highly of his great respect and admiration for the band.  I took his "cue" to interview the other band members. He mostly served as a liaison and a great communicator if I needed to get any facts straight for this article.)  "Cori, one of our lead singers, is a Bartender at Banana Boat in West Palm Beach. She is also a single mom of a 17 year old.  Jerry, the keyboard player, is semi-retired and works for the School District of Palm Beach County. He works for food services and is passionate about his job."
AW: Where do you all find inspiration for your songs?
AJ: (Mike responds promptly:) "We have different places. Our children actually provide good material. We also draw from personal experiences."  (Ron adds:) "I read a lot about Blues and Jazz and the poetry of lyrics – it all helps."  
AW: What does the future look like for Americana Jones?
AJ: (Ron and Mike speak almost simultaneously:) 
"We have a momentum going on.  We have a following" (he winks at me, acknowledging that I am a huge groupie!)  "We have had an incredible time performing at The Brewhouse's 'Writers in the Round' as well as Wellington's Village Music. It has been an extremely rewarding experience, supporting local businesses and their efforts to promote live music.  We would like to do more outdoor concerts and expand our audience."
AW: What is the message you want to evoke to your audience?
A.J:  (Al, Ron, and Mike gave their response with a "team effort":)
"It is about moving people and having them reacquaint with things that they love.  And to include different decades – everything from Tom Petty to Smokey Robinson. Our goals include the following:
To have fun

Play for BIG crowds

Play music that people don't often hear about

To stick together.  The longer we are together the stronger we become."
Part 2 of the Interview 
Jerry Evans and Cori Spring arrived at the end of the interview due to other commitments.  Both members of the band managed to add a very special "touch" to our earlier interview.  
Jerry Evans is the band's charismatic Keyboard player.  I was able to pull him aside prior to his performance that night and speak to him briefly before he went to play with the band.      
AW: What is your favorite part about playing with the band?  
AJ:  "It is nothing but fun, even when we make mistakes…I am one of the newest guys in the band, and everyone has been so friendly!  Basically, (smiling proudly) you get to a certain maturity where you can stop feeling pressured about the outcome and you just learn to have fun.  We all get along very well and so that takes the pressure off all situations. I was welcomed from the very beginning."
AW:  Tell me something else unique and special to the band.
AJ: "We have started to pass around an 'Americana Jones placemat' for the people at our venues to sign. It gets circulated throughout the venue.  The placemat helps our fans 'take in a part of the experience'. We keep these placemats to commemorate special memories. Our audiences always find new ways to connect with us and that is the special part of playing for the public."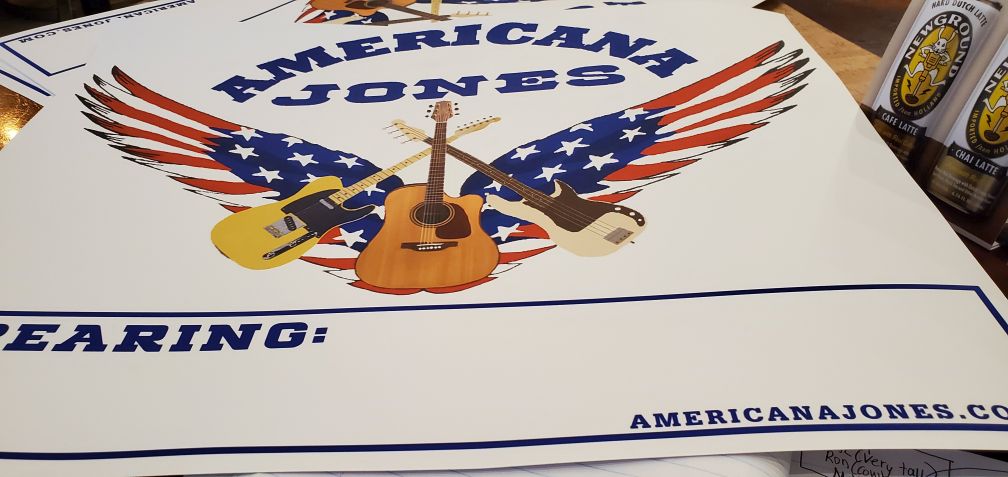 Cori Spring on vocals was able to give me a few minutes of her time as well. 
AW: Tell me about your background in singing.  
AJ:  "This is the only band that I know.  I did musical theater growing up. I worked with a band called the Samantha Russell Band because they needed help.  Then I ended up helping with practice singing in Ron's living room and never left."  
AW: What is your favorite song to sing?
AJ:  "Definitely 'Into the Mystic' by Van Morrison.  I found my voice and my confidence with this band. I take more risks now.  I feel stronger with each performance and the band members helped me do that – they fueled my self-confidence."  (she continues:)    
"We are like family.  I love that we have no drama. We all respect each other. Our band has come a long way musically.  The male member of the band are like my 'surrogate brothers'. We have learned to do a variety of songs and are still constantly bringing new songs to the band.  Some songs take longer than others. But, we give a song a try to see if it will fit our style."
It's never really over until you've had your own "slice of heaven."
If you have the opportunity to see Americana Jones perform, jump on it!  You will be moved and transported by their generous spirit and amazing sound.  I have become a groupie, as well as a few of my friends. Simply put, this band makes you feel good inside and you will be coming back for seconds again and again.  For more information, see their website or follow them on Facebook.
Americana Jones
Facebook: https://www.facebook.com/americanajonesband/
For more info: (561) 719-0902