AGT Winner, Kodi Lee, Headlines Unicorn Children's Foundation 25th Anniversary Royal Ball
Boca Raton FL – March 18, 2020 – On March 7, 2020, The Unicorn Children's Foundation hosted its 25th Anniversary Royal Ball at the Eau Palm Beach Resort & Spa in Manalapan, Florida. Kodi Lee, the winner of America's Got Talent, was the headline performance during the evening. Rachel Barcellona, Unicorn Children's Foundation's first Youth Ambassador recipient and Junior Board Member presented Kodi with the Youth Ambassador Award. It is bestowed on those who have selflessly supported Unicorn Children's Foundation's mission through extraordinary efforts of time, service, and dedication. Kodi has demonstrated to the world that we are not defined by our disabilities but rather by our talent, courage, determination, and positive attitude.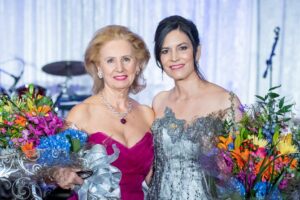 The event chaired by Angela Fisher, President of Unicorn Children's Foundation, and Valeria Rosenbloom, Lifetime Grand Benefactor, honored the "Precious Jewels" who have helped raise nearly $18 million dollars over the past 25 years to support cradle to career initiatives for people with special needs. Diane DaSilva was inducted into Unicorn's Visionary Society, an exclusive club that recognizes extraordinary women who are united by their acts of generosity. Nearly $450,000 was raised to support the launch of the Unicorn Connection Center, a one stop shop to support families whose children have intellectual and developmental disabilities which affect 1 out of every 6 children. This location will provide coaching, consultation, learning opportunities, recreation, vocational training, and employment opportunities for individuals with diverse abilities which are expected to improve health and wellness, social connections, and life skill development.
Unicorn Children's Foundation has been opening doors for 25 years through its cradle to career initiatives supporting people with special needs.
1994 – 2006 Supporting research into effective intervention approaches and producing educational conferences
2003 – 2008: Unicorn Children's Foundation Developmental Clinic and Endowed Chair at Nova Southeastern University
2008 – 2010: Providing mobile developmental clinics to Universities for early screenings
2013 – Current: Established Unicorn Village Academy with 100% of graduates entering employment or post-secondary programs
2014 – Current: Awareness and support of inclusion in elementary schools with our Creating Compassionate Children curriculum
2015 – Current: Convening the community to address priorities via Special Needs Advisory Coalition
2015 – Current: ESDM Parent coaching scholarships to provide strategies that promote the development of critical early developmental milestones
2017 – 2019: Expanding cadre of high-quality respite care providers via REST
2017 – Current: Creating a pre-employment internship program that resulted in 100% of interns being offered employment
2020: Opening of Unicorn Connection Center, Special Percs Café and Uniquely Gifted Boutique
A big thank you to this year's sponsors: Diane Lynn Family Foundation; Valeria Rosenbloom; Sonn Family Foundation; Sunshine Health; Mashkin Family Foundation; Genevieve Murphy; Silvana & Barry Halperin; Northern Trust; Rocco & Mary Abessinio Foundation; Emelle & Alvin Segal; Aqua Gulf Transport; NAV-TV; The Morris & Rosalind Goodman Foundation; Angela Fisher; Raymond James; MBAF; Phil Gori; Sean Harney; Privatefly; Law Offices of Joel Reinstein, PA; UBS; Stuart Fife; Breakthru Beverage Florida; Mark Rosenbloom; and Simply the Best Magazine. For more information, visit the foundation's website www.UnicornChildrensFoundation.org or call 561-620-9377.
About the Unicorn Children's Foundation
Unicorn Children's Foundation is a 25 year old non-profit organization that is dedicated to building communities of acceptance, support, and opportunity for kids and young adults who are challenged by special needs and neurodiversity by supporting or developing its cradle to career pathways. Our initiatives connect families to community resources, advocate for inclusive opportunities, respect differences, empower individuals, and support success. With 1 in 6 children being diagnosed with a developmental or learning disorder, we believe it is our responsibility to create a world where all children's potential can flourish. To learn more about the Unicorn Children's Foundation visit http://www.unicornchildrensfoundation.org. Also available on Facebook and Twitter.