SOUTH FLORIDA SCIENCE CENTER PRESENTS THE STEM INNOVATION AWARDS
Applications are now open in several categories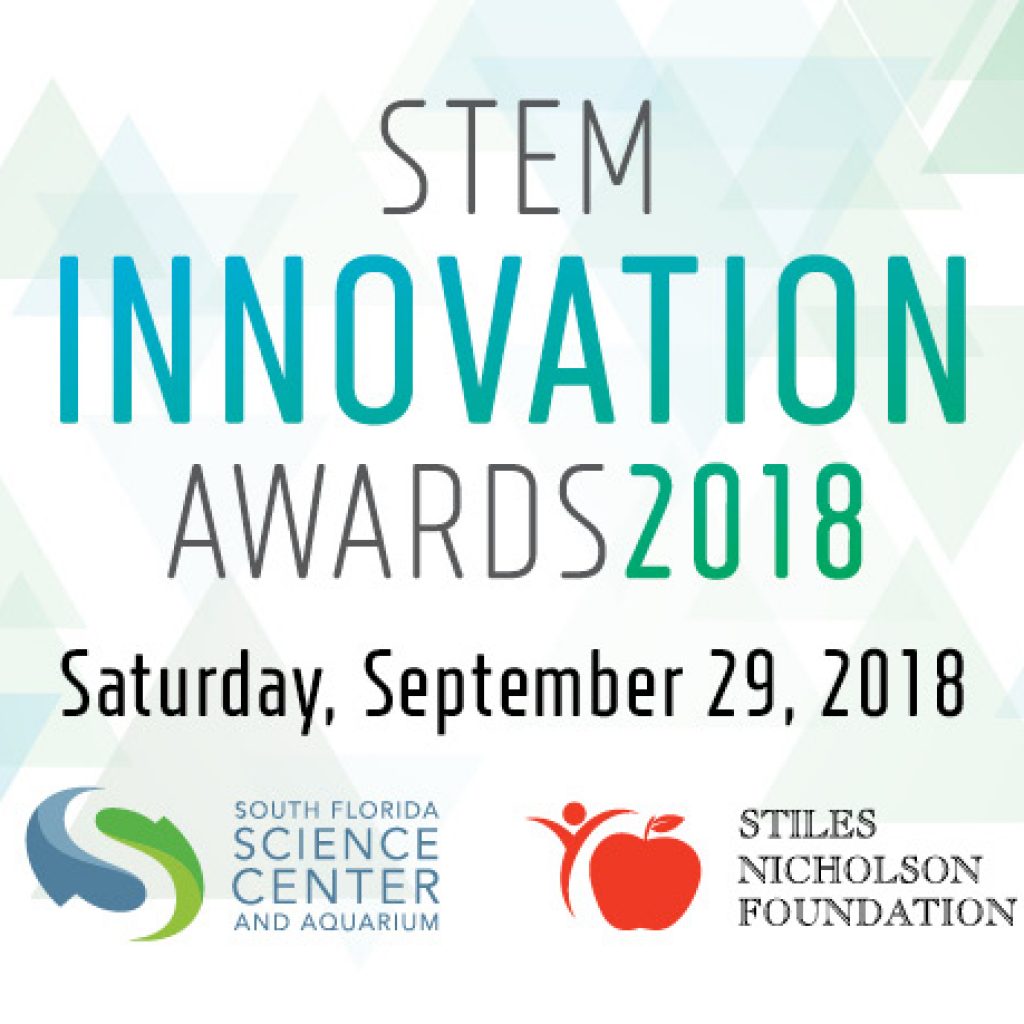 (WEST PALM BEACH, Fla.) – The South Florida Science Center and Aquarium, in partnership with the Stiles Nicholson Foundation, is now accepting applications for the STEM Innovation Awards recognizing leadership, service and collaboration in the field of Science, Technology, Engineering and Math.
"We are looking for individuals, corporations, educators, scientists and non-profit organizations who have been instinctive partners in advancing STEM education throughout our region," said Kate Arrizza, CEO of the Science Center. "Our mission is to open every mind to science, and we want to recognize and honor those in the community who inspire a passion for STEM by encouraging lifelong learning."
Scheduled for Saturday, September 29 from 6-9 p.m. at the Science Center in West Palm Beach, the event will include a cocktail reception, dinner, music, unique science demonstrations and an award ceremony to celebrate the honorees.
"We are very pleased to partner with the Science Center to recognize champions of STEM education in our community," said David Nicholson, BSc., LLD, CFA, chairman and founder of the Stiles-Nicholson Foundation. "There is a critical need to stimulate STEM disciplines in the United States as we are ranked 25th in science and 35th in math out of 72 countries in the developed world. Students are only 25% of our population, but they represent 100% of our future. These STEM Innovation awards will recognize and highlight the importance of STEM education leaders in South Florida."
The event will feature awards in several categories:
• Corporate Innovator – A corporation whose unique approach to business integrates creative ideas, enhancements, outreach, and concepts incorporating STEM into unique and innovative products and ideas that improve quality and/or operations.
• Individual Leader– A person who has demonstrated leadership in developing STEM teams, providing guidance and leading STEM events and programs. This award recognizes achievement in prominent strategic STEM initiatives, inspiring others to follow, and implementing methods to improve STEM education.
• Business Visionary – A company who has made extraordinary contributions to the creation, facilitation or continuation of a STEM program directly impacting early childhood education.
• Educator/Collaborator – An educator who develops strategic partners that further STEM education and awareness to advance quality STEM education by creating and facilitating STEM programs.
• STEAM/Arts Partner – An organization who champions the inclusion of the arts in STEAM education. (STEAM – Science, Technology, Engineering, Arts and Math – is a variation of STEM education that uses a variety of arts mediums to help teach STEM principles.)
• Lifetime Achievement Award – Honoring an individual who has shown an extraordinary commitment to science, education, youth, and the Science Center's mission throughout their life.
Anyone interested in nominating a STEM champion can apply online at https://www.sfsciencecenter.org/stem-awards. The deadline to apply is September 1.
Tickets are $65 per person or $650 for a table of 10 during presale. Prices will increase to $75 and $750 after September 1. Sponsorship opportunities are available.
Attire will be business casual.
The mission of the South Florida Science Center and Aquarium is to "open every mind to science" and in addition to its fresh and saltwater aquarium, the indoor/outdoor venue features more than 100 hands-on educational exhibits, a digital planetarium, conservation research station, Florida exhibit hall, Pre-K focused "Discovery Center," an interactive Everglades exhibit and the 18-hole Conservation Course – an outdoor putting course with science-focused education stations.
The South Florida Science Center and Aquarium is located at 4801 Dreher Trail North in West Palm Beach and is open Monday – Friday from 9 a.m. – 5 p.m., and on Saturday and Sunday from 10 a.m. – 6 p.m. Admission to the South Florida Science Center and Aquarium during "Travel Adventure" is $16.95 for adults, $12.95 for children ages 3 to 12 and $14.95 for seniors aged 60 and older. Science Center members and children under 3 are free. Planetarium shows and mini golf are not included in general admission pricing. For more information, call 561-832-1988 or visit www.sfsciencecenter.org.
Like the South Florida Science Center and Aquarium on Facebook and follow them on Twitter and Instagram @SFScienceCenter.
###