The Florida Foodie
Casual Seafood Dining under Surfboards at Longboards Restaurant
By Saucy Sarah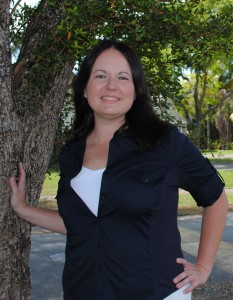 519 N Clematis St. West Palm Beach, FL 33401
(561) 833-4660
Located on the quiet end of Clematis, Longboards is a traditional New England seafood eatery with a few twists. The restaurant is a fun place to dine, boasting an impressive gallery of beautiful longboards on display throughout the dining room. For this native South Floridian, I enjoyed drooling over all the beautiful boards as my companion and I ate lunch. Longboards is unpretentious and provides a relaxing atmosphere while you enjoy your meal.
Longboards offers an interesting menu of classic seafood favorites and also some Tex-Mex inspired dishes. Lobster reins supreme in several dishes such as lobster sliders, lobster tacos, a traditional lobster roll, and even lobster mac and cheese. For the carnivores, there is a Longboards burger, skirt steak tacos, and a NY strip steak. I chose the classic lobster roll with truffle fries on the side ($16.00). I liked that the lobster roll came out on a brioche bun and was not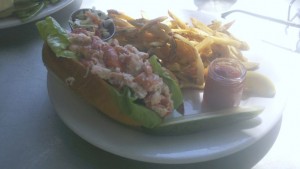 drenched in a heavy mayo-based dressing. There were ample chunks of sweet lobster overflowing from the bun. A very good rendition. The truffle fries were a bit disappointing. I could not detect any true truffle flavor and the distinct aroma was missing as well. The fries, hand-cut from fresh potatoes, were good on their own, but I would skip paying the extra fee for the truffle addition. There was also a thimble full of coleslaw on my plate. Barely a mouth full, I suggest giving a bigger portion or getting rid of the coleslaw altogether. My companion selected the fresh catch of the day (mkt. price), which was Pompano on our visit. It arrived to our table accompanied by fresh sugar snap peas and the same lackluster truffle fries. The fish was grilled, still-on-skin, and succulent. I am always a big fan of restaurants that cook fish the way it should be cooked and Longboards appears to respect this practice. The sugar-snap peas were fresh, crisp and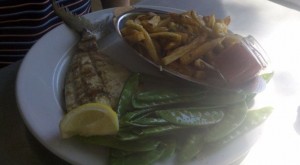 delightful with a hint of garlic. I could go back and eat a plate full of just the veggies.
To end our lunch we chose the key lime pie for dessert. I was rather disappointed with what came to our table. The filling was not tart, nor did it have a true lime flavor. As for the pie – unfortunately, I suspect it sat out uncovered in a refrigerator too long and absorbed the surrounding food flavors. I expect more from a piece of key lime pie from a restaurant in South Florida.
I look forward to returning Longboards and trying more of their menu items, though I think I will pass on the desserts next time. If you are looking for a casual and beachy place to eat some good seafood, Longboards is a place to check out. Take a gang of friends and sit out on the sidewalk on a nice night. Splurge for the Raw Bar Tower ( $75.00 – feed 5 people) and enjoy the Florida lifestyle.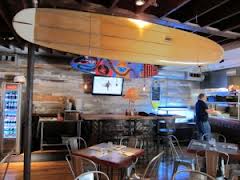 In her previous life, Sarah, a Palm Beach County Native, spent ten years working in various high-end eating establishments around South Florida. She is currently a fiction thesis candidate in the MFA program at Florida International University where she also teaches creative writing and rhetoric. If that is not enough, Sarah is also the owner of Cakes by Sarah, a local custom cake shop. Sarah lives in Lake Worth with her husband and two beautiful boys. "Food, fiction, and family are my life."