AW SPOTLIGHT
by Krista Martinelli
The Wellness Experience
Treating the Whole Person and Healing Pain
Dr. Randall Laurich decided to call his chiropractic practice "The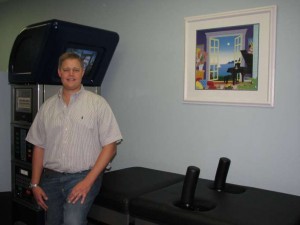 Wellness Experience" because of his emphasis on "treating the whole patient."  With the latest equipment for chiropractic care plus multiple in-office resources for adjunctive treatment of acute and chronic pain, Dr. Laurich has been able to find ways to help almost every patient.  Encouraging healthy lifestyles and teaching people what they can do to help themselves is crucial to the "Wellness Experience." 
"It's so rewarding to see someone come out of chronic pain, find relief and enjoy a better quality of life," says Dr. Laurich.
For example, a patient who had suffered from back pain for six years underwent treatment on his DRX machine plus other in-office modalities.  Her pain was gone within two weeks.  Another patient had had chronic headaches for five years.  She felt like new after treatment with the ProAdjuster at The Wellness Experience and was completely free of headaches after just two weeks.  Today she has been without headaches for eight months. 
The beauty of the ProAdjuster, which uses NASA technology to gently send impulses into the spine, is that it removes those elements that patients might be fearful of. . . . the twisting, turning, popping that they've experienced with other chiropractic treatments.  While Dr. Laurich also practices standard chiropractic adjustments on his patients who prefer it, the ProAdjuster is an amazing tool, and is especially helpful for treating frail patients.  You just lean forward into a special chair (see photo) and before you know it, your spine is adjusted.  The ProAdjuster measures precise levels of motion, thus isolating a problem area faster and more accurately than manual procedures.  The DRX 9000 offers another type of non-surgical approach, using angulated traction to relieve pain associated with disc problems.
In addition to the latest in technology, the Wellness Experience (this just in!) now offers the benefits of having a general practitioner on staff, working hand-in-hand with chiropractor Dr. Randall Laurich.  Dr. Kristin Kerr, M.D. joined the team after realizing how many of her patients needed referral for chiropractic care.  It's an unusual partnership, as the medical world (allopathic physicians/ physicians trained in western medicine) has been at odds with chiropractors in the past.
"Today there's open-mindedness to chiropractic care on the medical side of things, whereas in the past it seeded like a battle with the A.M.A.," says Dr. Laurich.  Dr. Kerr is a Diplomate of the National Board of Medical Examiners, and was a Board Certified Emergency Physician for 20 years.  Leaving the high stress world of the hospital emergency room behind has been a welcome change for her.  With her wide variety of experiences she is able to offer the more personal care of a general practitioner as well as urgent care management of problems.
At The Wellness Experience, the staff tries to look at the "whole person," not just at the parts.  The Wellness Experience provides solutions and relief when it comes to …
·         Headaches
·         Sleep disorders
·         Fatigue
·         Allergies
·         Mood swings
·         Arthritis
·         And many other types of disorders.
They also offer specialized treatment for children, breast cancer survivors and women with some types of pregnancy related problems.
Dr. Laurich has been treating patients for ten years at the previous Wellness Experience location in Boca Raton and for three years at his new location in Wellington.  "Our patients appreciate the fact that it's a VIP experience without the extra costs.  We realize that every person is different, every spine is different and every injury is different," says Dr. Laurich. "I do this from my heart and I truly care about my patients."  More satisfying than any other aspect of the work is just seeing his patients getting better and finding relief from their chronic problems.
Another future plan of Dr. Laurich's is to become certified to do equine adjustments.  Some of his patients from the equestrian community in Wellington have encouraged him to work with horses, and he looks forward to embarking on this new challenge.  Dr. Laurich lives in Wellington with his wife Lorraine and two children: Sophia (4) and Hudson (2).  He has no shortage of experts in the family to talk with as his sister in Boulder, CO is a chiropractor and so is her husband.  There is one other chiropractor in the family as well.  They all enjoy comparing notes and keeping up with the latest technology.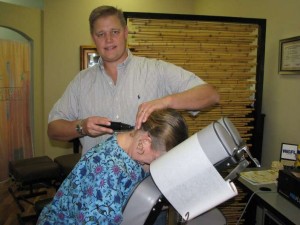 In the future The Wellness Experience is planning to offer physical therapy in the gym that happens to be next door (in Kobosko's Crossing).  This way patients will have an even more complete care experience which includes a chiropractor, a medical practitioner, massage therapists, and an acupuncturist as well as physical therapy and coaching by a personal trainer.  It's a one-stop shop for 'wellness' and a better quality of life!
Dr. Laurich of The Wellness Experience is planning a Health/Wellness Expo is the future which will provide the general public an opportunity to learn more about 'wellness' and will provide a forum for local experts to share their knowledge with the community.  If anyone would like to discuss pricing for sponsorships, vendor booths or presentations please contact Dr. Laurich at his office number (below).
          The Wellness Experience
          Randall F. Laurich, D.C.
          9180 Forest Hill Boulevard (Kobosko's Crossing)
          Wellington, FL 33411
          Phone: 561-333-5351
          Fax:  561-333-5374