By Frances Goodman
How Long Will Puppy Be Teething?
QUESTION: What are the best chew toys for teething? My puppy chews everything she can get her mouth on, and goes through a lot of rawhide. Also, how long does the teething last? Signed, C. C.
ANSWER: Dear C.C.: Be very careful with rawhide — it swells when it gets wet.
If a big chunk is swallowed, it can lodge in the throat and cause choking. You should always be present when rawhide is being chewed.
Also, if she consumes too much, it can unbalance her puppy food formula and affect her appetite.
In some dogs, rawhide also contributes to skin allergies.
That said, the only rawhide I recommend is all-natural oven-cured, product of USA. If you look patiently enough, it can be found in some pet boutiques and premium pet supply stores. Some online vendors and catalogs, such as Doctors Foster and Smith, also carry it.
(The majority of rawhide chews come from countries where the curing methods are questionable at best.)
Teething Toys
I generally recommend the following chew toys:
? A rope bone that can be played with and chewed under your supervision. It's also a good throw and retrieve toy.
? A hard sterilized beef bone — the kind that is hollow in the center, says "veterinarian approved," and ideally, product of USA.
? A solid (not hollow) rubber ball big enough that she can't choke on it.
Even though it's not easy, cautious pet owners are now reading labels in search of products made in the USA, and shying away from toys, food and treats made in China.
Chicken jerky treats from China are especially questionable. There have been many reports of these treats causing illness in pets.
With all toys, you want to be sure there is nothing the puppy can choke on. Plastic eyes, fabric tails, bells and such should all be removed by "mom or dad," not the puppy.
Teething Stage
How long does the teething period last?
Most puppies start losing their baby teeth around four months of age. By seven months their permanent teeth should all be in.
Be sure to check the mouth frequently during this time.
When a permanent tooth is emerging, you want to be sure the baby tooth in that space has come out. If not, you may need to have your veterinarian pull it, so the permanent one will align correctly.
Even after all the adult teeth are in, the accelerated need to chew (for teething purposes) continues longer — sometimes up to a year or more!
Best wishes!
P. S. Never give an old shoe as a chew toy. Puppies are not able to understand "this shoe" is okay, but your designer shoes are not!
Frances Goodman is a professional dog obedience trainer and pet care writer who lives in Royal Palm Beach. Email questions to her at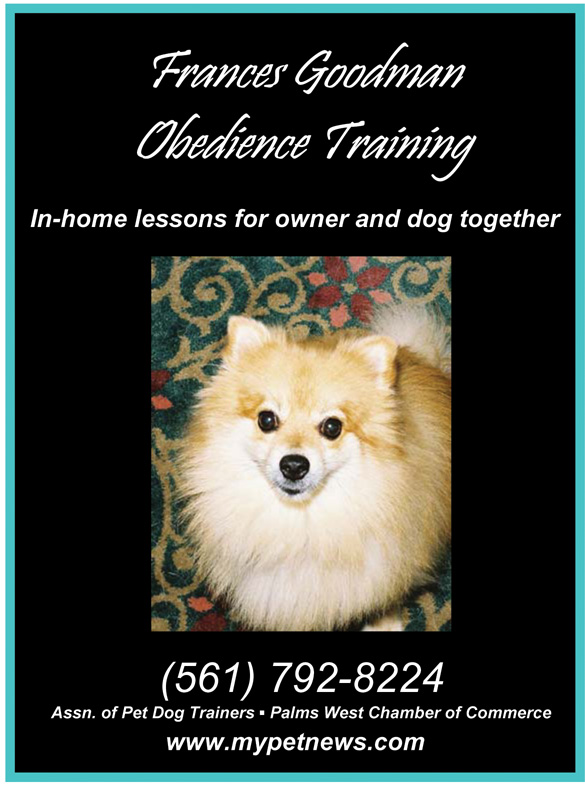 Submit a Photo of Your Pet and an Essay
Please send us a favorite photo of your pet. Also, include 60 words about why you love your pet, your name, address, phone and the name of your pet. Send photos in jpeg file. Or mail your submission to the address below. * No photos will be returned.
Email your submission to:

OR:
Mail your submission to:
Around Wellington, AW Birthday
6243 Sand Hills Circle
Lake Worth, FL 33463
* No photos will be returned.
---