THE C.V. WHITNEY CUP FINAL:  A SPECTACLE OF POLO, PEOPLE AND PONIES
By Mike May
The setting for polo in Wellington, Florida is as much scenic and social – especially under the canopy covered and food/drink-filled Veuve Clicquot Pavilion — as it is sporting.  The Wellington polo scene can also be described as serene and secluded. In many respects, it's simply a classy and cool cocoon where humans and horses exist in cooperative and competitive harmony.   And, when the sky is blue, cloudless, sun-filled, and humidity free, it becomes a chamber of commerce-like showcase for Wellington and its adopted sport of polo, the often-described sport of kings. That's the best way to describe the conditions for the final of the C.V. Whitney Cup polo match which was contested on Sunday, February 23 at U.S. Polo Assn. Field 1 at the International Polo Club Palm Beach in Wellington.  The match started at 3:00 pm. The big-time polo matches on Sundays in Wellington always seem to begin at 3:00 pm. But, the social scene always gets underway as early as 60-90 minutes before those polo ponies start dashing around the field while escorting their riders, the world's top mallet-swinging polo players.  
At polo, tailgating and pre-match social functions are as much a part of the experience as the actual polo match and are always complemented by champagne, specifically Veuve Clicquot, one of the main sponsors of polo in Wellington.  Think men in jackets and pastels. And, women in glamorous and flowy dresses. And, fascinators pouring glass after glass of champagne from magnums placed on almost every table.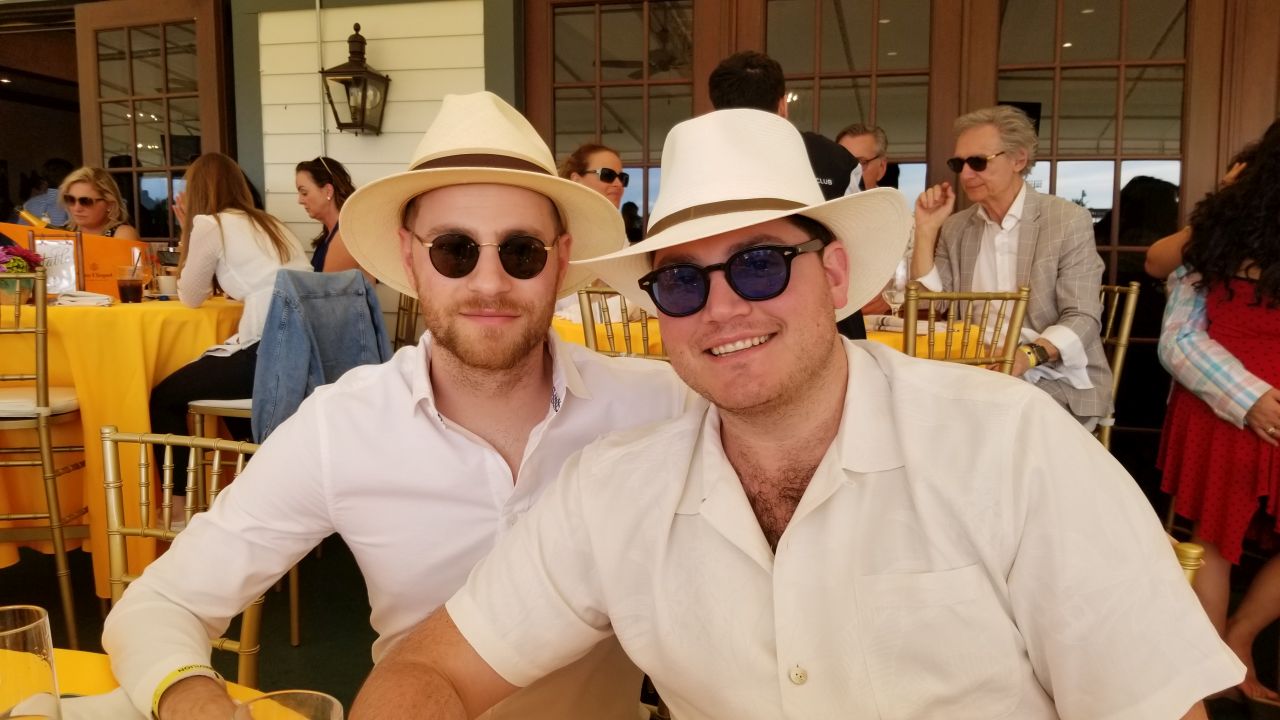 By the way, the Wellington polo scene does a great job of patronizing its sponsors, which also include U.S. Polo Assn., United States Polo Association, Palm Beach County Sports Commission, Palm Beach Film Commission, Discover the Palm Beaches, Bimini Me, Fifth Third Bank, Cabana Coast, CaptiveOne Advisors, Celebrity Cruises, NetJets, Lugano Diamonds, Old Hickory Bourbon, Wellington Regional Medical Center, Four Seasons Resort Palm Beach, and Rosenbaum, PLLC Attorneys at Law.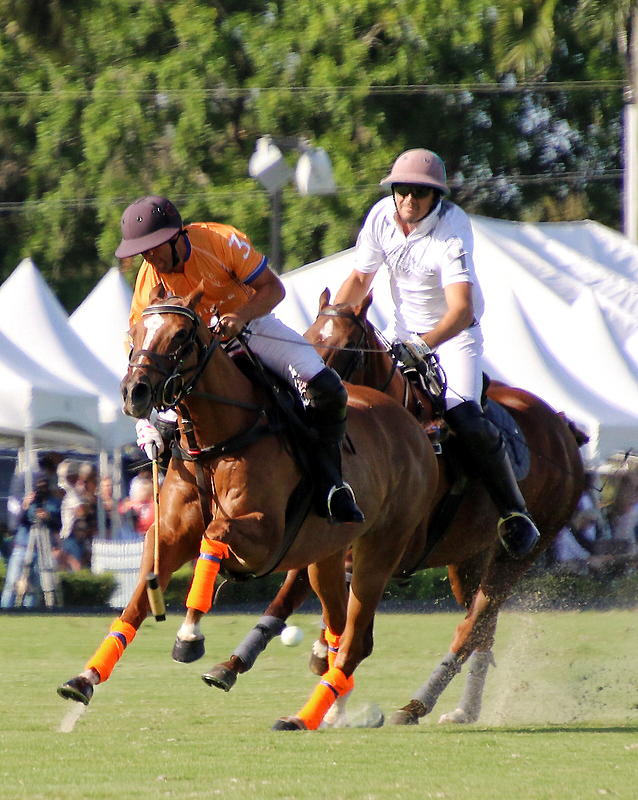 This particular polo finale — which concluded the first of the three legs of the 2020 Gauntlet of Polo — featured La Indiana vs. Las Monjitas.  It was anyone's guess which team would win because both teams were 3-0 in their C.V. Whitney Cup matches this year. And, both teams had a point to prove.  La Indiana was confident because it had defeated last year's C.V. Whitney Cup and Gauntlet of Polo winner Team Pilot in this year's Cup semifinals. Las Monjitas was confident because it was the runner-up in the 2019 C.V. Whitney Cup final.  Las Monjitas felt that it had unfinished business from last year.
At any polo match, the story about what takes place off the playing field is always as interesting, intriguing, and socially competitive as the athletic juices which flow during any given match which features six playing periods, called chukkers, that last for seven minutes and 30 seconds apiece.  Also, many people would be surprised to discover that the world's best polo ponies are females and not males.
"The females have more heart and are willing to try harder," said England's Charlotte Waddy, a groomsman for La Indiana.
Another interesting point of note is that approximately 40 percent of polo players are women.  And, they play on the field with men as equals, unlike any other sport.
That means that it's accurate to say that every day at polo is 'ladies day.'
While each team features four polo players, each polo player will use as many as six horses in a match, which averages to be at least one horse per chukker.  That means roughly 50 horses are brought to every polo match. They usually arrive two hours before the match.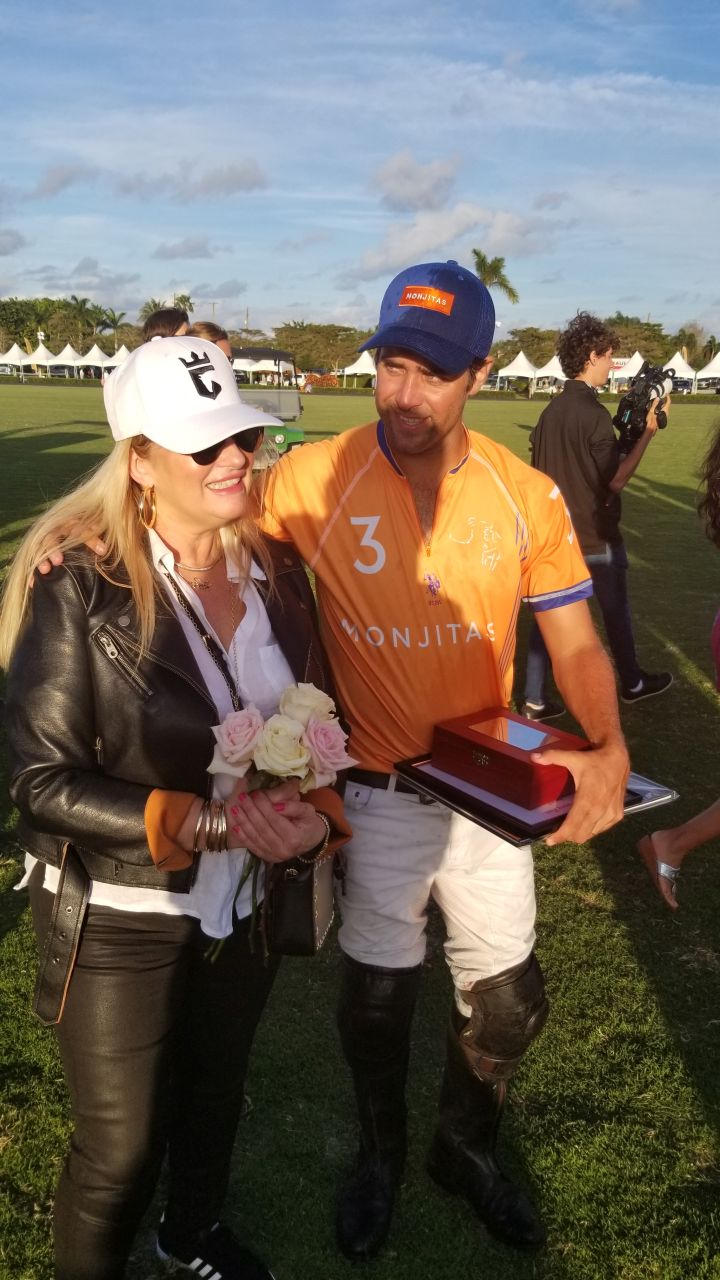 At polo, the vast playing field – which is 300 yards long and 160 yards wide – is not the exclusive domain of the polo players, their equestrian companions, and three whistle-blowing officials.  Yes, polo has three 'whistle blowers' – two mounted umpires on the field and one referee along the sidelines. They all ride a horse while wearing a helmet, too. After all, somebody has to enforce the rules of the sport, right!
After the third chukker, which is polo's version of halftime or the intermission, if you are more used to live theatre presentations, the fans in the stands take over the field.  This migration of humanity is more like a slow-moving version of what the crowd does at a college football or basketball game when the home team beats an arch rival or upsets the visiting top-ranked team in the nation.  Again, at polo, fans don't storm the field. Instead, they stroll toward the field. The purpose of this ten-minute break from the action is to give the polo teams a chance for a mid-game strategic discussion and to give spectators a chance to mingle with one another, pose for pictures on the pitch, stretch their legs, and, most importantly, take a stab at repairing any divots created during play by the horses that are constantly shifting directions at any given time in pursuit of the polo ball which moves as fast as 110 miles per hour during play.  That divot-repair experience is called the "Divot Stomp," and no prior experience is necessary to participate. But make sure you watch your step. After all, many horses have been running around on that big grass-covered field of green. Got the message? In addition to helping restore the integrity of the pitch, complimentary glasses of champagne are served to those who make the trek to the playing surface. It doesn't seem to matter if a few drops of champagne miss your mouth and hit the turf. Just get another glass of champagne and do the "Divot Stomp."  On many polo Sundays, ice cream is served, as well. But, there always seems to be more champagne on hand than ice cream.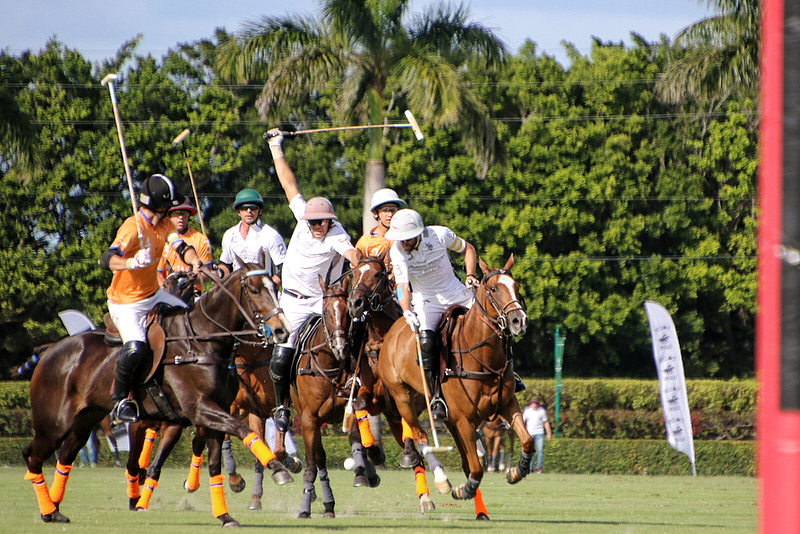 It's worth noting that during Sunday's C.V. Whitney Cup final, which featured an informative and upbeat commentary over the public address system, there was a drone flying overhead which provided aerial video images for the streaming broadcast coverage of the match.  It's quite likely that polo's worldwide fanbase and legion of followers probably outnumbered the total number of spectators in the stands in Wellington. And, when you consider the hundreds of thousands of people worldwide who heard about Sunday's C.V. Whitney Cup finale, courtesy of Instagram influencers Cameron Fuller (from Los Angeles) and Ben Soffer (from New York City) who were on hand to publicize this event, you will totally understand that polo in Wellington is truly as scenic and social as it is sporting.  And, classy and cool, too.
By the way, in the C.V. Whitney Cup final, which was contested for the 40th time in history, Las Monjitas defeated La Indiana, 11-10.  And, 9-goaler Francisco Elizalde of Las Monjitas was the MVP of the match.  
There was no champagne and ice cream left at the end, but there will be more served every Sunday at U.S. Polo Assn. Field 1 at the International Polo Club Palm Beach in Wellington until mid April when this year's polo season will conclude with the U.S. Open Polo Championship Final — on April 19.  That, too, will be another example of where humans and horses will exist in cooperative and competitive harmony.
For more photos from the CV Whitney cup from Alan Fabricant, go to Photo Galleries.