Experience Wellness with Dr. Randy Laurich
As first seen in Banzai Wellness Magazine (December, 2012)
By Saajida Shakeer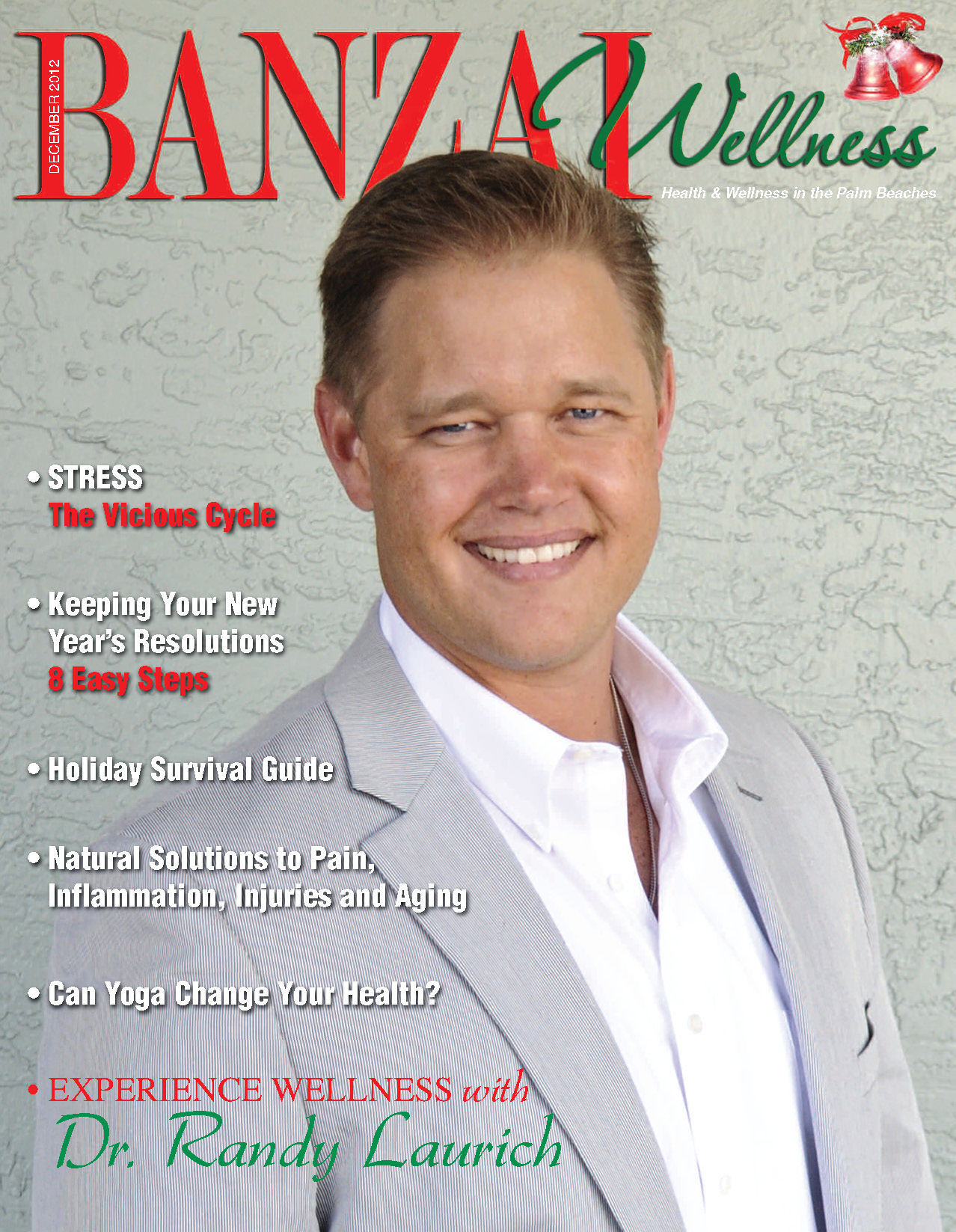 Dr. Randall Laurich is probably one of the busiest men you'll find in Wellington. Active and constantly on-the-go, this married father of two is more than just a successful chiropractor in our area. If he is not at work at his practice, The Wellness Experience, you might catch him running local business networking meetings at Kobosko's Crossing (the same plaza his practice is located). Additionally, he is the host of two radio shows: Experience Wellness on local internet radio w4cy.com, and The Wellness Experience Hour on 1470 AM, which is on every Saturday at 2pm.
He is also the head chairman of the Health and Wellness Medical Committee for the Wellington Chamber of Commerce. He says the main objective of the committee is "to educate the public as well as facilitate the interaction between the medical community and the general community." This is something he knows well. As chairman, he has helped to organize many local health fairs that do just that. In fact, one of his events, WinterFest, is being held on December 1, 2012.
Despite the many hats he wears, Dr. Laurich never fails to give his full attention to what got him started in the first place: chiropractic. His desire to help people both holistically and with their own businesses derived from both of his parents: his mother is a nurse and his father owns his own business. He was born and raised in Ellwood City, Pennsylvania and went on to attend Sherman College of Chiropractic in South Carolina. During a trip to Florida one year he met Lorraine, the woman he knew would be his future wife. After graduating from college in 1999, he moved here to be with her and to start his own business.
Open since 2001, The Wellness Experience is much more than just a chiropractic practice. Ever since childhood, Dr. Laurich knew that he wanted to be a chiropractor because it was a way to help people without using medication. He also knew that while one treatment method could work for someone, patients do remarkably well when they receive well-rounded care. He envisioned opening a practice that would not only include chiropractic, but massage, acupuncture, and more. The Wellness Experience has proven to help patients in exactly that manner.
Knowing that a team approach would help make his business a success, Dr. Laurich joined forces with another chiropractor, Dr. Andrew Biggs. He also works with Marcos Gignea and Ortavia Taylor, licensed massage therapists; Steve Lomax, physical therapist; Meredith Vorrath, acupuncturist; Dawn Snow, esthetician; and Tracey Mastandrea, a nutrition consultant. They each conduct their own practices, but by working as a team, they can cater to their patients' many needs all under one roof.
The Wellness Experience uses cutting-edge technology for chiropractic care, including the DRX 9000 and ProAdjuster. The DRX 9000 treats both the neck and lower back region. This machine is pretty unique to our area; most chiropractic businesses in the county don't have machines that treat both areas. The ProAdjuster finds nerve interferences in the spine and uses gentle impulses to repair them. Because of its gentle treatment, this is ideal for those who are apprehensive about getting chiropractic care.
He might be a busy guy, but Dr. Laurich always tries to find a happy balance between work and relaxing with his wife and kids. After all, he knows better than most that optimal health relies on lifestyle choices. This is exactly why he takes this approach with his patients. Ultimately, it all comes down to introducing others to a holistic approach to healthcare. As he points out, "When you help people improve their quality of life, you help them to live a better life. That's our goal here at The Wellness Experience."