Delray Beach Marketing Cooperative Invites Residents & Visitors to GET YOUR GROVE ON!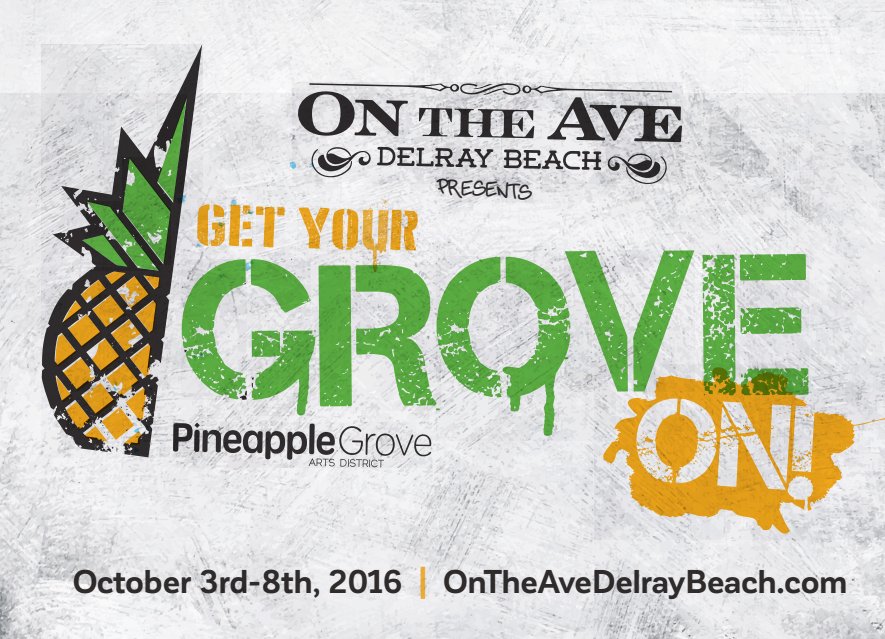 October 3-8, 2016
(Delray Beach, FL – September 16, 2016) This October the Delray Beach Marketing Cooperative (DBMC) invites all residents and visitors to Get Your Grove On, a weeklong celebration of the arts in the city's popular Pineapple Grove Arts District .
Grove Week will consist of a variety of events and activities from Monday, October 3, to Saturday, October 8, with the main event being the On the Ave street closure event along NE 2nd Avenue in Pineapple Grove (from El Camino to Brule) on Wednesday, October 5, from 5 to 9 pm. The variety of activities spans all categories of fun, from music, art, fashion, health, food and more.
"There will be something for everybody during Grove Week whatever their interests may be," promises DBMC Executive Director Stephanie Immelman.
"Dozens of community businesses will take part in the fun filled week. Merchants will be opening their doors offering special discounts, free services, entertainment and refreshments," she adds. "Whether you're in Old School Square Park or inside one of the many shops, galleries and restaurants that line the streets, you'll be sure to have a great time 'getting your Grove on' during Grove Week in Pineapple Grove."
Following are a few of the fun activities scheduled for Grove Week, but for a complete schedule of activities and merchant specials, please visit www.OnTheAveDelrayBeach.com.
Monday, October 3 / 6 pm to 8 pm
Recess Run presented by Fleet Feet and PurLife, at Old School Square Park. Relive your childhood and play outdoor recess games.
Tuesday, October 4 / 7 pm
National Taco Day with Hispano Latino performance near El Camino.
Wednesday, October 5 / 6 pm to 9 pm
On The Ave on NE 2nd Avenue (a street closure event) with a variety of special activities including:
+ Drum Circle in Old School Square Park
+ Artists' Displays
+ Kids Craft Activities
+ Easels on the Street
+ Chef vs. Chef 2015 vs. 2016 at Max's Harvest
+ Lynn University performance
+ Hyatt Chill Lounge
+ Fashion Show by Roxy Lulu
+ Craft Beer Tasting at Delray Beach Real Estate
+ Live Music at City Walk by W.T. Heck
+ Live Music at My Salon Suite by Future Presidents
+ Arts Garage Open House – Live Painters, Open Gallery, Improv U Demonstration and Performance by Chloe Dolandis
+ Vino Van Gogh Painting Classes at 6 pm & 7 pm
+ Celebrate the 105th Birthday of Delray Beach
Thursday, October 6
Throwback Thursday – Have dinner in the Grove followed by the Silent Disco at The Fieldhouse. $15 online or at the door.
Friday, October 7 / 6 pm to 9 pm
First Friday Artwalk – A self-guided tour of the fine art galleries and working studios downtown. (#DelrayArtWalk)
Saturday, October 8 / 10 am to 2 pm
+ Guided Art Walk Tour with Tom Fleming, starting at 10 am from Old School Square Park (1½ hours)
+ Jazz Trio at City Walk
+ Arts Garage – Delray Art League Exhibition
+ Plein Aire Artists
+ Easels with Supplies
+ Sidewalk Sales
For a complete list of all GET YOUR GROVE ON activities, please visit www.OnTheAveDelrayBeach.com.
About the Delray Beach Marketing Cooperative:
The Delray Beach Marketing Cooperative (DBMC) is a partnership between the City of Delray Beach, the Community Redevelopment Agency and the Greater Delray Beach Chamber of Commerce. The DBMC's mission is to attract people to the City, create a positive image and increase awareness of Delray Beach for a positive economic impact through Destination Marketing, marketing programs, special events and community collaboration. For more information, please contact DBMC at 561.279.1380 or visit www.VisitDelrayBeach.org.