Travel with Terri
Story & Photos by Terri Marshall
Few places on the east coast conjure up iconic images the way Maine does. Lighthouses dot the rocky coastline, lobster roll stands line the roads and sailboats cruise through the waters offshore. It's easy to see why this region inspires artists.
Located on the central coast, the small town of Rockland, Maine embodies all of these images. From the boutique hotel 250 Main that showcases work from local artists to the best breakfast you'll ever eat in your life at the Home Kitchen Café, Rockland is a quiet little town that will leave you wanting more. And if sailing is on your agenda, a windjammer schooner cruise is waiting for you. Rockland isn't as well-known as some Maine communities, but it is definitely worth discovering. These were some of my favorite experiences.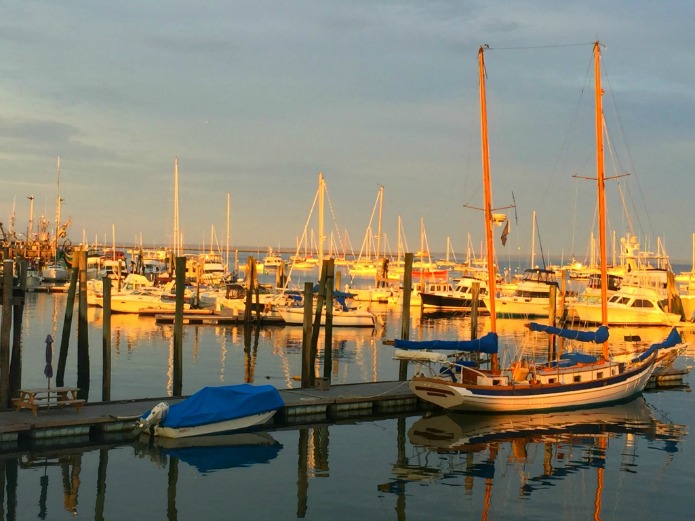 Artful Lodging at 250 Main
Overlooking the harbor and within walking distance of the Rockland's charming restaurants, galleries, museums and shops, 250 Main is an intimate art hotel showcasing the work of local artists. Built to showcase the regions shipbuilding tradition, the hotel features 26 rooms designed for the discerning traveler with unique, reclaimed, and industrial décor. Most rooms have water views. And, it's worth getting up early to catch the brilliant sunrise over the harbor from the hotel's rooftop deck. Enjoy a light breakfast each morning and in the evening a glass of wine.
Be sure to browse each floor to check out the artwork—and if you see something you like, you can make a purchase. It's also fine to bring along your furry children, 250 Main is pet-friendly.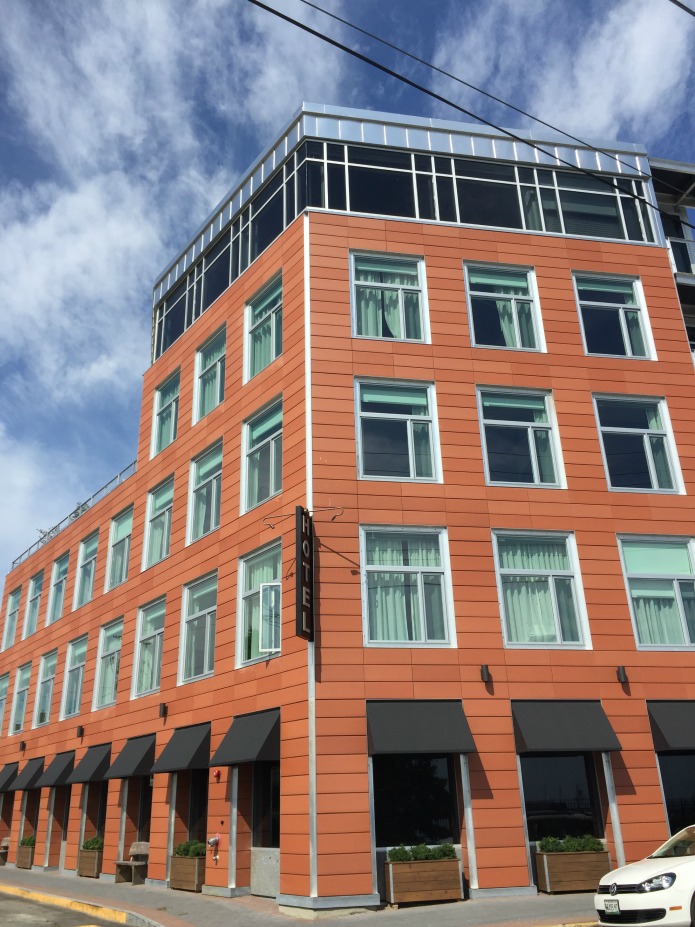 Classic and Contemporary Art on Display
Rockland is home to the famed Farnsworth Art Museum where 20,000 square feet of gallery space displays over 15,000 works of art. The museum is home to an extensive collection of works by the Wyeth family featuring works of Andrew, N.C. and Jamie Wyeth. It's also home to one of the nation's largest collections of works by sculptor Louise Nevelson.
Housed in a striking new Toshiko Mori building with an iconic sawtooth roofline, the nearby Center for Maine Contemporary Art displays works by contemporary artists. The CMCA complex includes an ArtLab classroom, gift shop and a courtyard that is open to the public.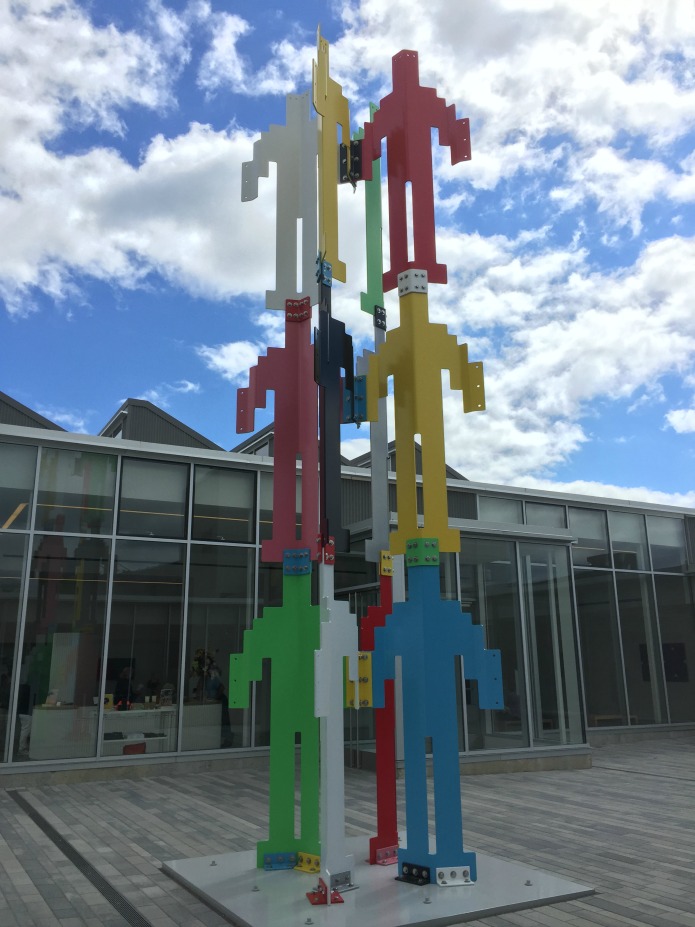 Small Town with Big Taste
For a small town, Rockland delivers big when it's time to eat. Check out the lobster club sandwich at a local favorite, the Brass Compass. The sandwich famously bested Bobby Flay on the Food Network's "Throwdown with Bobby Flay." Don't be surprised to find local fisherman hanging out for breakfast and lunch—it's a Rockland institution. If you're in the mood for Italian, Rustica delivers traditional Italian dishes with a contemporary flair. The Bacon and Bleu white pizza with caramelized onions is hard to beat.
At the Home Kitchen Café you'll be spoiled for choice when it comes to breakfast entrees. Choose from a variety of pancakes, traditional breakfasts, or "homelets." Be sure to try the "Sinnies" – cinnamon rolls that are so delicious they're sinful. And whatever you do, don't miss the home fries. (I recommend adding the onions and peppers, trust me on this.)
For the ultimate farm to table experience, head to Primo where the produce is grown on site and the animals are raised on the property. Chef Melissa Kelly has been dazzling guests with her creativity for 17 seasons at this award-winning eatery.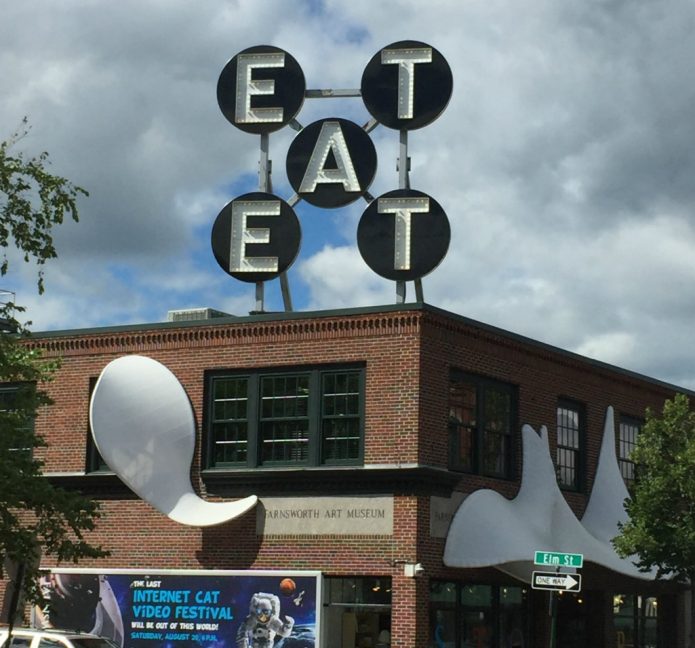 Set Sail on a Windjammer Cruise
Step back to a simpler time aboard the J&E Riggin windjammer. Originally built in 1929 by Charles Riggin, a fisherman who named the ship after his two sons Jacob and Edward, the J&E Riggin began as an oyster schooner. Now a National Historic Landmark, the J&E Riggin is owned by Captain Jon Finger and his wife, Chef-Captain Annie Mahle who offer three, four or six-day windjammer cruises.
This is a true sailing vessel with no motor. Setting sail from Rockland in the Penobscot Bay, you'll go where the wind blows you, literally. Besides the rocky shoreline, endless blue horizon and millions of stars overhead at night, a windjammer cruise brings something intangible. There's a transformation in all who climb aboard.
I joined the boat for the last night of a four-day cruise. It was evident that those already on board had bonded through their experiences. The camaraderie was contagious. Everyone joined in the daily tasks of hoisting the sails, maneuvering into the harbor and helping with the clean-up after the meals.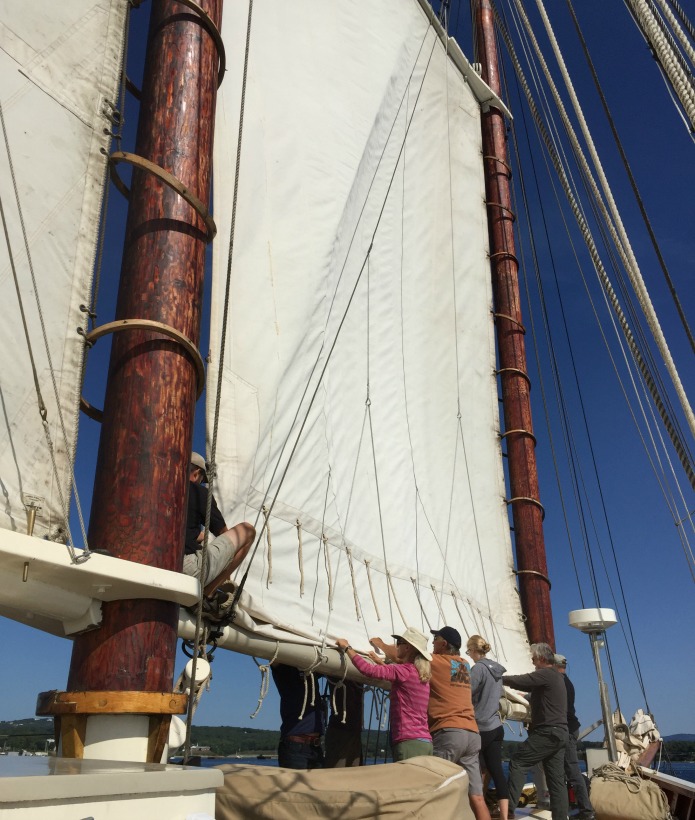 And speaking of meals…
Chef-Captain Annie—an accomplished chef and cookbook author—prepares three healthy and incredibly delicious from-scratch meals daily. This despite the ship having no power and a galley that makes my New York City apartment kitchen look big.
The vessel accommodates up to 24 passengers plus the crew. Space is tight, but that adds to the authenticity of the experience—and no doubt the immediate bonding with other passengers.
Somehow it works for everyone, so much so that many passengers return each year for more time on the open waters. And with the picturesque views that Maine has to offer, I can understand why.