Fish & Wildlife Foundation of Florida Celebrates Conservation
JUPITER, Fla. – "A Night for Nature" gala celebrates everything wild! So, follow your instincts to the Pelican Club in Jupiter on Friday, April 3 for an event to benefit the Fish & Wildlife Foundation of Florida. Bask in the glow of the Jupiter Lighthouse as you help to protect our state's natural beauty.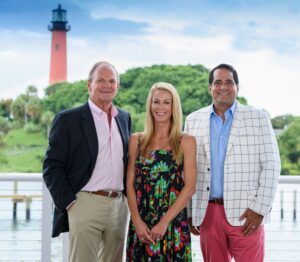 As a highlight of the gala, the Fish & Wildlife Foundation of Florida will honor the lifetime conservation efforts of Jack Nicklaus and Paul Tudor Jones.
A golf icon, Nicklaus has designed hundreds of golf courses around the world, always promoting conservation while trying to be a good steward of the land and environment. He and his wife, Barbara, have helped children locally and globally through myriad efforts such as The First Tee and the establishment of the Nicklaus Children's Health Care Foundation.
Jones co-founded the Everglades Foundation and has led protection of important wildlife areas in the Serengeti and southern Africa. The Robin Hood Foundation, which he founded, is New York City's largest poverty-fighting organization working to improve the living standards for 1.8 million low-income residents. Both Jones and Nicklaus are devoted outdoorsmen.
"Fishing, diving, boating, seeing all our iconic creatures in their natural habitats – these are the reasons we love living in Florida," said Laura Coburn Russell who is co-chairing the event with Tucker Frederickson and John Lacy. "The Foundation makes sure we can continue to enjoy our outdoor pursuits and protect those areas for future generations."
Since 1994, the Fish & Wildlife Foundation of Florida has raised $43 million to restore Florida's coral reefs and other natural habitats, while helping protect panthers, black bears, and other iconic Florida species. The Foundation is also Florida's largest private funder of outdoor education for children.
Tickets are $450 each, with a minimum purchase of two tickets. You can find out more by calling (941) 809-7805.
About Fish & Wildlife Foundation of Florida
The Fish & Wildlife Foundation of Florida is a nonprofit organization dedicated to supporting the Florida Fish and Wildlife Conservation Commission (FWC), and other public and private partners, to conserve Florida's native animals and plants, and the lands and waters they need to survive. Since its founding in 1994, the Foundation has raised and donated $43 million to conservation and outdoor recreation and education. More information can be found at wildlifeflorida.org.