South Florida Fair Awards $50,000 in Scholarships
WEST PALM BEACH, Fla. – (Feb. 6, 2020) The South Florida Fair has awarded $50,000 in scholarships to 23 area high school students this year. Selected from more than 148 applicants, the winners' scholarships ranged from $500 to $6,000 and can be used at any accredited institution of higher learning.
The winners were announced in the categories of general, arts and entertainment, agriculture, and band at an awards ceremony in Yesteryear Village during the fair. Families, the scholarship committee, South Florida Fair dignitaries and elected officials from many of the winners'
hometowns attended. Since the program began in 1982, the South Florida Fair has awarded nearly $700,000 in scholarships to high school students.
Students from high schools in Palm Beach, Broward, Hendry, Martin and Okeechobee counties were eligible to apply. The fair's scholarship committee selected the winners based on the students' grades, need, and a short essay written on the topic, "As a graduating senior, what advice would you give yourself as an incoming freshman?"  Each scholarship applicant also met individually with the committee for a personal interview as part of the process.
This year's committee members were Chairwoman Becky Isiminger, Annis Manning, Tim Childers, Mabel Datena, Tiffany Faublas, Patrick Franklin, Lee Glaze, Sarah Hoadley, Glenn Jergensen, Robi Jurney, Dan Lewis, Stephanie Mitrione, John Severson, Bill Sneed, Donna Winterson, and Eva Webb.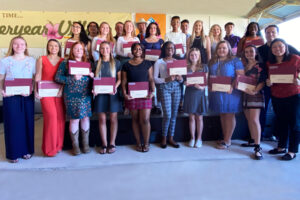 The 2020 scholarship winners are: Gema Cervantes of Glades Central High School, Ashley Backus of Atlantic Community High School, Jillian Tarini of Dreyfoos School of the Arts, Natalia Panozzo of Cardinal Newman High School, Jennah Hernandez of Clewiston High School, Madisyn Thomley of Clewiston Christian High School, Tess Whitlock of Forest Hill High School, Christina Shumilla of G-Star School of the Arts, McKayla Williams of Park Vista High School, Brianna Curry and Kylie Ilhardt, both of Jupiter High School, Emilio Machado of Kings Academy, Brenda Remarias and Rachel Bailey,  both of Lake Worth High School,  Sabrina Smith of Seminole Ridge High School, Kenjela Mullings and Lorenzo Quiceno, both of Suncoast High School,  David Daniel, Cody Deloney, Patrick Lehman, Kaitlyn Williams, and Aubrey Pearce, all of Okeechobee High School, and Chanice Lee of Lauderhill, who is homeschooled.
Doreen Poreba, APR
President • The PR Czar® Inc.
772.221.2425 – Office
772.215.2333 – Mobile/Text
prczar@prczar.com