FREE VIRTUAL WORKSHOP ON "THE IMPORTANCE OF RECREATION, SOCIALIZATION AND LIFE SKILLS"
FOR PERSONS WITH A DISABILITY FROM MELVIN J. & CLAIRE LEVINE LIFEPLANNINGTM PROGRAM ON DECEMBER 1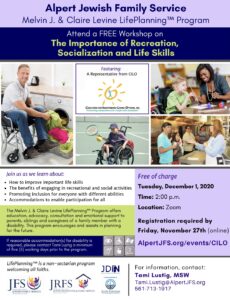 WEST PALM BEACH, FL – November 20, 2020 – Ferd & Gladys Alpert Jewish Family Service (Alpert JFS) invites community members to attend a virtual workshop about the importance of recreation, socialization and life skills for individuals with disabilities on Tuesday, December 1, 2020 at 2:00 p.m.The free Zoom presentation is sponsored by Alpert JFS' Melvin J. & Claire Levine LifePlanningTMprogram.
A representative from the Coalition for Independent Living Options, Inc. (CILO) will be featured. Participants will learn about improving important life skills, the benefits of engaging in recreational and social activities, promoting inclusion for everyone with different abilities, and accommodations to enable participation for everyone.
"It is important for persons with disabilities to feel as independent as possible, and be empowered with confidence and self-esteem, creating motivation to make meaningful choices about management of their lives," said Tami Lustig, MSW, Director of LifePlanningTM at Alpert JFS.
"Independence is more than just living on one's own, but about being included in the community, said Brandy Macaluso, MSW, CILO's chief programming officer. "This includes learning important social skills, having access to recreation and activities, and getting needed accommodations and supports that minimize a reliance on others."
Register for "The Importance of Recreation, Socialization and Life Skills" at AlpertJFS.org/events/cilo/
by Friday, November 27, 2020. Phone 561-713-1917or email Tami.Lustig@AlpertJFS.org with questions, for more information, or to request reasonable accommodation for a disability at least five (5) days prior to the Zoom session.
Visit AlpertJFS.org/LifePlanning/ to learn about the education, advocacy, confidential consultation, and emotional support offered to people of all faiths and ethnicities who are caring for a loved one with a disability. Free workshops encourage and assist with planning for the future, providing information on education, recreation, building independence skills and vocational opportunities.
Established in 1974, Ferd & Gladys Alpert Jewish Family Service is a nationally accredited service provider for children, adults, seniors, and Holocaust survivors. The non-profit, non-sectarian organization is a trusted leader, with a team of nearly 200 highly skilled professionals delivering high-quality care to community members. Alpert JFS works to ensure the well-being of children and families, independence of older adults and quality-of-life for individuals with disabilities. For more information, visit AlpertJFS.org or phone 561-684-1991.